When I get on the phone with Stoya, she sounds distressed. She's talking about Internet censorship in Turkey, and the men who've been tweeting… about her ankles. 
"Every Turkish man with an Internet account wants to tell me I have fat ankles," she explains. "I don't know if there's a cultural fixation on ankle size there. … So I'm finding a way to have my heart grow three sizes today."
Stoya is an adult film star, but she's also a writer, an aerial performer, and a human being. I called to ask about her new webseries for adult site WoodRocket (site NSFW) called Stoya Does Everything, which debuted in mid-February. 
It's part of WoodRocketTV's push for more shareable content featuring adult film performers, an attempt to redefine adult entertainment. The site also features shows like James Deen Loves Food and the just-released Road Strip. Director Lee Roy Myers told us last October that he wants the site to "feel like a mix between YouTube and Funny or Die and online porn."
Caught by @leeroymyers, doing a thing for @Wood_Rocket pic.twitter.com/P7m8O73tVS

— Stoya (@stoya) October 14, 2013
The premise is simple, Stoya explains. "In each episode there's a Stoya, and I go and do a thing." 
In the first episode, Stoya goes to a gun range. She's wearing stilettos. "Guns make me very nervous," she announces in the intro sequence. In under five minutes, a buckshot blows a shell into her blouse. It's painful.
"How dumb was it going to a shooting range wearing a blouse?" she laughs. "So after the shooting range epsiode, we had a discussion with Lee Roy about how we didn't want the show to be 'Stoya Hurts Herself.'" 
The second episode follows Stoya, dressed like Velma from Scooby-Doo, as she hunts ghosts in an allegedly haunted park in suburban Las Vegas. As in the gun range episode, she does not hide her discomfort. 
"I'm creeped out," she says, "but I just don't do well with the suburbs." 
(The third episode was released today. It's just Stoya, dressed in lingerie, playing with kittens.) 
The 27-year-old has a good sense of humor, and it comes through in Stoya Does Everything. Going on Myers's explanation of what he wants WoodRocket to be, can porn and comedy be synonymous? 
"Adult films can be funny and funny can talk about or reference aspects of adult films," Stoya says, "but 'synonymous' is far too intense of a word to use. Both mediums do tend to make use of a similar shorthand of idioms and caricatures to move plot along quickly and leave time for jokes or sex scenes, but they are completely different disciplines." 
She also has a good sense of humor when dealing with trolls, which has become an occupational hazard. She's insanely popular on the Internet—she's got close to 60,000 followers on Instagram and more than 160,000 on Twitter. 
"It depends on each troll," she says. "There's one on Instagram who comments, 'Can't fap to this' or 'Can fap to this.'" He was entertaining, but the best way to make a troll go away is to tell them how entertaining they are. … What I get frequently [online] is, 'You're not like a normal porn star.' I'm going to bet what you have in your head is not a normal porn star.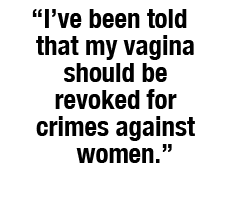 "The things I write about, people think I can't properly evaluate my experience because I'm a pornographer." 
The topics of her writing offer insight into the stereotypes people hold about porn stars. She addressed the issue of consent and the lack of discussion about mental sexual health. She critiqued a Saturday Night Live sketch that portrayed two former porn stars as unintelligent eye candy. She traced the intersection of sex work and feminism, the need to separate her personal beliefs from her professional work, and people's views about her feminism:
"Having a job that involves talking to the press means inevitably everything from my politics to my chewing-gum habits are up for debate and discussion. I've been told that I must be a feminist, that my job is feminist, that I absolutely cannot be a feminist, and, one time, that my vagina should be revoked for crimes against women."
She references the 2011 book A Billion Wicked Thoughts, by neuroscientists Ogi Ogas and Sai Gaddam. It touches on the cognitive dissonance between what people search for online and what they might tell a researcher they like, based on a year's worth of search terms. 
"The Internet, in regard to sexuality, has allowed us to research niche content, things that 10 years ago people thought was weird," she says. "We spend so little time discussing sexuality, and have so many hangups. [You ask someone], 'What do you look at?' 'Oh, I look at X-Art and sometimes I look at people shoving things in their butts.' But when you look at their search history, it's different." 
Thinking back to Turkish men's potential obsession with women's ankles, I ask if she's ever felt threatened by online harassment. 
"I'm more afraid of the guy who lives up the street than some guy on the Internet who was attracted to my Twitter because porn," she says. "I've experienced all sorts of comments from people on the street since I was 14. Online, you're not a foot away from me." 
An upcoming episode of the series will feature Stoya dressing up as professional wrestlers; she recently became obsessed with WWE Raw and SmackDown. If WoodRocket is attempting to bridge a gap, Stoya is the perfect muscle for it. 
Screengrab via WoodRocket