Tech

Tech

The gadgets, platforms, and software that make your digital life possible. If it bleeps, clicks or blinks, you'll find it here.

Internet Culture

Internet Culture

There's a community for everyone online.

Streaming

Streaming

News, reviews, and guides for the world of online entertainment.
Steve Carell's smoldering new look sends Twitter swooning
He's giving off serious Clooney vibes.
BTW
Last week it was Jonah Hill, now it's Steve Carell. The internet showed up late to the party yet again with its reevaluation of a Hollywood humorist-turned-hottie.
In case you missed it: Carell was spotted in London last Wednesday promoting Despicable Me 3, which comes out this Friday. The 54-year-old actor has officially joined the ranks of George Clooney and John Slattery in the Hollywood silver fox club, and Twitter rightfully swooned over his new locks, stylish shades, and fitted collared shirt/sweater combo.
Honestly take your Goslings and your Zayns Malik and give me 2017 Steve Carell pic.twitter.com/lUWWF2A8Ue

— Chloe Gilke (@GilkeAsCharged) June 21, 2017
do not @ at me but 2017 silver fox steve carrell is a whole snack

— lovelace (@caitlinkenneyy) June 25, 2017
Steve Carrell is officially a Daddy what is happening pic.twitter.com/ibxBVLzTiU

— elena grace (@lena_grace) June 24, 2017
Don't tell anyone this but I high key have a crush on Steve Carrell

— professor finessor (@TEmerald_) June 25, 2017
2017 Steve Carrell would be good to me, this I know to be true. pic.twitter.com/aTikkMAnEh

— wrecker of my joy (@buttmacklinfbi) June 23, 2017
The question is: Where have y'all been for the past decade?
people are finally... in 2017.... realizing that steve carell is hot.... my work here is done i can rest

— bridget (@jenismylobster) June 25, 2017
For starters: All of you thirsty fans crying "Daddy" at this "newly hot" Carell need to rewatch 2007's Dan in Real Life, in which Carell plays an actual daddy who rocks his monochrome sweatshirts and charms as he fumbles in his attempts to raise three daughters by himself.
He also smolders as a menacing stepfather in 2013's The Way, Way Back, with his striking salt-and-pepper beard adding to his tough-guy persona. (Though Carell actually turned out to be a jerk in that movie, so the new Hot Steve would definitely treat you better.)
Oh, and let's not forget 2011's Crazy, Stupid, Love., with an entire plot that literally revolved around Ryan Gosling transforming the newly single Carell into a ladies' man so he can prowl the middle-aged bar scene.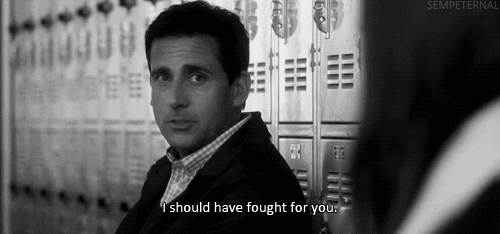 Did you not see Crazy Stupid Love? Gosling made Steve Carrell. https://t.co/9Ge8oc2Pwy

— emily (@douces3) June 23, 2017
I am glad that the existence of Hot DILF Steve Carrell is reminding people of how friggin' great a movie CRAZY STUPID LOVE is.

— Rachel Simon (@Rachel_Simon) June 26, 2017
Thankfully, true Carell stans came to his rescue on Twitter, noting his longstanding hotness. The actor took the reactions in stride at the Despicable Me 3 premiere in Los Angeles, lamenting to Entertainment Tonight, "I am so sick of people just looking at me for my physical attributes. It's just genetic. There's nothing I can do."
Then, adopting the unabashedly sincere tone that's won so many hearts, he added, "I'm bursting with pride. That's very nice."
H/T Bustle 
Bryan Rolli is a reporter who specializes in streaming entertainment. He writes about music and film for Forbes, Billboard, and the Austin American-Statesman. He met Flavor Flav in two separate Las Vegas bowling alleys and still can't stop talking about it.
© The Daily Dot, all rights reserved.
Represented by Complex Media, Inc. for advertising sales.