Dozens of tweets linking to a TorrentFreak article covering the leak of numerous TV shows online, including American Gods, have been removed in what some are calling an abuse of copyright.
The incident began last week when TorrentFreak revealed how episodes from shows such as The Spanish Princess, Ramy, The Red Line, and American Gods appeared online prior to their release date.
According to TorrentFreak, Starz, the American cable and satellite television network behind American Gods, took exception to the reporting and petitioned Twitter to remove tweets linking to the report.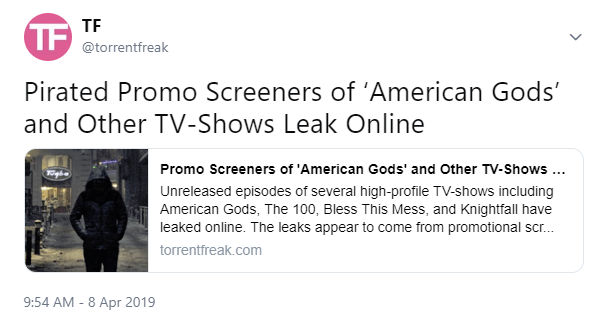 In a Digital Millennium Copyright Act (DMCA) takedown notice, Starz claimed that the tweet infringed on its copyright since the article features a screenshot from one of its leaked episodes.
TorrentFreak, which said the screenshot was used to validate the leak, argued that the action from Starz was ungrounded.
"For the record, our article only includes a single identifiable frame from a leaked American Gods episode, to show the screener watermarks, which are central to the story," TorrentFreak said. "That's just 0.001% of the episode in question, without audio, which is generally seen as fair use, especially in a news context."
Unsurprisingly, the removal of the tweet only served to bring more attention to the issue. Yet when Twitter users began to criticize Starz, their tweets were also removed.
Journalist Mathew Ingram called the incident "Kafka-esque" after his own remarks were pulled from the social media site.
This is Kafka-esque: I posted yesterday about Twitter removing a tweet from TorrrentFreak because it contained a link to an article about pirated copies of Starz shows appearing online (with no links to said content). Twitter has now removed my tweet linking to that story pic.twitter.com/pKF4VCRSit

— Mathew Ingram (@mathewi) April 14, 2019
A tweet from the Electronic Frontier Foundation condemning Starz was likewise removed by Twitter.
This weekend, @STARZ used a bogus copyright notice to take down our tweet about THEIR bogus copyright notice to @torrentfreak, who had the audacity to report on leaked episodes of TV shows.

Say it with us: It's Not Infringement To Report On Infringement. https://t.co/dVUx7DfiPD

— EFF (@EFF) April 15, 2019
In remarks to the Daily Dot, Twitter stated that it was currently looking into the removals. Several of the tweets appear to have been restored, however, following a statement from Starz.
Speaking with Variety, Starz blamed the aggressive removals on an overzealous third party, called The Social Element Agency, which was hired following a data breach.
"The techniques and technologies employed in these efforts are not always perfect, and as such it appears that in this case, some posts were inadvertently caught up in the sweep that may fall outside the DMCA guidelines," Starz said.
While some of the takedowns came at the behest of that third-party company, Ingram, the journalist whose tweet was removed, said his came directly from Starz itself.
While it appears that the fiasco is in the midst of being remedied, many say the incident is emblematic of the dire state of copyright where companies can easily abuse their power to remove content.
READ MORE: