The Daily Dot would like to extend a special Happy Halloween to Katie Goldman, the 8-year-old known affectionately around nerd communities and stormtrooper circles as "The Littlest Jedi."
According to her mother Carrie's report in on her Portrait of an Adoption blog, Goldman—who earned her nickname after the Star Wars community rallied around her in 2010 when she was cyberbullied for carrying a Star Wars water bottle to school—has spent much of the past year wanting to dress up as a stormtrooper for Halloween.
The Star Wars fanatics who'd so kindly consoled 8-year-old Katie after her bullying spout in 2010 decided to step in. The heroes in question are part of the 501st Legion, a fan-run organization that constructs and wears "screen-accurate replicas of Imperial Stormtrooper armor," who offered to build Katie her own replica costume, one "built to the exact specifications from the original Star Wars movies in the '70s."
"The members of the 501st wanted to make her a Halloween costume that no other child could replicate," Carrie Goldman wrote. "Katie would become a Stormtrooper, as if she had stepped onto the set of a LucasFilm movie."
Goldman began worrying about the family's budget shortly after the Legion got moving.
"We had earmarked a certain amount of money for the costume, but that was back when we thought we would be jazzing up a Stormtrooper costume from Target," she wrote.
But when she went to Legion leader Brian Troyan to raise concern, she was nearly laughed out of the room.
""They wanted to raise the funds for the costume," she wrote, "and in return, they asked if we could donate the costume back to them after Katie outgrew it, so that it could be used for Make-A-Wish kids."
Six weeks later, Katie and her mother drove from Chicago to nearby Naperville, Il., to pick up her Halloween costume, which had been specifically tailored for everything from her forearm to the circumference of her palm "not including thumb."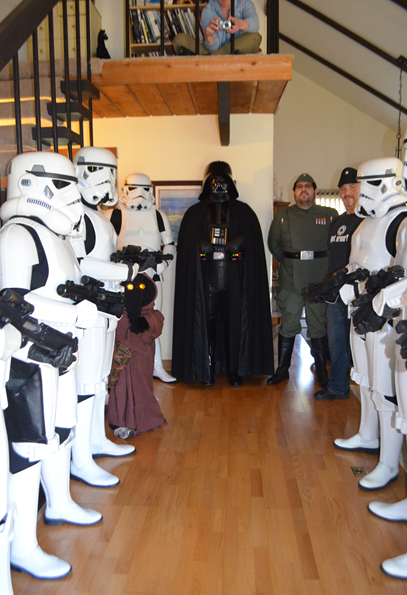 Which means that today, on Halloween, Katie Goldman will walk into school strapped not with a small Star Wars water bottle but rather with the full-blown suit of a Stormtrooper, bold and bright white and fit for any member of the Imperial Army—no matter their shape, size, or age, or interest.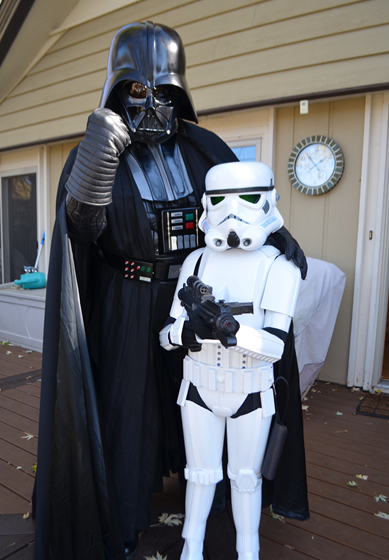 Photos courtesy of Carrie Goldman/Portrait of an Adoption