Spotify wants you to help fix its massive data library.
The company rolled out a new feature Monday called Line-In that allows users to make suggested edits to a track's metadata—the backend characteristics used to help organize songs for all sorts of purposes, like finding related artists. It's a massive crowdsourcing initiative, akin to Wikipedia or the lyrics site Genius, that taps into the fandom of its 159 million active users in an effort improve the overall experience of the service.
"By experimenting with this tool, we hope to better understand how Spotify listeners interpret music, so that we can improve experiences for both listeners and artists," the company wrote in its announcement.  
Translation: We need to button up before we go public. Earlier this month, Spotify filed with the SEC to go public, valuing the company at $23 billion. But data organization remains a critical issue for the company. As Quartz notes, Spotify has faced several massive lawsuits over its licensing and streaming royalties. The latest, a $1.6 billion suit filed by Wixen Music Publishing, essentially claims that Spotify is "ill-equipped to obtain all the necessary mechanical licenses" needed to ensure rights holders are adequately compensated.  
Line-In won't directly address that issue, but it's part of a larger effort to improve Spotify's operation.
Legal issues notwithstanding, there's a clear need for this type of service. A quick glance at the Line-In profile for Father John Misty's latest single, "Mr. Tillman," shows a dearth of attributes, despite it being a high-profile new release with more than 1.1 million streams. It lacks data for genres, tags, mood, aliases, and external URLs. (For the record, I feel "MEH" about this album.)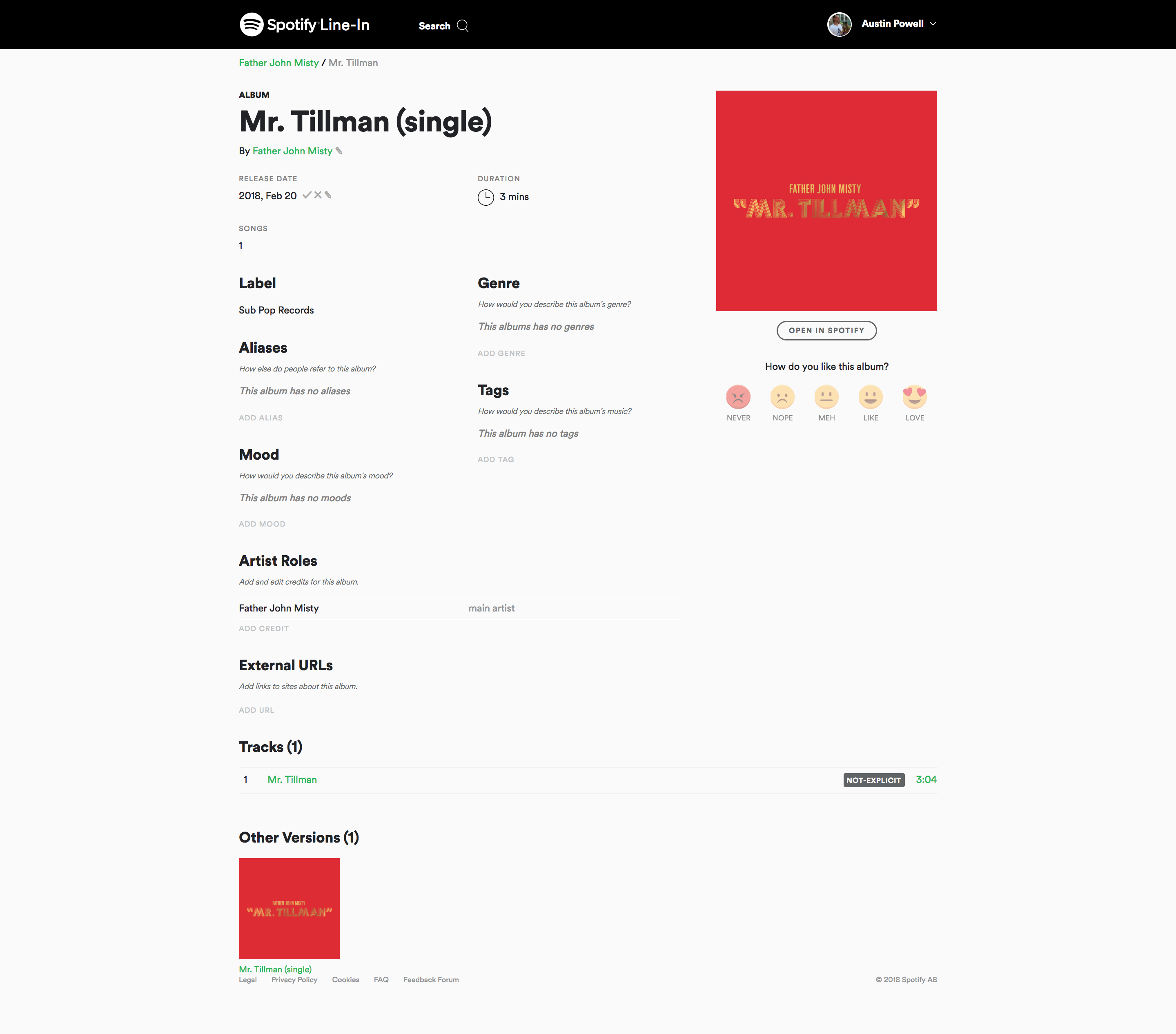 The feature was beta-tested last autumn and is now available to all desktop users. It's indicated by a "Suggest an Edit" link next to each song.
It's unclear what will ultimately become of users' Line-In edits. Spotify is merely treating them as "suggestions."
The announcement came in the wake of an investigation by the Daily Dot that uncovered massive pay-for-plays schemes taking place on the platform. Through direct deals and third-party services, artists and their managers are paying thousands of dollars to be added to unofficial Spotify playlists to generate buzz and create more valuable streams.