In Spotify Essentials, the Daily Dot curates custom playlists created by some of our favorite artists, staff writers, and Web community leaders. This week, Daily Dot writer and James Bond aficionado Patrick Caldwell shares some deep cuts from and inspired by the spy movie franchise.
Long before Sean Connery utters the iconic "Bond …  James Bond" introduction or a bikini-clad Ursula Andress strolls out of the sea with a knife strapped to her waist, and long before the first shaken-not-stirred martini is ordered, the James Bond film franchise begins with a song.
Paired with the equally memorable gun barrel opening—since reprised in every subsequent film and endlessly parodied—Monty Norman and John Barry's distinct James Bond theme scores the rousing opening title sequence of 1962's Dr. No, the first Bond film.Since then, the music has played as essential a role in the series's larger-than-life atmosphere as its guns, girls, stunts, exotic locales, and gadgets.
Adele's "Skyfall," which picked up an entirely predictable and deserved Academy Award for Best Original Song last night, is a perfect example of a James Bond title theme: a big, bold, brassy hit from a modern pop star, with silly lyrics, more horns than a Homestuck convention, and enough strings to knit a sweater. Whether they embrace the musical movements of their moments or eschew the contemporary for the classical, as Adele did with "Skyfall," James Bond title themes all share a certain je ne sais quoi, a quality that's unmistakably Bond.
But while the series's famous main theme and its various title themes loom largest over pop culture, the Bond films have inspired an astonishing array of bizarre musical detours. There are remixes, alternate versions, secondary songs, rejected title themes, and oddball covers littered across the musical landscape like so many silhouetted supermodels, consigned to a fate of relative obscurity. Fortunately, many have drifted their way onto Spotify, which houses an impressive cache of Bond oddities. With a hat tip to Adele, this 21-song, one-hour playlist sets its sights on some of Bond's lesser-known musical moments.
The offerings begin, as they must, with the James Bond theme—but it's not the iconic original version heard everywhere from the aforementioned Dr. No to 2006's Casino Royale. No, it's an irrepressibly funky, irresistibly cheesy disco take on the classic theme by Marvin Hamlisch for The Spy Who Loved Me—an undeniably '70s variant for the best Bond movie of the '70s. Disco versions of orchestral themes were a fad that flared briefly but brilliantly, and "Bond '77" is as thoroughly enjoyable an artifact of the era as Meco's disco Star Wars theme or Giorgio Moroder's epic take on Battlestar Galactica.
At least "Bond '77" can be heard in The Spy Who Loved Me and appears on the soundtrack album. Some James Bond songs weren't so lucky, and were instead recorded but shelved.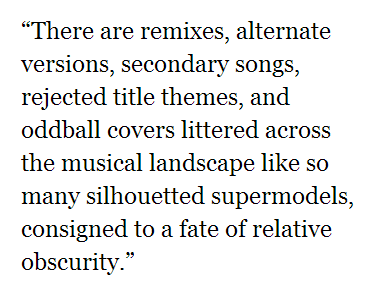 The playlist dives into this pool of rare gems, from Johnny Cash's booming "Thunderball" to Alice Cooper's hard rock stab at "Man With The Golden Gun." There's the perfectly titled "Mr. Kiss Kiss Bang Bang" from Bond maven Shirley Bassey, who blazed the trail still followed by most Bond title themes with "Goldfinger." Blondie puts in an appearance with "For Your Eyes Only," and the block closes up with three rejected songs from poor, beleaguered Tomorrow Never Dies—from Pulp, Danish band Swan Lee, and K.D. Lang. (Lang's "Surrender," at least, appeared in the movie's closing credits. Astonishingly, that's not even every rejected song for that particular film; there were around 12 submissions, including takes from Saint Etienne and the Carpenters.)
Indeed, the James Bond series's producers can be harsh; in the case of a-ha's "The Living Daylights," the version heard on the soundtrack and in the film isn't a-ha's preferred mix. The playlist includes an alternate version of the song as the minds behind "Take On Me" would have wanted you to hear it. It then veers briefly into songs inspired by Bond music, with Robbie Williams's "Millenium" and Kanye West's "Diamonds From Sierra Leone"—which sample from the themes to "You Only Live Twice" and "Diamonds Are Forever," respectively. Bond theme samples are surprisingly few in pop music; one imagines they may be difficult to clear.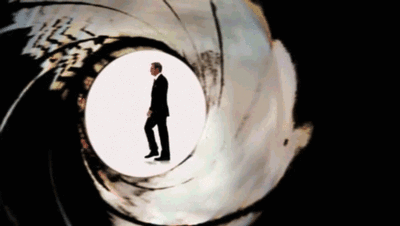 Not rare, however, are covers of Bond title themes. Many of the best, like Radiohead's "Nobody Does It Better," are regrettably not available on Spotify, but the playlist still includes five diamonds: Coldplay's sweeping live version of "You Only Live Twice," Guns N' Roses' "Live And Let Die," Me First and the Gimme Gimmes' brilliant punk rock prayer "Nobody Does It Better," Shirley Bassey's classed-up version of "A View To A Kill," and the Wise Guys' delightful a capella approach to "Goldeneye," a song originally written by Bono and the Edge.
Of course, if you came of age in the 1990s and owned a Nintendo 64, you no doubt remember Goldeneye 007 far better than the movie it adapted, and for you, there's a thoroughly entertaining metal cover of the music from that game's frigate level. From that guitar-saturated track it's only logical to segue into two instrumental covers of Bond title themes. The series has always adapted well to surf rock—indeed, the at-the-time trendy genre inspired the original James Bond theme—so the playlist includes versions of "Goldfinger" and "Diamonds Are Forever" from surf rock masters past (the Ventures) and present (Man or Astro-man?) And then, Shirley Bassey makes one final appearance on the playlist, with the sparkling David Arnold-written ballad "No Good About Goodbye." Released on her 2009 album The Performance, it's beautiful and blustering—and with multiple uses of the word "solace" in the lyrics, it would have made for an infinitely preferable title theme for Quantum of Solace than Alicia Keys and Jack White's "Another Way To Die."
And then, like many a double-entendre-laden Bond film closing scene ("I think he's attempting re-entry, sir"), we close things out with a joke: British DJs and comedians Adam Buxton and Joe Cornish's "Santum of Quolace," another potential alternate take on Quantum of Solace—and one that nostalgically wishes for a departure from the "gun and great big man-tits" grittiness of the Daniel Craig films for the simple innocence of Roger Moore, "a hover-gondola and a Union Jack."
Photo and GIF via  J's Tammany Hall/Tumblr