This one's for old Alex Chilton
and all the songs he has written
for every person
there's a specific place and/in time
—"Forever Blue" by Leatherbag
In a time when people have so much more access to everything, we can feel like we know much more than we actually do about the niche subjects of our choice. That being said, my 10-plus year sojourn to understanding the man behind my favorite recordings of all time is still ongoing, and I'm as confused as I was the first time I heard the music of Big Star and Alex Chilton sometime in the late '90s.
The record was Third/Sister Lovers by Big Star. I recorded it (the Rykodisc Edition, 1992) to cassette tape and forced myself to listen to it, even though I found it confusing, disheveled, and pretty weird. Once that tape died, I made another dub, then another, and eventually got a CD copy. This was early Internet days, people; America Online ruled the school and Napster was in its infancy. Only after talking  to snarky record store clerks could you understand a little about where it came from, and then there's the whole thing with the tracking order. This record got to me like no other record had, and my  journey to the Atlantis that is Alex Chilton began.
Chilton is my favorite musician of any era. He embodies the tradition of folk and the passing down of classic tunes to new audiences while continuing the punk rock mindset of doing what it is you feel like, nevermind his guitar playing (which can be either perfection or destruction depending on what the tune needs). Many people have made attempts to reveal the real Chilton and his life with music. I am not going to try. (I hear  that a biography about Chilton, entitled A Man Called Destruction: The Life & Music of Alex Chilton from the Box Tops to Big Star to Backdoor Man, is being written by Holly George-Warren.)
I  never met the man, and let's face it, if I had, it probably would've been, to put it mildly, rough. So instead, I've traveled the shallow depths of Spotify to find significant songs by Chilton that continue to rule my daily life. Along with this Spotify playlist, I have prepared a sort of crash course in junk I've picked up and continue to carry in my pockets about Chilton.
A shortened history:
1967: The Box Tops hit No. 1 internationally with "The Letter," earning two Grammy nominations and selling 4 million copies.
1969: Terry Manning (Ardent engineer and musician) and Chilton sneak around recording what will later be known as the album 1970 while Chilton is still under contract with Bell Records, the Box Tops' label
1969: Rock City. Members include Jody Stephens, Terry Manning, and Chris Bell. Rock City morphed into band called Icewater before becoming Big Star with Chilton.
1972: #1 Record is released.
1972: Chris Bell leaves Big Star and begins recording what would become the I Am The Cosmos solo LP that was released posthumously.
1974: Radio City is released. Big Star now a trio with Chilton, Stephens, and Hummel.
1974: Recording of Third/Sister Lovers with Jim Dickinson (released in 1978).
1974-1975: Bachs Bottom with Jon Tiven sessions.
1977: Singer Not The Song EP released. (Terry Ork talent buyer for CBGB's put out on his label, Ork.) Chilton produces and plays on Chris Stamey single, "The Summer Sun" (also put out on Ork). Chilton brings the Cramps to Memphis and Ardent to record tunes later released on the Gravest Hits and Songs The Lord Taught Us.
1978: "Bangkok" b/w "Can't Seem To Make You Mine" single released on the Ork label.
1979: Like Flies on Sherbert released. Chilton returns to Memphis and records at Ardent again with Jim Dickinson.
1981: Behind The Magnolia Curtain released. Chilton joins Tav Falco's Panther Burns on guitar.
1985: In January, Chilton produces a session with now-legendary band the
Replacements at Nicollet Studios in Minneapolis. The sessions are included on the reissue of the Replacements' Tim LP.
1986: The Bangles cover "September Gurls" on Different Light. The album goes platinum both in U.S. and U.K. Chilton also produces New Orleans honky tonk band Johnny J & the Hitmen's album 'Nuclear Hayride' that same year.
1987: The album Pleased to Meet Me by the Replacements contains the tribute song "Alex Chilton," but also has the man himself playing guitar and singing on "Can't Hardly Wait." Pleased to Meet Me was also produced by Jim Dickinson.
1990: Chilton produces I Know You Fine But How You Doin' by the Gories.
1993: Release of Big Star/Teenage Fanclub NME single. A side: "Mine Exclusively," by Big Star. B side: "Patti Girl" by Teenage Fanclub. The first Big Star reunion show at the University of Missouri featuring Chilton, Stephens, Auer and Stringfellow (of the Posies).
1996" Alan Vega, Ben Vaughn and Chilton team up on Cubist Blues.
1998: Chilton contributes backing vocals to "Crazy" on the Afghan Whigs 1965 LP. The Box Tops (original lineup) reunited for a one-off album with Chilton entitled Tear Off. Chilton also produces The Royal Pendletons' Oh Yeah Baby LP, and contributes new Big Star composition called "Hot Thing" to the Big Star: Small World compilation.
2010: Big Star slated to play SXSW Music Festival March 20 in Austin, Texas. Chilton passes away three days prior, due to heart complications.
I got a call from a friend on the evening of March 17, 2010. My wife and I were taking a night in from the SXSW Music Festival when I got the news about his passing. I was always suspicious of the mourning of someone you didn't know and continue to be, but I was saddened to know someone I had spent so much of my own personal time with was gone. I just can't sum up such a rich musical life like Chilton's. I can only be thankful for it and continue to learn from it.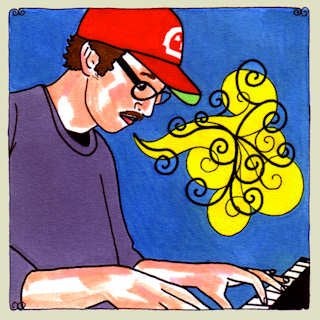 Randy Reynolds, better known as Leatherbag, is a critically acclaimed songwriter and the producer of the KLRU music documentary series, Hardly Sound.
Alex Chilton photo via Stephanie Chernikowski/Redferns; Leatherbag illustration by Daytrotter