When: Saturday, July 18, 8pm EST
Where: UFC Fight Island, Abu Dhabi, United Arab Emirates
Streaming: ESPN+
When Joseph Benavidez and Deiveson Figueiredo first met for the UFC flyweight title last February, their fight was supposed to signal Benavidez's long-awaited arrival. Despite spending his 15 years as a professional mixed martial artist at the very top of the rankings, Benavidez had never won a championship. During his early days in World Extreme Cagefighting, he was stymied in his quest for the bantamweight title by the best fighter that division has ever seen, Dominick Cruz.
When UFC inaugurated the flyweight division two years later, Benavidez had the misfortune of sharing it with Demetrious Johnson, arguably the greatest mixed martial artist of all time. Twice Benavidez fought Johnson for the flyweight belt, and twice he came up short. Benavidez has spent his entire career in the shadows of slightly better men.
But all that was set to change in February. Johnson had left UFC after losing his belt to former Olympic wrestling champion Henry Cejudo two years earlier. But Cejudo, due to his rise to the top of the bantamweight division, vacated his flyweight belt in December. It seemed Benavidez's stars had finally aligned and the flyweight belt was his for the taking. All he had to do was beat Figueiredo—a great fighter but not quite on Johnson's or Cejudo's level.
But when fight night arrived, the Fates once more conspired against Benavidez. While Benavidez won the first round, the fight pivoted in the second by an accidental clash of heads, dazing Benavidez and giving Figueiredo his opening. Seizing on a moment when Benavidez was bleary and distracted by the blood pouring into his eye, Figueiredo floored him with a right cross and knocked him out.
Even in Benavidez's crushing disappointment, a glimmer of hope appeared. Because Figueiredo had failed to make the 125-pound weight limit, the flyweight title was still technically vacant. And when it came time for UFC matchmakers to decide who should fight Figueiredo in his second shot at the belt, it only made sense that they would choose to stage a rematch.
So, tonight, Benavidez gets another chance at glory. Only this time, Figueiredo, who entered the first fight comparatively unknown and unburdened by any of the expectations that haunted Benavidez, will be bringing his own baggage into the cage.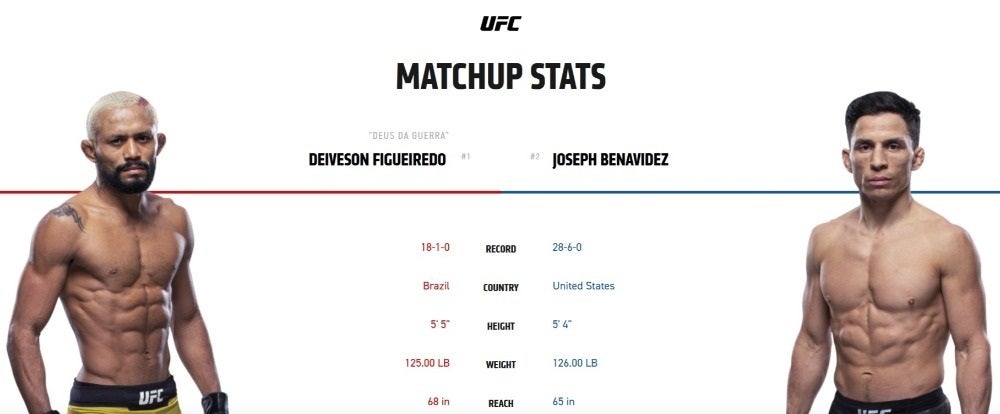 He has to live with the knowledge that his inability to drop 2-½ pounds kept him from a UFC title. He'll also now be fighting under a cloud of medical suspicion. Late last week, the Brazilian announced that he had tested positive for COVID-19, making him ineligible to fly to Abu Dhabi, much less fight anyone once he got there. But that report was followed a few days later by another claiming a second test had cleared Figueiredo and that the first result was due to his having had the virus months earlier and still exhibiting antibodies in his system.
Given the virulence of the disease, and the extra scrutiny UFC has been under since it decided to rebrand itself as the first sports league in the world brazen enough to put on live events in the middle of a pandemic, Figueiredo simply walking into the cage tonight will be a victory. But who knows how all the extra attention and all the medical poking and prodding will affect his performance. Consider it another harsh reality of living the sporting life in the age of Coronavirus, and perhaps a small advantage for Joseph Benavidez, MMA's most tragic figure.
---
How to stream Figueiredo vs. Benavidez: Watch UFC Fight Island 2 on ESPN+
ESPN+ is a subscription-based streaming service that lets you watch all sorts of live sports action you won't find anywhere else. Think of it as a way of super-sizing your ESPN viewing, allowing you to stream more exclusive UFC fights.
But ESPN+ offers a lot more than UFC cards, though. In addition to 20 UFC Fight Night events per year, you'll also get 180 NHL games, at least one MLB game every day for the entire season, and thousands of college sporting events. No matter what sport you're into, you'll find plenty to watch on ESPN+: Top Rank Boxing, Grand Slam tennis events, and international soccer from Italian Serie A, EFL, and UEFA Nations League. It also offers the equivalent of NFL Sunday Ticket for Major League Soccer games, allowing you to watch every out-of-market MLS game for the entire season. That's roughly 250 games.
Plus, you'll gain access to the entire 30 for 30 catalog, 150 entries, and counting.
---
UFC Fight Island 2 Card
Main Card (starting at 8pm ET)
Deiveson Figueiredo vs. Joseph Benavidez
Jack Hermansson vs. Kelvin Gastelum
Marc Diakiese vs. Rafael Fiziev
Ariane Lipski vs. Luana Carolina
Alexandre Pantoja vs. Askar Askarov
Preliminary Card (starting at 5pm ET)
Roman Dolidze vs. Khadis Ibragimov
Grant Dawson vs. Nad Narimani
Joe Duffy vs. Joel Alvarez
Brett Johns vs. Montel Jackson
Malcolm Gordon vs. Amir Albazi
Davi Ramos vs. Arman Tsarukyan
Carlos Felipe vs. Sergey Spivak
Sports Channels Streaming Guides
Live TV Streaming Services
Streaming Device Guides
The Daily Dot may receive a payment in connection with purchases of products or services featured in this article. Read our Ethics Policy to learn more.