Second-wave feminism in America delivered many firebrands. Gloria Steinem educated millions with her book on career and marriage The Feminine Mystique. Bella Abzug proved that a woman's place was in the house…of representatives. Shirley Chrisholm's brand of progressivism inspired generations of politicos after her. But like any movement, there are forces standing athwart history yelling, "Stop!"
The Equal Rights Amendment movement had its villain in Phyllis Schlafly, who dedicated her life to stopping its ratification. Mrs. America offers a new dramatized look through the eyes of the folks who defined it.
Here's everything you need to know to watch Mrs. America.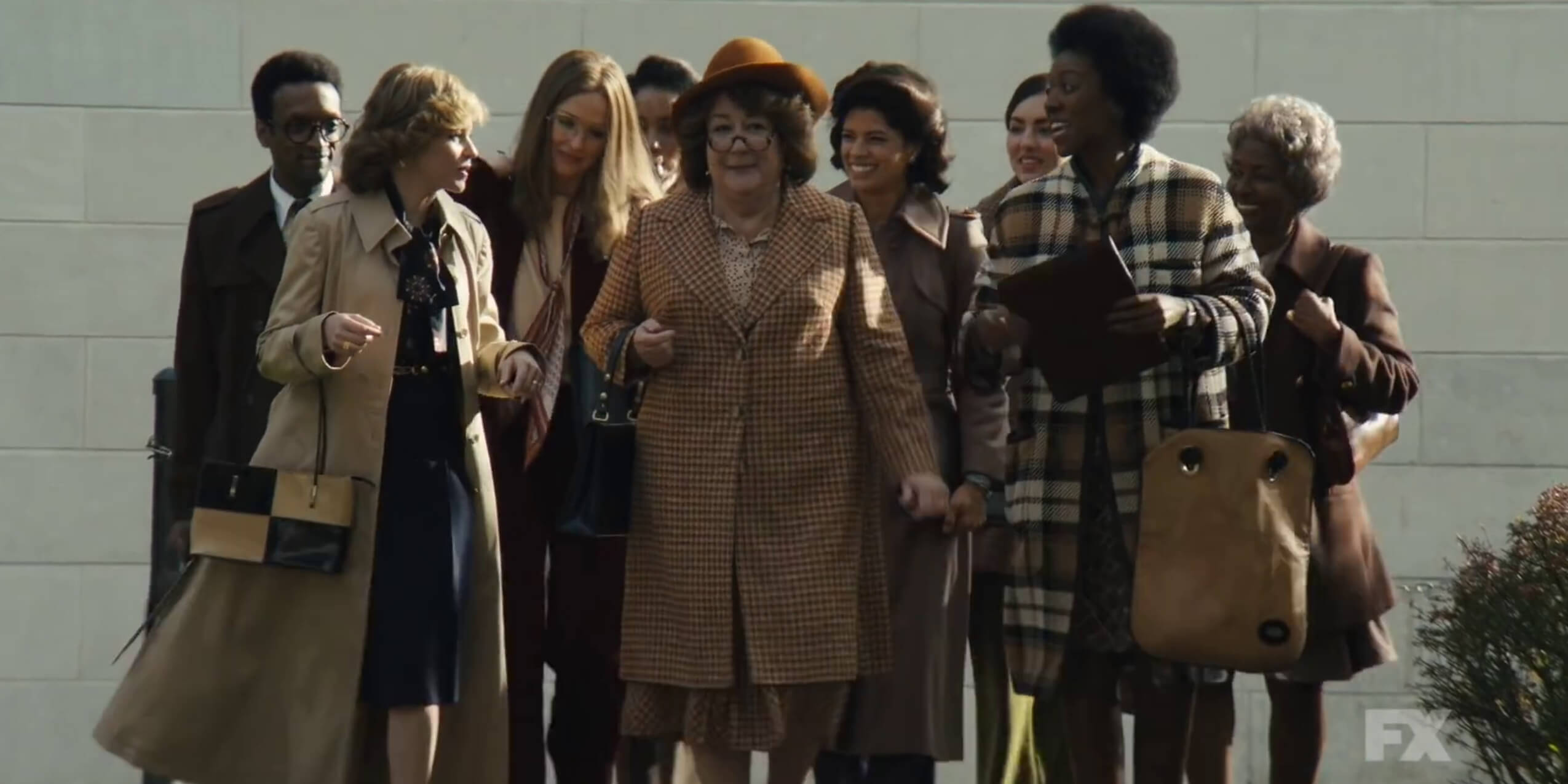 HOW TO STREAM 'MRS. AMERICA'
---
Mrs. America cast
Cate Blanchett as Phyllis Schlafly
Rose Byrne as Gloria Steinem
Sarah Paulson as Alice Macray
Margo Martindale as Bella Abzug
Uzo Aduba as Shirley Chisholm
Elizabeth Banks as Jill Ruckelshaus
Tracey Ullman as Betty Friedan
John Slattery as Fred Schlafly
When does Mrs. America air?
Mrs. America premieres Wednesday, April 15 at 10pm ET on FX.
How to stream Mrs. America
FX is available on a handful of the major live TV streaming services. When trying to decide which one is best for you, you'll want to weigh the cost, the other channels you'll receive, and the compatible devices for streaming. FX shows are also available to stream on Hulu the night after, if you're looking for a simple and easy way to stream Mrs. America.
Hulu Live TV is one of the most popular ways to stream live TV, perhaps because you gain access to a massive library of on-demand content including classic and current TV shows, movies, not to mention Hulu's original programming. As far as live-streaming goes, you'll have a ton of local, entertainment, and sports channels to flip through, including HGTV, a full suite of ESPN channels, Cartoon Network, FX, and even deep cuts like Nat Geographic and Syfy.
---
FuboTV was built from the ground up with sports fans in mind. There are different channel packages available whether you're looking for basketball, soccer, golf, or even outdoor sports like rock climbing. But no worries, all the great cable channels you're after are here too, including Viceland, Bravo, and IFC.
---
For a more à la carte service, look to Sling TV. It offers two cable packages, Sling Orange and Sling Blue, each of which costs $35 per month. If you grab them both (Sling Orange + Blue) you can save $10 per month. Sling Blue offers more bang for your buck with over 40 channels, including sports necessities like FS1, NBCSN, and NFL Network. You'll also gain access to the usual cable mainstays like Food Network, Discovery, Cartoon Network, SYFY, and FXX. Whichever package you choose, you can save $10 on your first month. Here's the complete guide to Sling TV channels.
---
There's a good chance that you're already looking to AT&T for your wireless needs. The second you sign up, you'll gain instant access to 45+ channels, including local channels and even free HBO in the Plus and Max channel suites. Plus, it comes with CloudDVR, which lets you record up to 20 hours of TV per month. One account works on two devices, but you can add more devices for only $5.
---
Vidgo offers a package for under $40 a month that pulls together more than 60 English-language channels into its National English Package, including ABC, Fox, the Disney family of channels, the ESPN family of channels (including ESPN Deportes), FS1, FS2, Fox Deportes and BeIN Sports. It offers an array of entertainment favorites, including A&E, HGTV, History, Lifetime, and a full range of Nickelodeon channels, including TeenNick and NickToons.
College sports fans will love it, too: The ACCN, Big Ten Network, the Longhorn Network, and Pac-12 Network are all on the Core package, and for $10 more, the Plus package offers all six market-specific Pac-12 Networks.
---
YouTube TV is a great solution for families because one subscription can add up to six accounts, and each account comes with unlimited cloud DVR. You can't beat the variety, either: There are sports channels like NBCSN, NBA TV, and four ESPN channels, while Disney, Disney XD, Disney Junior, and Cartoon Network will keep any kid (or kid at heart) busy for hours. It also comes with a few Spanish-language channels like Telemundo and NBC Universo. AMC, BBC America, and IFC are there too, so you won't miss out on all that prestige TV. (You can find the full list of YouTube TV channels here.)
---
Best Shows on FX/FXX
---
Popular Entertainment Channel Streaming Guides
The Daily Dot may receive a payment in connection with purchases of products or services featured in this article. Read our Ethics Policy to learn more.