The biggest questions that always surround the seemingly never-ending run of reboots, revivals, prequels, sequels, and spinoffs arriving in front of our eyes are usually always simple ones. Who is this show for? Why bring it back in the first place? And does it offer something new, or is it solely interested in trying to recreate the old magic for an easy cash-grab?
Animaniacs

RELEASE DATE:
Nov. 20, 2020
CREATOR/SHOWRUNNER:
Tom Ruegger/Wellesley Wild
STREAMING:
Hulu
The Warner brothers and Warner sister are back to wreak plenty of havoc in a world that's drastically changed since they last graced the small screen 22 years earlier. Pinky and the Brain continue their quest for world domination.
With the Animaniacs reboot, which is now streaming on Hulu, that argument is packaged in an extremely meta song-and-dance number about the latest age of the TV reboot. Yakko (Rob Paulsen), one of the three Warner siblings at the center of the original series that ran from 1993 to 1998, described Hollywood's love of reboots as "a creativity crisis fueled by terrified executives clinging to the past like rats to the debris of a sinking ship." The Warners—Yakko, Wakko (Jess Harnell), and Dot (Tress MacNeille)—try to shame themselves over the decision. But after Hulu gives them a massive check for $100 trillion, they explain that they now have cred as Wakko puts it, "when we sell out, we know we're selling out, so it's cool."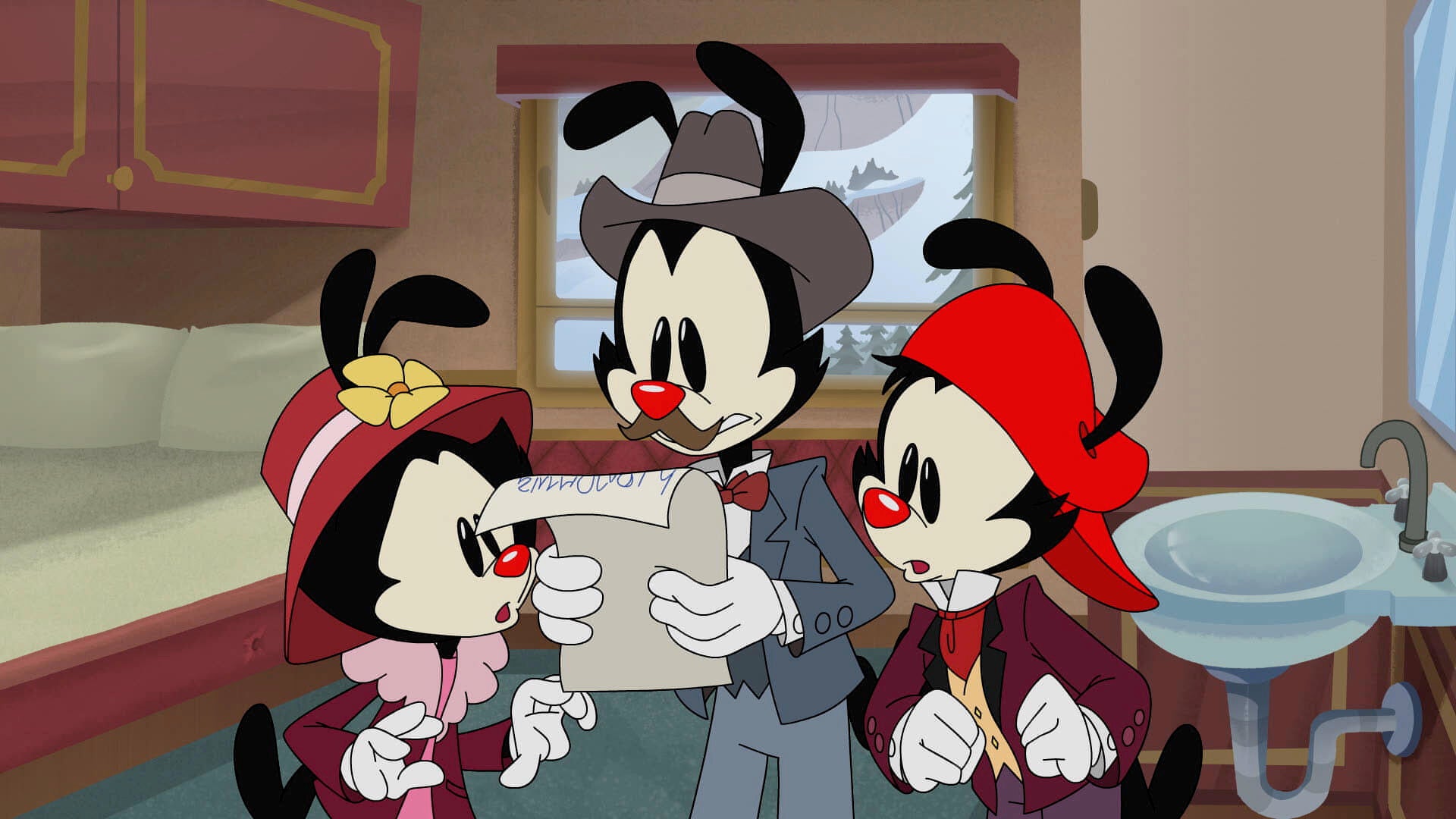 It's a relatively decent encapsulation of what Animaniacs is attempting in 2020. The original cast has returned with much of the original series' zany wit and charm. But it's often hit or miss: For every clever reimagining or parody, there's just as easily a corresponding muddled sketch or one that doesn't trust the audience to get the joke.
It's been 22 years since the Warner brothers and Warner sister have last graced our screen (21 if you include the direct-to-video Wakko's Wish). The original cast is back—even if the original creative team isn't, with Wellesly Wild helming the reboot—and it's evident from their first moments, when a Jurassic Park parody unearths them, that while some things are the same, much more has changed. They've got two entire decades to catch up with, which includes plenty of updates to their references and satire.
In the five episodes given to critics (which are a random assortment of episodes in the 13-episode first season), there is plenty of the show's signature irreverence as it attempts to balance feeling timeless and of its time. At times, the fault isn't with the sketches themselves but with us: Some of the sketches, particularly the ones that center on the 2020 election, might feel stale by the time that we get to them, or the satire pales in comparison to our own reality. But others, such as Animaniacs' approach to memes or its depiction of Russia as the country makes its own bootleg Animaniacs show, can feel very outdated. A thinly veiled political satire about guns in the U.S. is clunky in its execution.
But the original Animaniacs never just consisted of just Yakko, Wakko, and Dot. Pinky (Paulsen) and the Brain (Maurice LaMarche), who ended up with their own spin-off series, are back, and in the 2020 reboot, they're back to concocting devious and overly complicated plans to take over the world. The supporting cast of characters—which included the likes of Slappy Squirrel, the Goodfeathers, Buttons and Mindy, and even Hello Nurse—are mostly (if not entirely) gone.
That's not necessarily a bad thing on the surface. The Goodfeathers reference is nearly 30 years old, and as even the new Animaniacs highlights, there are aspects to the Hello Nurse character that wouldn't have aged well in 2020. In order to push beyond a simple rehash of a reboot, you need new ideas. But so far, there isn't much to take the place of those characters; the vast majority of the sketches involve the Warners or Pinky and the Brain. The only new sketch comes from "Starbox and Cindy," which is a two-hander between an alien (who kinda looks like Men in Black's Arquilians) who has to hit a button to give his species the go-ahead to invade Earth and a young girl who thinks he's a toy.
It's easy to notice Animaniacs' glaring omissions because, for a lot of people, Animaniacs was formidable television. It was the kind of show that balanced kid-friendly parodies of movies so obscure that even some adults don't even recognize, jokes that got past the censors back in the '90s, and musical numbers about everything from state capitals and countries to literal belching renditions of classic compositions.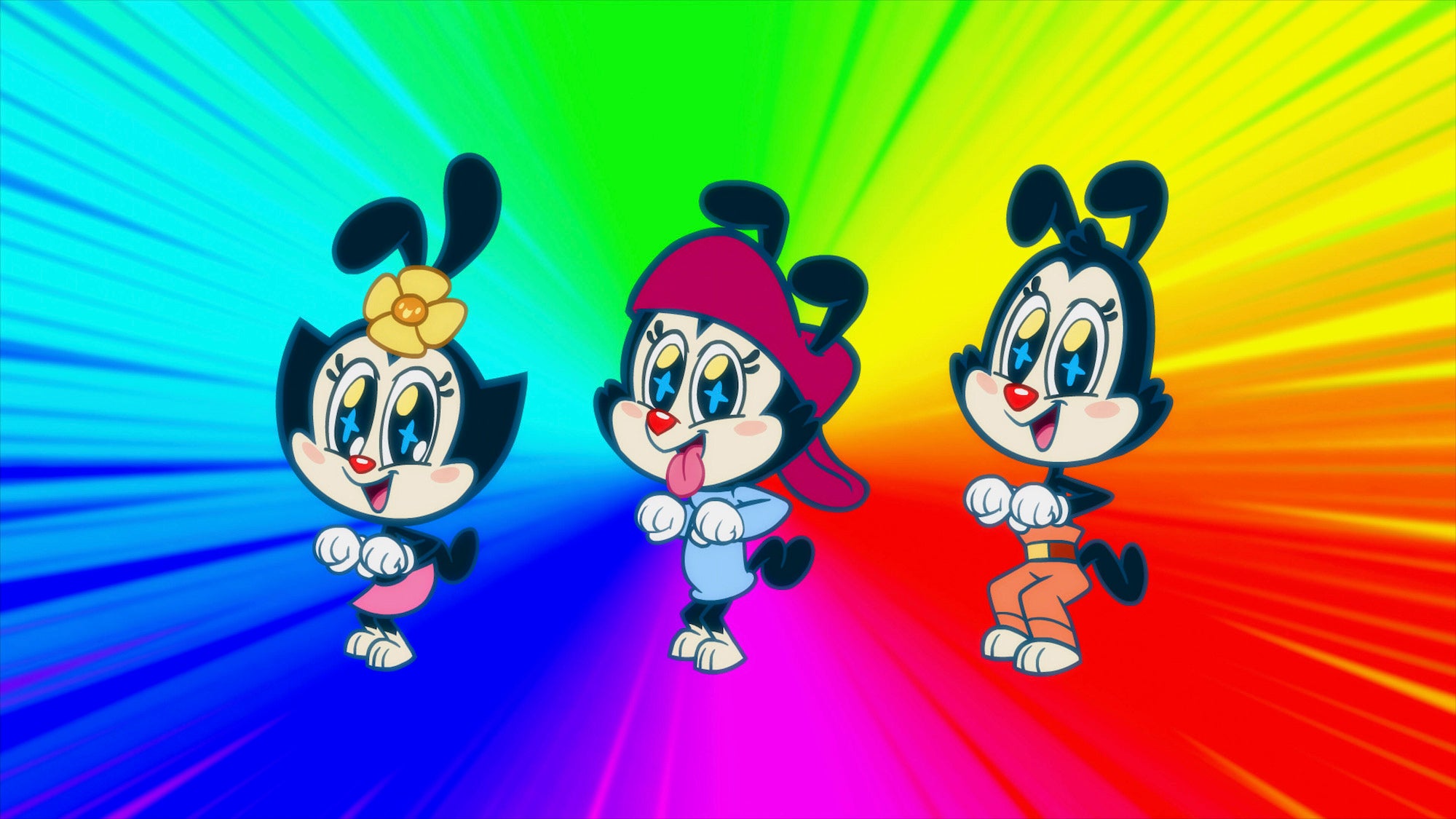 So far, Animaniacs doesn't have it all figured out. But every time you might be about to write something off, it throws a curveball that's so spot-on, weirdly prescient (in a show that flat-out acknowledged that it has to do some guesswork between 2018 and 2020 given the slow nature of animation), or absurdly funny that it demands another look. The camaraderie between Paulsen, Harnell, and MacNeille as the Warners (and Paulsen and LaMarche as Pinky and the Brain) hasn't dimmed in the 22 years since they've caused havoc on the Warner Bros. lot and in the laboratory.
Animaniacs, which has already been renewed for a second season, is still largely leaning on what it thinks worked best for them in its original run. So far, it's a mix. But what will be much more interesting is what happens when you take the training wheels off.
Animaniacs' entire first season is now on Hulu.