When Sex and the City wrapped on HBO in 2004, after six years and 94 episodes, fans were still clamoring for more. And eventually their perseverance paid off when a feature film of the same name was released in 2008.

The popularity of the series was due in part to the way fans identified with the main characters: Carrie Bradshaw, Charlotte York, Samantha Jones, and Miranda Hobbes. It was also highly entertaining to watch how the four respective characters, who couldn't be more different, individually navigated the late '90s, early aughts dating scene in New York City.
We laughed with them, we cried with them. And now, Netflix is streaming the first Sex and the City movie (a sequel eventually came out in 2010) so you can do both of those things without ever leaving your home.  
So what's the movie about?
Viewers catch up with the ladies four years after the events that transpired in the Sex and the City series, and a lot has happened. Initially, it seems as if everyone might have found their happy endings after all.
Charlotte (Kristin Davis) is married to Harry Goldenblatt (Evan Handler) and the couple has adopted an adorable Chinese girl named Lily. Samantha (Kim Cattrall) has since left New York City and is now living in Los Angeles to be close to her boyfriend, Smith (Jason Lewis), who is now a successful actor. Miranda (Cynthia Nixon) moved to Brooklyn with Steve to raise their son together. And Carrie is officially in a relationship with John James "Mr. Big" Preston (Chris North) and the even bigger news is they are apartment shopping together. 
When Carrie shares her fears about buying a home together as an unmarried couple, Big pops the big question with–what else?– a pair of blue satin Manolo Blahniks. 
Just when it seems like everything is going great for our four protagonists, however, city life happens and things become complicated. But as usual, the four women have one another to lean on to while navigating the suddenly rocky waters.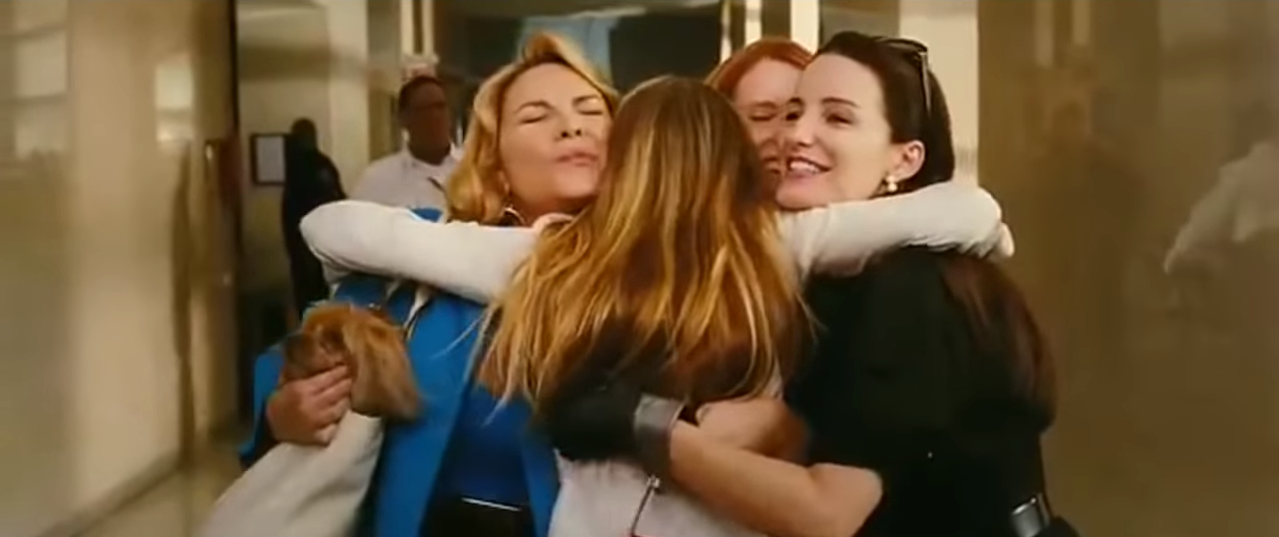 Why stream Sex and the City on Netflix?
For anyone who loved the original series, the film is a must-watch, and a great way to catch up with the beloved characters. There are some major plot developments that may be confusing for casual fans, or those who haven't watched the entire series. But that shouldn't deter anyone from watching it, either.
The overall story is enjoyable; the fashion is course out of this world; and it's always fun to see Sarah Jessica Parker step into Carrie's Manolos. That said, reviews on Rotten Tomatoes reviews are tepid with an overall 50% rating of the Sex and the City movie. While some claim fans of the show will be happy, others found that it didn't translate well to film.
But if you're feeling up to a blast from the past, grab yourself a Cosmo and catch Sex and the City on Netflix. 
Still not sure what to watch tonight? Here are our guides for the absolute best movies on Netflix, must-see Netflix original series, documentaries, docuseries, and movies.
Looking for something more specific? Here are our Netflix guides for the best war movies, documentaries, anime, indie flicks, true crime, food shows, rom-coms, LGBT movies, alien movies, gangster movies, Westerns, film noir, and movies based on true stories streaming right now. There are also sad movies guaranteed to make you cry, weird movies to melt your brain, old movies when you need something classic, and standup specials when you really need to laugh.
Or check out Flixable, a search engine for Netflix.