The Daily Dot may receive a payment in connection with purchases of products or services featured in this article. Read our Ethics Policy to learn more.
Sure, porn on Starz isn't officially a thing. You might not have the same nostalgia for its classic late-night programming as you do for HBO or Cinemax. But this network's willingness to push the limits of on-screen sexuality might just usher your after-hours TV experience into the 21st century.
Whether it's vintage horror movie boob shots or a charming documentary about exotic dancers, you'd better start running yourself a cold shower. Here are the steamiest, sexiest shows and movies streaming on Starz right now. 
| | |
| --- | --- |
| Monthly | $8.99 |
| Annually | $74.99 |
---
Starz porn: Movies
Stripped: Los Angeles (2020)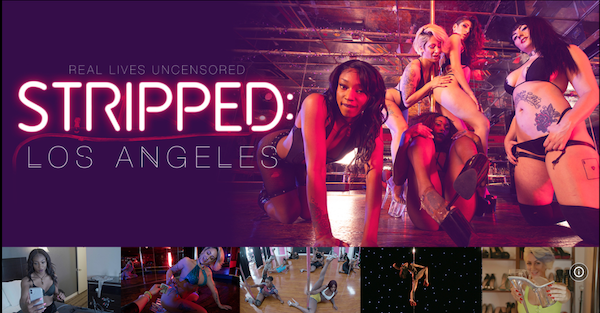 This documentary follows five of the highest-earning strippers in the L.A. area. Watching this is so loyal to the strip club experience, you might wanna order some wings.
You'll see plenty of skin and some top-tier pole dancing, plus hear about each dancer's life and experiences. You may save some dollars watching the film, but after a year in quarantine, we're willing to bet you'll be tempted to hit up your local club.
---
Documentaries Into (2020), Serviced (2019), & Sex Club 101 (2019)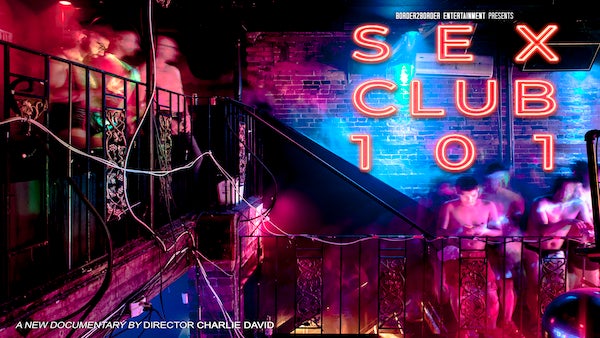 Many average Joes don't understand kink, non-monogamy, sex work, or other facets of sexuality that interact with the LGBTQ experience. Fortunately, documentarian and Canadian TV star Charlie David does, and he presents each topic in all of its nuance and humanity.
Serviced is a particularly humanizing look at body and sex workers and the emotional care they provide for their clients. Into takes a look into the kink community and sheds light on power dynamics, pain, and the psychological side of sex, while Sex Club 101 opens the doors to the real-life experience of sex clubs.
There's a lot of objective nudity in all three films. Think of it like nude beach nudity. It's just a lot of regular-ass people being naked while doing freaky stuff, and we love to see it.
---
Friday the 13th Part V: A New Beginning (1985)
There's nothing sexy about murder, but in keeping with slasher movie traditions, someone has to have sex before they get killed. Friday the 13th Part V might be the most sexual graphic entry in the series, with bountiful nudity throughout. Oddly you don't get to see much in the way of sex, just the naked aftermath, but as any fan of late-night cable can attest, sometimes that's enough.
---
Indecent Proposal (1993)
What would you do if someone offered you $1,000,000 for one night with your partner? Indecent Proposal thrusts Demi Moore and Woody Harrelson into just that quandary, with the bonus that the billionaire in question looks like Robert Redford.
This story of consensual, but problematic, sex went wrong, and its aftermath was a box office hit upon release. Fire it up on your next date night and see why.
---
Wild Things (1998)

Every now and then a trashy movie is just what the doctor ordered—and Wild Things fits the bill. It's a twisty tale of murder and betrayal set against a swampy, sweltering backdrop of Florida.
And as Florida Man has taught us, nothing is too crazy or lurid to go down in the Sunshine State. By the end of the movie, you won't know which way is up, but you'll have had fun getting there. —Eddie Strait
---
Piranha 3D (2010)
"Piranhas" may not be the first word you want to find when you search for porn on Starz. But this movie has every cringeworthy movie staple from the early 2000s: a party bro plot, CGI creature feature, and Jerry O'Connell doing a Girls Gone Wild ripoff character. Toss in gratuitous violence combined with lots and lots of boobs and it's basically like stepping into a time machine.
Not all of the nudity is coated in blood, though. There's a very pleasant naked swimming scene before the fish start biting. Throw in our collective childhood crush Elizabeth Shue and you've got an over-the-top experience you're sure to enjoy.
---
The Black Full Monty
Join The Chocolate Men, the first all-Black male strip show in the UK, as they go on tour. There's a lot of uncensored performance footage here. We are talkin' dicks for days.
Beneath the abundance of on-screen sausage, there's a conversation about the relationship between race, empowerment, and fetishization. Come for the steamy strip tease, and stay for a more personal look at these talented men.
---
Starz porn: Series
P-Valley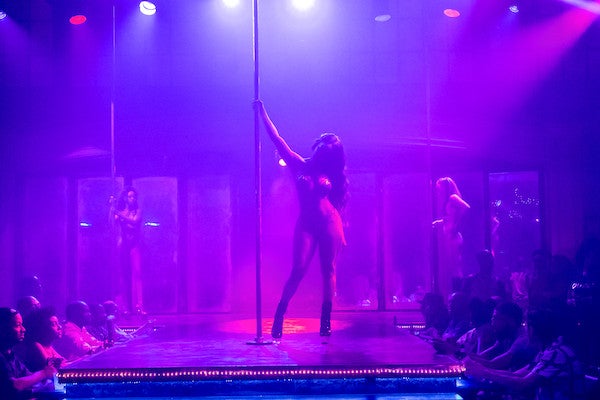 Damn, Starz sure does love a pole dancer. And who can blame them? This hit series, based on a play by Katori Hall, follows the performers and crew of The Pynk, a strip club in Mississippi's Dirty Delta. The show was so well-received, it was almost automatically renewed for a second season.
Not only does P-Valley feature some of the most gravity-defying pole dancing you'll ever see, but there are also plenty of steamy scenes from the VIP room and characters' everyday lives. We even get some happy, loving queer sex, bless us.
---
American Gods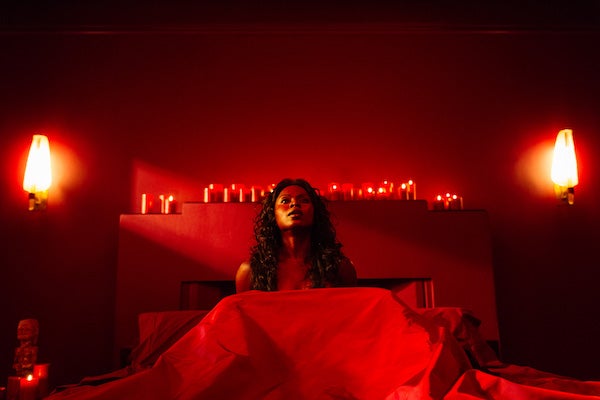 Starz regularly pushes the boundaries of explicit sex on its shows, and American Gods might push harder than any show on cable.
This adaptation of Neil Gaiman's fantasy epic centers around a man named Shadow caught in a war between the gods of old and new. Along the way, he meets beings of incredible power, and viewers are treated to a smorgasbord of erotic and frankly weird sex.
American Gods is the rare show that puts an actual erect penis on-screen, along with all the metaphysical human/god sex you could ever want. Finally, nudity equality exists on cable.
---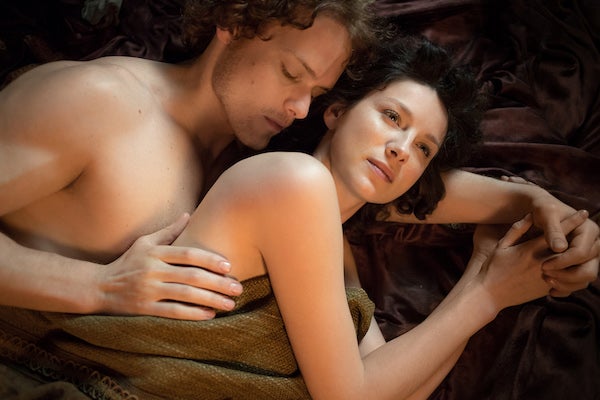 This hit series is one of the most indulgent kinds of Starz porn. While Outlander takes a few episodes to warm up, once this historical sci-fi romance gets going, it goes for broke.
Based on the hit book series, Outlander follows a British WWII nurse named Claire, who is inexplicably sent back in time when she visits Scotland with her husband. Suddenly finding herself in the eighteenth century, she begins a return to Frank– even while falling in love with the rebellious Highlander Jamie.
Torn between two sultry romances, one in the 1945 and one in the 1743, Outlander is part fantasy, part harlequin romance novel, and all heart. If you're wearing something gauzy and feeling saucy, this show is the multi-period piece for you.
---
The Girlfriend Experience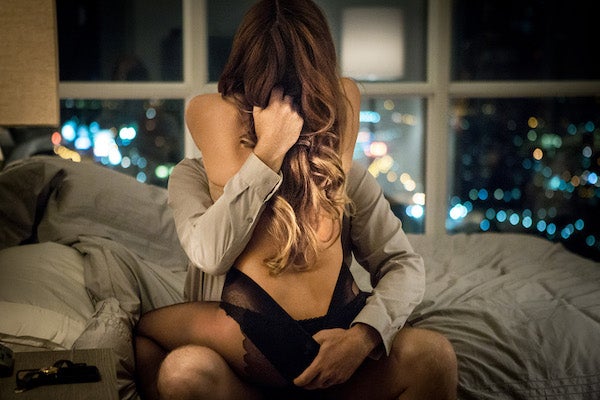 The Girlfriend Experience is a spinoff of acclaimed director Steven Soderbergh's film of the same name. Given its pedigree, you might be surprised just how graphic this portrayal of high-end call girls is, but Starz pushes the boundaries every episode.
While the show doesn't show actual sex, don't be surprised to see a blowjob performed on a prosthetic that's subbing for a person. Interestingly, the show keeps the emotional depth of its namesake, showing us the lives of each sex worker along with their clients. It ends up creating one of the most erotic and oddly thoughtful dramas on cable.
---
Vida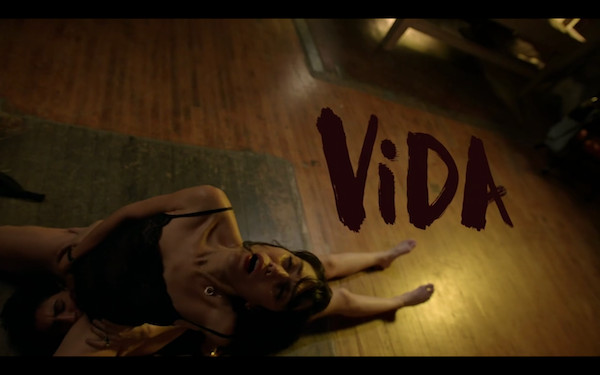 When their mother Vidalia dies, Mexican-American daughters, Emma and Lyn have to return to their hometown in Boyle Heights in L.A. for the funeral. As they tend to her estate, they quickly realize that Vidalia had a few secrets– including a wife. As they attempt to sort through their mother's past, the two women are forced to confront their own histories.
Vida's writers' room is comprised of queer Latinx creators, and each of the many sex scenes in the show is consciously written. Sure, they're steamier than Hell in July, but each scene reveals more about the characters than just their skin.
Plus, the show doesn't rely on the usual TV vanilla sex. There's butt stuff, mouth stuff, foot stuff– and it's all hot stuff. Unashamedly queer, bold, and emotionally riveting, Vida is a must-watch for any Starz subscriber.
---
Magic City
Starz's crime drama didn't make much of a splash when it hit the network in 2012, but it's a hidden gem on Netflix. Jeffrey Dean Morgan (Negan on The Walking Dead) stars as Ike Evans, a Miami hotel owner in over his head with the mob. Set in 1959 Miami following the Cuban Revolution, Magic City sees crime and political tensions collide.
Miami was as sexy back then as it is today, so there's plenty of sex fogging up the windows. Full of love triangles, corrupt government officials, and sun-soaked mobsters, Magic City is a delightful historical crime thriller.
Power
Starz's most-popular show is also its soapiest melodrama. Power tracks the rise of Ghost, a powerful street-level coke dealer as he tries to transition into a nightclub entrepreneur. He has everything; an army at his fingers, a gorgeous wife, and millions of dollars.
But when the lost love of his life re-enters his life, Ghost finds himself in her bed and his family in the crosshairs. While not as graphic as other Starz shows, Power's hot, intense sex scenes can keep pace with any fantasy fodder on cable. It also features easily the sexiest all-around cast of any pay cable show. This one has our vote for some of the best porn on Starz.
| | |
| --- | --- |
| Monthly | $8.99 |
| Annually | $74.99 |
---
---