A senior naval officer in Thailand has apologized for orchestrating a "silly YouTube video remake" of PSY's smash-hit "Gangnam Style."
Meanwhile, members of the 22nd Company at the United States Naval Academy have been told that their parody of the massively successful music video is A-OK with administration in Annapolis.
So basically, score one for America. America, you are a beacon of freedom and free speech, baby, and you should celebrate accordingly—by filming parody video after parody video of PSY's delectable and downright dominating "Gangnam Style."
According to a report in The Bangkok Post, a number of senior ranking officials in the Thai Navy saw the parody video and didn't take too kindly to the "improper" spectacle of officers in dress whites prancing about and performing PSY's patented horsey-dance.
A source in the Navy told The Bangkok Post that some high-ranking officials considered launching an investigation but eventually decided to let the unit off with a warning.
Vice Admiral Therathorn Kajitsuwan accepted the blame for the performance, saying it was his idea that the officers shoot it, but admitted Monday that he did not expect his "subordinates" to upload the video to YouTube.
"I admit that in some respects it may not be appropriate, but I insist that we had no intention to insult or make fun of Navy officers in uniform," he said. "We only thought about finding an activity that officers and employees would enjoy doing together to bid farewell to our retiring colleagues.
"Everybody [in the video] was willing to dance and looked very happy. But if anyone feels discontented or sees it as inappropriate, I apologize."
Kajitsuwan's story runs a similar plotline to that of the United States Naval Academy's 22nd Company, which released its "Gangnam Style" parody as a "spirit spot" Sept. 16 and has since accrued more than 4.8 million views.
The big difference: rather than face scrutiny or a slap on the wrist for their actions, members of the 22nd Company have instead chosen to sell Navy-themed "Gangnam Style" t-shirts for $15 a pop.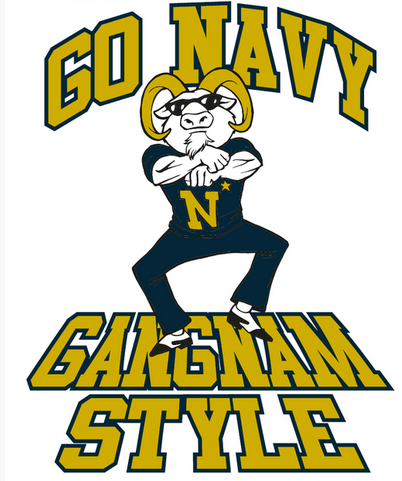 Photo via YouTube