When Sylvester Stallone had a germ of an idea to create a movie that featured a has-been boxer named Rocky from Philadelphia who gets the opportunity of a lifetime to fight for the heavyweight world title, the movie business seemingly did it all could to knock out his dreams. He was a struggling actor with about $100 in the bank before he turned out the first Rocky script in three days. He wanted to play the title role. Nobody else thought that would work.
Somehow, though, the filmmakers took a shoestring budget and shot the movie in 28 days. Stallone was the leading man and the hero. Out of that came one of the most successful film franchises of all time. It made Stallone a superstar, and it allowed him to create seven sequels (and counting). Now that the first five Rocky movies are available to stream on Netflix, we've decided to rank all of them below (based solely on my opinions).
In the films, Rocky has won and lost. He's loved and has been loved. He's been jeered and driven into the depths of his own hell. He's (literally) been to the mountain top, and he's been a bum. He learned that if he can change and you can change, then everybody can change. The first Rocky won the best picture Oscar in 1977. But I know plenty of kids in my generation who rank Rocky III or Rocky IV as their favorite. If you were born in 2000s, maybe you dig Creed the most.
Either way, there are no wrong answers. Unless, of course, your favorite is Rocky V. If that's the case, there's probably no point in reading this list anyway.
Rocky movies ranked from best to worst
1) Rocky IV: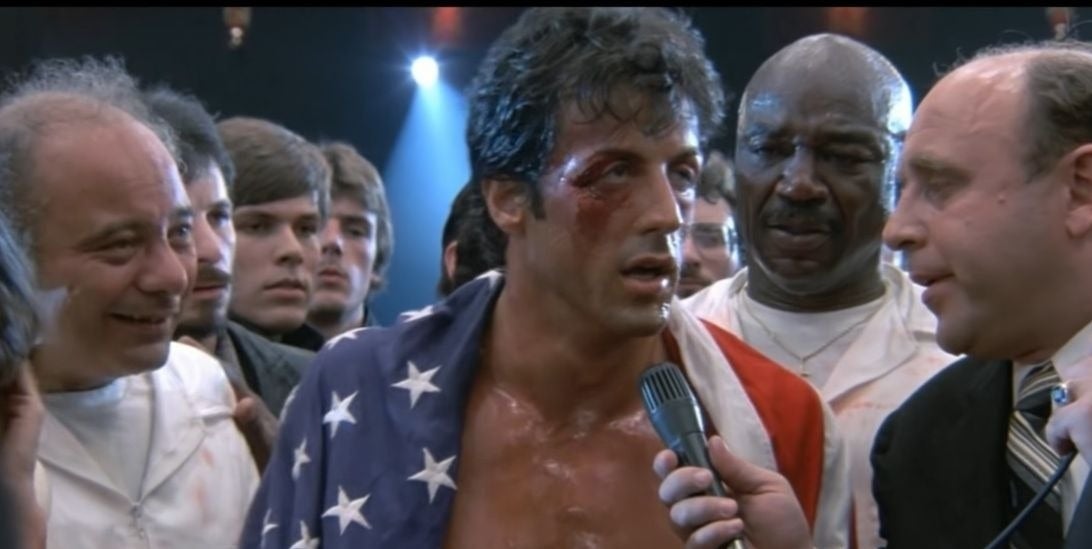 Is this the greatest film in the franchise? Absolutely not. Does it feature the best ever training montage—a staple of all of these films? Probably so. Does it showcase Rocky ending the Cold War all by himself? For sure. Apollo Creed is killed by gargantuan Russian Ivan Drago during their disastrous exhibition match, and Rocky travels to the frozen wasteland of the Soviet Union to get his revenge and to prove to himself, to his wife Adrian, and to his kid (and their weirdly sexual robot servant, I suppose) that he still has what it takes to be a champion.
I've seen Rocky IV the most of any film in this franchise, and if I come across it on TV, I always stop to watch. It's what Apollo would have wanted.
Streaming: Netflix, Amazon Prime
Rent it: YouTube—$3.99
Buy it: YouTube—$16.99
2) Rocky III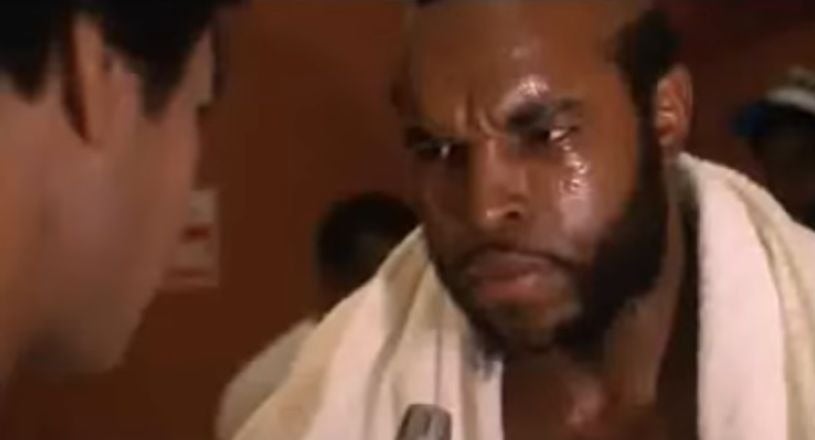 There's nothing better than a Rocky film that features Mr. T as the villain, Hulk Hogan as the dreaded Thunderlips, and a training montage that shows Rocky and Apollo blissfully embracing each other in the ocean. It also features perhaps the best single line in the entire franchise. When an interviewer asks Mr. T, who plays Clubber Lang, if he has a prediction for his upcoming fight—Lang looks directly into the camera and says one very elegant word: "Pain." You'll feel that way in your heart when Mickey dies midway through the film, but Rocky shows his spirit to eventually defeat the scariest challenge of his career. And he'll do it while wearing short shorts and knee-high striped socks.
Streaming: Netflix
Rent it: YouTube—$3.99
Buy it: YouTube—$16.99
3) Rocky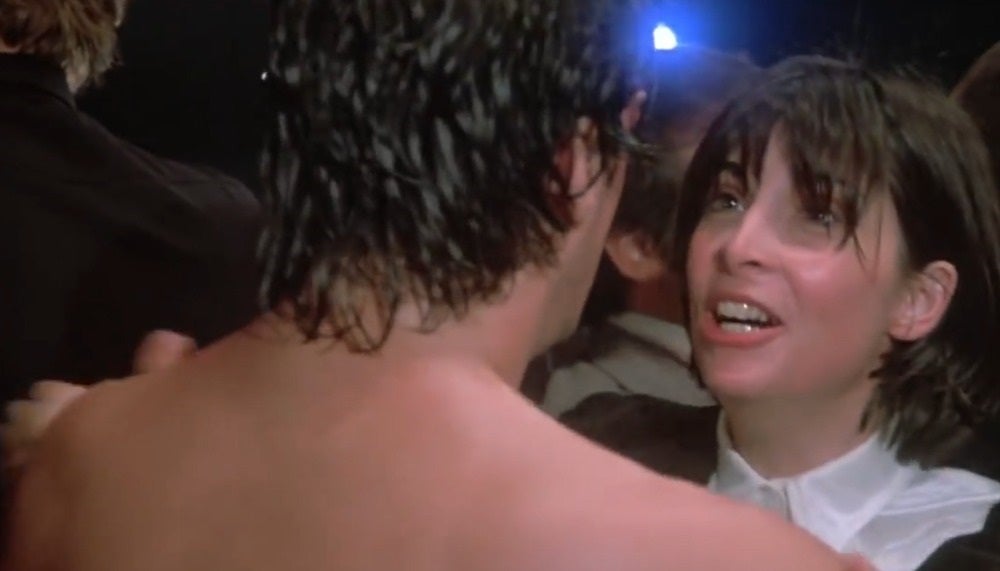 The original Rocky is hard to beat—unless you're Apollo Creed, who actually wins the climatic fight despite Rocky's best efforts. The writing is top notch. The acting is fantastic. The storyline is amazing. And the awkward love story between Rocky and Adrian is superb.
Perhaps more than any other Rocky movie, this is a love story about a down-on-his-luck man who has little motivation to improve himself, finding and wooing the woman who would help him turn around his life. (His love for his wife is a theme throughout the series, even after she dies.)
Yes, the film was made in the mid-1970s, and it certainly feels dated at times. But the story of the underdog fighting his biggest challenge is timeless. Plus, I'll never stop laughing when—after the fight is finished and emotions are running high and Bill Conti's brilliant score is playing—Rocky greets an enamored Adrian in the ring with, "Hey, where's your hat?"
Streaming: Netflix, Amazon Prime
Rent it: YouTube—$3.99
Buy it: YouTube—$16.99
4) Creed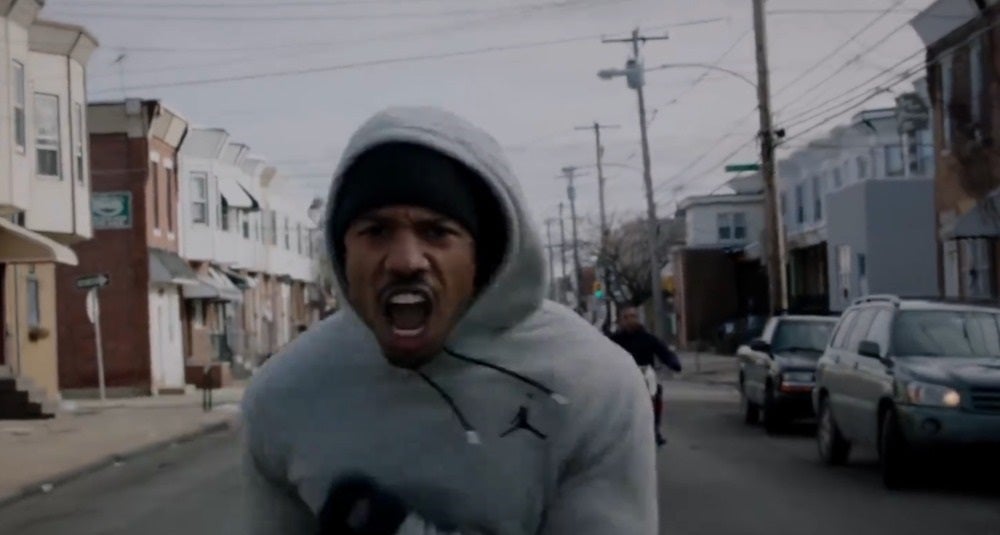 It's shocking at how much I loved this film, the seventh in the franchise that's basically a franchise reboot. It stars Michael B. Jordan as Apollo Creed's son, and the movie does a great job of introducing the world of Rocky to the newest film-watching generation, while also throwing Easter eggs at those fans who were watching since the original was released.
I remember sitting in the theater with a couple of buddies, and suddenly, as Jordan completed his training montage with a full-on sprint as motorcycles zoomed all around, I began crying. As I hurriedly wiped the tears away, I thought to myself, "Am I really crying over a boxing movie?" The answer, of course, is that the most successful Rocky films aren't simply boxing movies. They're dramatic films that can wallop the emotion right out of you.
Rent it: Amazon Prime—$3.99, YouTube—$3.99
Buy it: YouTube—$16.99
5) Rocky II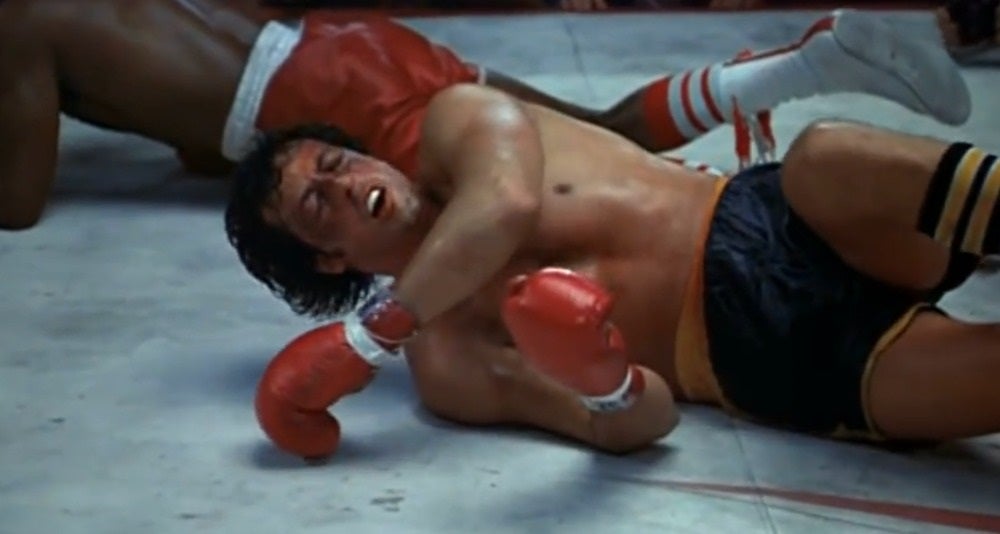 Rocky gets his revenge in the first sequel, by beating Apollo Creed for the heavyweight title and qualifying himself as an all-time great. This is actually one of my least favorite Rocky films, but the end of the fight features a double knockdown, a tremendously slow 10 count, and a whirlwind musical journey that morphs into one of my favorite scenes in the entire franchise. I've maybe seen Rocky II in its entirety three times. I've seen the final round of the Rocky II fight dozens of times. That's how much I love it.
Streaming: Netflix, Amazon Prime
Rent it: YouTube—$3.99
Buy it: YouTube—$16.99
6) Rocky Balboa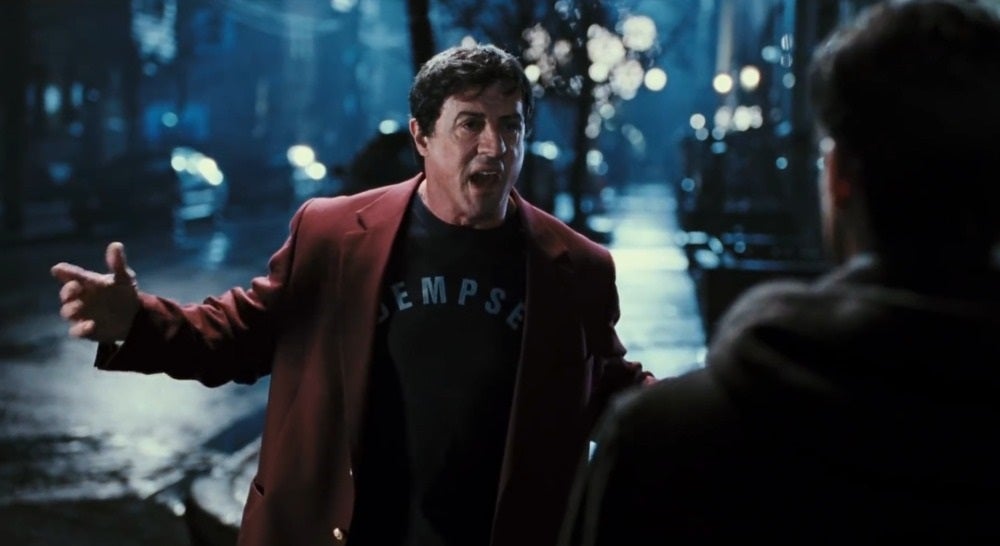 Out of the five films that preceded this one, Rocky Balboa had the most realistic boxing scenes, thanks in large part to real-life light heavyweight champion Antonio Tarver, who played Mason "The Line" Dixon. This film catches up with Rocky as a long-retired fighter who gets back into the ring to take on a multitude of challenges—the youth of Dixon, the angst of his grown son, and the sadness that envelopes him after Adrian's death. A split-decision loss to Dixon—the same way Rocky lost to Apollo Creed in the first film—would have been the perfect way to cap the entire franchise before the Creed reboot resurrected everything.
Streaming: Amazon Prime
Rent it: YouTube—$3.99
Buy it: YouTube—$16.99
7. Creed 2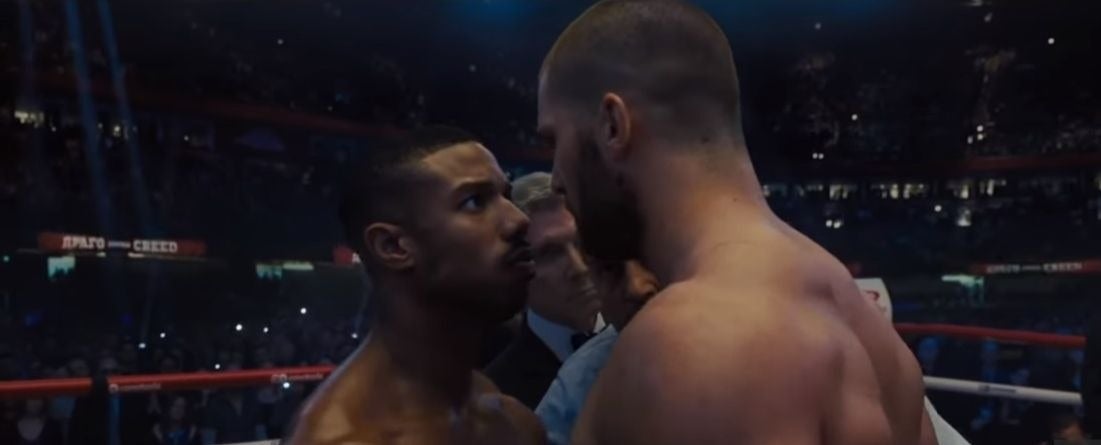 After the success of the first Creed film, I had high expectations for this, especially since Ivan Drago made his return (the main event matches Adonis Creed vs. Drago's son, Viktor). But the movie wasn't great, and Jordan's acting seemed off. Still, the movie is worth watching just for the ending sequence that brings it all back to Rocky IV in a really fun way.
Buy it: Amazon Prime—$14.99
Rent it: YouTube—$18.99
8) Rocky V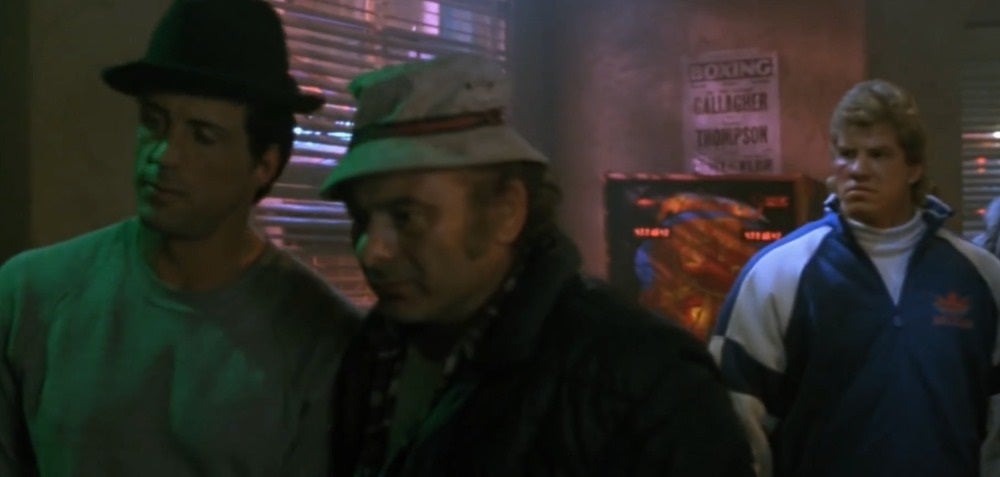 Many die-hard Rocky fans have decided that this film doesn't exist—in much the same way, some Godfather fanatics refuse to entertain the notion of Godfather III—but it's out there. I've seen it. There are some relatively entertaining sections, but in retrospect, it would have been tragic if the franchise had stopped here (as it is, it was 16 years between this release and Rocky Balboa). I mean, there isn't even a damn boxing match!
Instead, the climax between Rocky and his protégé Tommy Gunn (played by the late IRL boxer Tommy Morrison) takes place in the street and the final punch sends Gunn crashing into a bus. In between, Rocky basically abandons his young son to help train Tommy Gunn, while reeling from the brain damage that somehow disappeared in subsequent films. If you've never seen this film, consider yourself lucky. Just be like so many others, and forget this even exists.
Streaming: Netflix, Amazon Prime
Rent it: YouTube—$3.99
Buy it: YouTube—$16.99
For a year-round sports fix, sign up here to receive our weekly boxing newsletter. You'll hear about all the biggest fights and best knockouts from the Daily Dot's streaming sports guru Josh Katzowitz.
READ MORE: