A webcomic has found his muse in an unlikely pair: a potential presidential candidate and a standup comedian in a green speedo.
Mitt Romney and Rob Delaney are at the center of Josh Mecouch's latest creation, Mitt and Rob, a Tumblr webcomic that dramatizes the Romney-centric tweets from Twitter king Rob Delaney. Mecouch told the Daily Dot that he was inspired to start the project after realizing his regular amusement over Delaney's penchant for trolling.
"Any time a big company or political figure is using Twitter, there's a transparent agenda behind their tweets," Mecouch, 26, said. "Delaney frequently messes with accounts like Pepsi, Walmart, Mitt Romney's, and I imagine the social media strategists have no idea how to respond or deal with his absurdist humor.
"When Delaney tweets at Romney about Jar Jar Binks, and that becomes the most retweeted comment relating to Mitt, I'm sure it's quite confusing for his social media team. This makes me happy."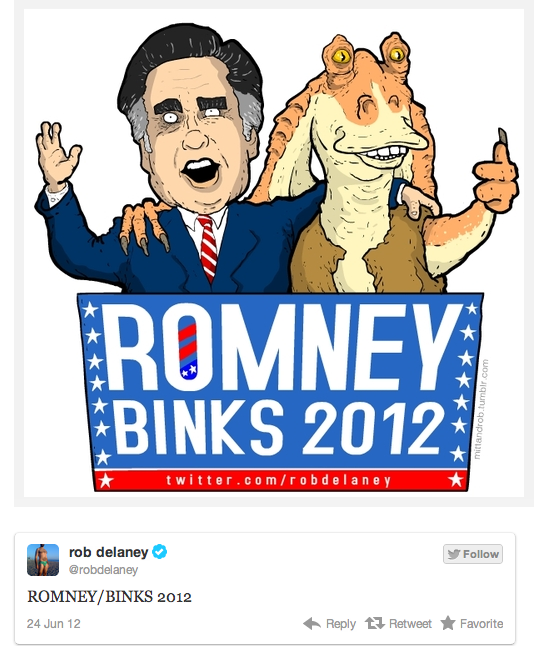 Mecouch has turned four of Delaney's tweets into webcomics, though he plans to create a whole lot more. (Delaney has posted "hundreds" of tweets about Romney.) In each, he makes a point of capturing the two figures' square jaws and similar facial features.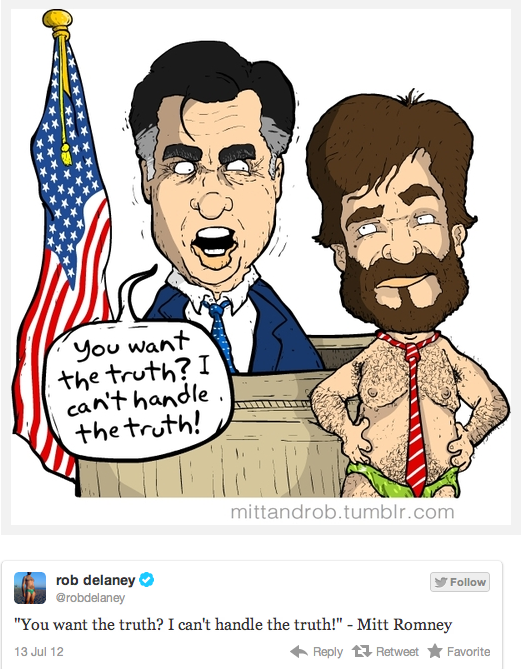 "For Rob, just having him in his signature edition speedo covered in hair with a full grown man beard makes him a funny character," he said. "Romney has fairly prominent eyebrows and absolutely perfect hair.
"If he wasn't campaigning to become the leader of the free world, he could get work as a model for Head and Shoulders."
Mecouch said it's the hair that we should expect to see spotlighted in future creations.
"[Delaney] has some top notch tweets about Mitt's hair," he said.
Photo via Mitt and Rob