Fans are a special breed of people.
They follow, haunt, and defend any cynics of their chosen affection. They're usually found hiding on social media, waiting to latch on to the latest controversy and shower their star with much-needed support—and stamp out the haters.
If you encounter them in the den of Instagram, Twitter, or Tumblr, you need to be ready. With that in mind, we created primer and survival guide to five of strangest and strongest fandoms for female pop stars.  
Here's what you need to know before encroaching on #RihannaNavy territory or finding yourself in the middle of #Swifties nation.
1) Rihanna // #rihannanavy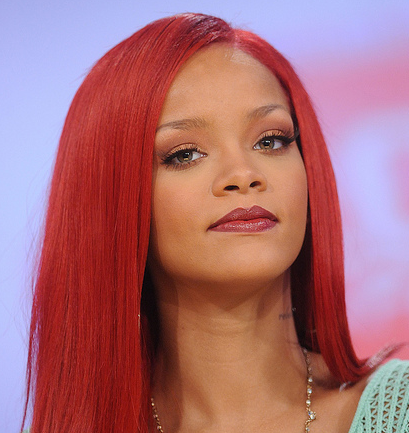 Origin: It's unclear where the hashtag exactly started, but it dates back to at least 2009. That's when the controversial R&B diva dropped "G4L" on her fourth studio album Rated R, in which she croons, "We're an army, better yet a navy." The nautically themed title was reinforced in her 2012 movie Battleship. She was a "weapons general" and said a lot of award-worthy lines like "Chicken!," "Weird, man!" and "Get up princess! Come on!"
Branding: There appears to be no "official" logo, but they sure love to capitalize on that "Keep Calm" meme with a knock-off proclaiming "Keep Calm and join Rihanna Navy."
Influence: 16,000 tweets in the last 30 days, according to Topsy.
Fans' favorite platform: It's a tie between Twitter and Instagram. RiRi is a prolific Instagram user, keeping her 4.4 million followers updated on the stupidest memes and her questionable life choices. There is a well-documented Navy deployment following each of her posts, usually showering her in compliments; but it's the #rihannanavy tag that best exemplifies her fans devotion. It mostly consists of fan pictures, gaudy-looking memes, and fan drawings of their queen.
On Twitter, the fans' tone is much different and more business-like. It's not uncommon for members of the #RihannaNavy to act as a political action committee to siphon award votes for the singer. Some accounts wax adoringly about her: "Rihanna actually fits the definition of a diamond: beautiful, radiant, multifaceted, stronger than steel. #Diamonds," tweeted  @RihannaNavy.
Weird fanart: Whatever the hell this is.

Photo via @RihannaNavy/Twitter
2) Katy Perry // #katycats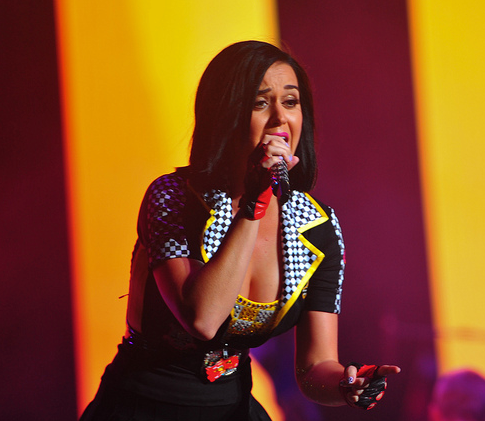 Origin: Some apparently think Katy Perry sounds like a cat. Bonus points for alliteration. A fan, who has an intricately drawn Katy Perry tattoo on her back, wrote on a Katy Perry fan forum in 2008 that they're just "super obsessed."
Branding: They have a logo stylized after Perry's album covers.
Influence: 48,000 tweets purred in the last 30 days.
Fans' favorite platform: Given her penchant for outlandish costumes, Tumblr's image-heavy platform makes for an ideal homebase for Katy Cats. There's countless single-serving Tumblrs devoted to the pop star, exhibiting everything from fan-knitted dresses baring her face, her #gym, #casual workout gear, and of course, GIFs of Perry either performing or doing some sort of head nod/possible secret message to fans.
Then there's this GIF of Justin Bieber hugging Perry that, judging by its 33,000 notes, made tweens explode everywhere. All in all, it's a pretty tame fanbase, filled with optimism and positivity that we're all fireworks.
Weird fanart: Not even rage faces are immune from Katy fever.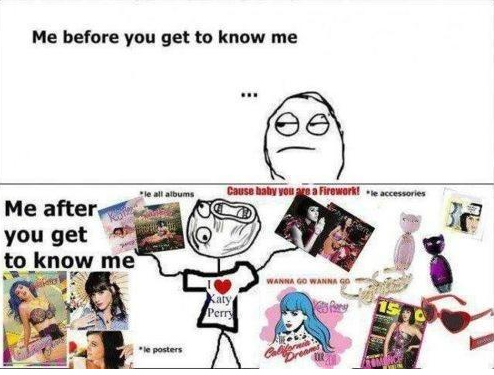 Photo via Topsy
3) Demi Lovato // #lovatics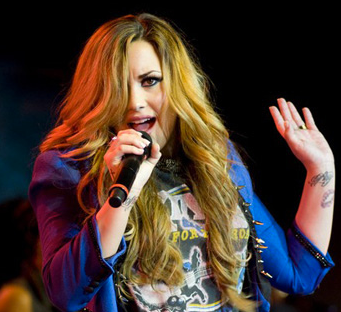 Origin: The Barney and Friends star turned Disney Channel actress turned X Factor judge has the most the dedicated fans with the most declarative suffix. They've been through it all with Lovato, unwavering in their support. MTV News even named them the "best fans" of 2012.
Branding: "I am Lovatic" appears to be their universal chant.
Influence: 76,000 tweets in the last 30 days.
Fans' favorite platform: A tie between Twitter and Tumblr. It's best to step-off from taunting a #lovatic or they will fight you with positivity. Lovato, who has angled herself as the tween-version of Oprah, leads the charge by using her 11-million-strong Twitter account as a rallying call for love and support. A tweet from Lovato proclaiming her love for the fandom (written in October 2011) earned 19,000 retweets and still is actively shared by fans everywhere.
Lovato is an anti-bullying spokeswoman and Tumblr is where her messages are energetically shared. Mixed-media fan art of Lovato is adorned with uplifting phrases like "Unbroken," and GIFs of her stint on Fox's The X Factor are routinely shared. In October, #lovatics created a social media-heavy campaign to pray for Lovato's sick aunt.
Weird fanart: This Hunger Games homage.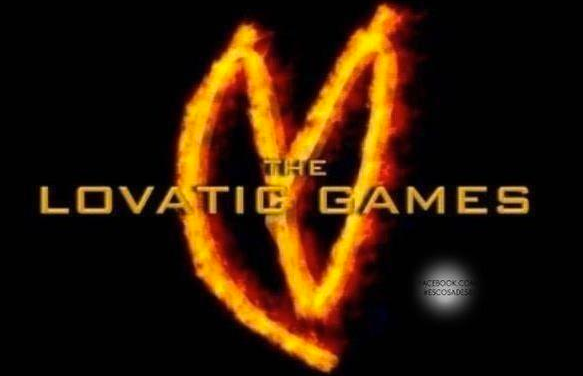 Photo via Topsy
4) Lady Gaga // #littlemonsters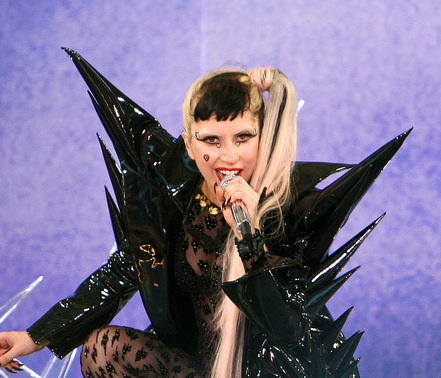 Origin: In a 2011 interview with U.K.'s Channel 4, Lady Gaga explained the nickname sprouted from the overzealous reaction from fans of her 2009 mega hit "Bad Romance." In the music video, she throws her claws up numerous times, which ignited fans to do the same thing at concerts. "They were vicious, they were so dressed-up, and I started to…in a jesting way… to [say] 'quiet down you little monsters," Gaga said. The name stuck.
Branding: There's no universal style guide for Little Monsters but the the "t" in the latter word tends to be drawn as a cross. Also, paws-up is mandatory when professing your membership.
Influence: 10,000 tweets in the past 30 days; but Lady Gaga does have her own specially branded social network.
Fans' favorite platform: It's hard not see the influence Mother Monster has on her fans on Tumblr. The blogging site is filled with masterly drawn fanart that balances between the brilliant and the bizarre. Little Monsters also fans visually exhibit their affection by posting "unboxing," pictures of concert tickets, and photos emulating Gaga's fashion.
Weird fanart: This pencil sketch.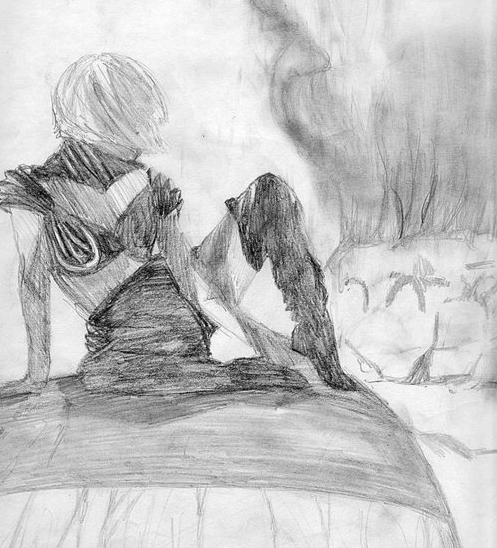 Photo via Francisco Monster/Tumblr
5) Taylor Swift // #swifties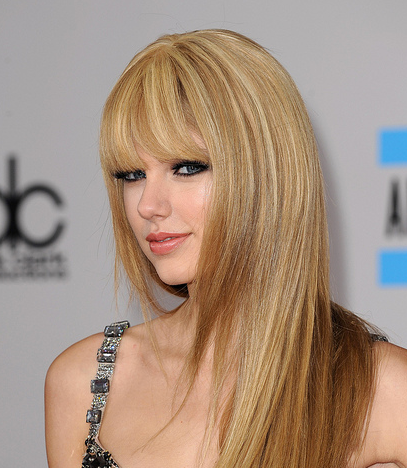 Origin: Created by the fans themselves, the nickname plays off the country heartbreaker's last name. There is still debate how its correctly spelled: Swifty or Swiftie, with the consensus torn.  "Swifty is grammatically correct, I think" a user cautiously offered on Swift's official message board.
Branding: The group doesn't have a universal logo, but variations of the word are often drawn in cursive. It appears carefree… just like Taylor; she's just so laid back and not crazy.
Influence: 159,000 tweets in the past 30 days.
Fans' favorite platform: As I've learned, if you tweet anything disparaging about Swift, they will come and find you on Twitter. They're the most organized camp with splinter-groups divided by armies, countries, and ex-boyfriends, devoted to spreading gossip and stamping out naysayers, acting as a propaganda arm for the pop star. A large amount of tweets tagged #swifties are looking for "follow backs" to increase their Swiftdom.
Weird fanart: Swiftie propaganda at its finest.

Photo via nightowldiary/Tumblr
Photo of Taylor Swift via avrilllllla/Flickr; Katy Perry via suran2007/Flickr; Demi Lovato: Fockr/Flickr; Lady Gaga via Tj Sengel/Flickr; Rihanna via avrilllllla/Flickr