This article contains minor spoilers for Mythic Quest: Raven's Banquet.
Mythic Quest: Raven's Banquet, the new video game office sitcom from the creators of It's Always Sunny in Philadelphia, is another lackluster entry in Apple TV+'s slate of generic programming. Set in the office of popular MMORPG Mythic Quest, this show follows the travails of employees trying to deal with their narcissistic boss, played by co-showrunner Rob McElhenney. Despite a charismatic performance from McElhenney, this show never finds its footing. Tonal inconsistencies, broad characters, and flat humor make this one to skip.
Mythic Quest: Raven's Banquet

RELEASE DATE:
Feb. 7, 2020
CREATORS:
Charlie Day, Megan Ganz, and Rob McElhenney
STREAMING:
Apple TV+
A new video game office sitcom from the creators of It's Always Sunny in Philadelphia falls flat.
In 2017, when Apple embarked upon the development of a streaming TV service, Bloomberg reported that the tech giant was interested not in provocative prestige dramas that have flourished on networks like HBO and FX in the past decade, but rather in "comedies and emotional dramas with broad appeal." Apple TV+, the network's streaming service, launched just over two months ago, and to date has released seven television shows targeted at adults, including The Morning Show, starring Jennifer Aniston and Reese Witherspoon, and, most recently, Kumail Nanjiani and Emily V. Gordon's immigration anthology series, Little America. Though Apple has not published official content restrictions for its programming, its shows seem to reflect a desire to produce content that offends as few viewers as possible. Kevin Nguyen described The Morning Show's approach to politics as "glossy and uncomplicated," and even Little America, Apple's best-reviewed show thus far, has received criticism for its overly rosy depiction of the immigrant experience in America.
Mythic Quest, the latest offering from the fledgling streaming service, is yet another installment in Apple's collection of anodyne, warm-hearted television shows that would likely have fared better on another platform. The show, created by Charlie Day, Megan Ganz, and Rob McElhenney, is an office sitcom set at the headquarters of a successful MMORPG video game (the Mythic Quest of the title). McElhenney plays Ian Grimm, Mythic Quest's narcissistic creative director, who continually frustrates his lead engineer Poppy Lee (Charlotte Nicdao). The rest of the cast includes familiar faces like Danny Pudi as Brad Bakshi, the company's sociopathic head of monetization, and newer actors like Ashly Burch (also a writer on the show) and Imani Hakim as game testers.
McElhenney and Day are jointly responsible, along with Glenn Howerton, for TV's longest-running sitcom, It's Always Sunny in Philadelphia, for which Ganz has written since 2017. It's Always Sunny, which chronicles the failures of a group of friends who co-own a bar in its titular city, is one of the most consistently funny, acerbic, and inventive shows on television. In its past two seasons, it has offered up a slick pastiche of 1940s Hollywood noir films, ruthlessly satirized America's response to global warming, and produced one of the only insightful—and brutal—pieces of culture about the #MeToo movement to date (the episode "Time's Up for the Gang," which Ganz wrote). It's Always Sunny's cultural commentary sometimes fails to hit the mark, but it uncompromising swings for the fences and refusal to soften its reprehensible characters' sharp edges make it thrilling and vital television.
How on Earth, I kept wondering as I watched Mythic Quest, did those three prodigiously gifted, profane, and politically astute minds produce this? The show is, to put it bluntly, a mess. The elements of a good, if not a great, show exist somewhere in this unfortunate muddle, but the show feels as if it only got around half of the way to finding them. I could see, sort of, the story the show was trying to tell over the course of the season: Like most workplace sitcoms, Mythic Quest wants to depict a dysfunctional office, full of weirdos, and pose the question of whether it's worth it to its sane employees to stay there. Poppy and Ian's relationship is at the heart of the show: She wants recognition for her work from her self-obsessed boss, who seems incapable of granting it to her.
Both The Office and 30 Rock played with these questions and dynamics to great comedic effect: Everyone in both of those shows is an oddball, and the relationship between Liz Lemon (Tina Fey) and her narcissistic mentor Jack Donaghy (Alec Baldwin) fueled 30 Rock. But The Office was keenly aware of the small, strange indignities and mundanities of office work, and 30 Rock exploited the tricky dynamics of gender and power in the workplace to great comic effect. Mythic Quest is too generic to have a point of view as specific as either of those shows. Most of the characters are so broad that it is impossible to become truly invested in them, and as a result the relationships between them feel shallow. Burch's character, Rachel, has a crush on her fellow tester, but we know little about either of them beyond the fact that they love gaming and that Rachel is a lesbian. Brad serves almost no story function, and his sociopathy is not funny enough to be interesting. David Hornsby, another veteran of It's Always Sunny, turns in a more specific performance as neurotic executive producer David Brittlesbee, but without other interesting characters to play off of, his solid work fails to register.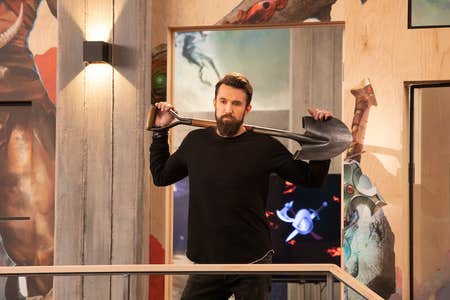 The show's fatal flaw is its inability to decide how bad Ian Grimm is supposed to be. The It's Always Sunny version of this character would be an inveterate, megalomaniacal narcissist, and at times, Ian does seem to be that person: The show literally begins with an ad he has commissioned for the game that, instead of advertising the game, valorizes his greatness, and culminates with him stripping off his shirt to reveal his abs. At one point, he becomes obsessed with a new, particularly tall employee who makes him feel emasculated. McElhenney is an enormously charismatic screen presence, and he has honed the craft of playing a narcissist over the course of 14 seasons of It's Always Sunny. He gives, by far, the best performance here, effectively conveying both Ian's electric intelligence and venal self-absorption. But the show can't help suggesting that maybe he's not such a bad guy, after all, and that the office isn't really such a bad place to work. Episodes tend to end on a sentimental up note. As a result, the supposedly complex relationship between Ian and Poppy, which is supposed to drive the show, never really clicks.
McElhenney, Ganz, and Day are not required to reproduce the ethos of It's Always Sunny in this new project. If they had done so, I might have criticized that show for feeling redundant. The problem here is not that Ian is multifaceted but that the show cannot make up its mind about how to portray him. He's a lunatic and an overly controlling and demanding boss—or is he a visionary? He's a narcissist who doesn't appreciate other people—or does he? The show's sudden tonal shifts from broad humor to dramatic schmaltz to, occasionally, hints of something more interesting and twisted make for a disorienting viewing experience. There's nothing wrong with generic sitcoms: They might not be the most interesting form of comedy, but they can be satisfying entertainment. The Office, for most of its run, fell into this category. But Mythic Quest seems to want to be something more.
Occasionally, glimpses of the sharp political commentary on display in It's Always Sunny poke out from the morass of Mythic Quest. In one episode, the company frantically attempts to deal with an influx of Nazis playing the game. While David and others feverishly attempt to classify and rank which categories of objectionable people (Scientologists, cat-callers) should be banned from the game—a futile enterprise—Ian cheerfully wonders how to exploit the new Nazi players. A different show might have followed that episode's lead and delved deeper into gaming's toxic right-wing subcultures, or the larger structural issues that plague tech. Unsurprisingly, Mythic Quest does not go there. It is impossible to say whether Day, Ganz, and McElhenney simply weren't interested in that kind of larger cultural commentary, or whether Apple put the kibosh on critiques of its industry and business practices. If the show were funnier, this wouldn't matter so much—but it isn't. Apple wanted shows everybody would like, and instead, it's wound up with shows that have no point of view. Where's the broad appeal in that?
New to cord-cutting? Here are our picks for the best movie streaming sites of 2019 and free live TV apps and channels. If you're looking for premium services, here's how to watch HBO, Showtime, and Starz online. Want a specific channel? Here's how to stream A&E, AMC, Animal Planet, BBC, Bravo, Cartoon Network/Adult Swim, CNN, CNBC, C-SPAN, Comedy Central, the CW, Discovery, Disney Channel, ESPN, ESPN2, ESPN3, ESPNU, Food Network, Fox News, Freeform, FS1 and FS2, FX, Golf Channel, Hallmark, HGTV, History Channel, HLN, Lifetime, MSNBC, MTV, National Geographic, NBA TV, Nickelodeon, PBS, Sundance TV, Syfy, TBS, Tennis Channel, TLC, TNT, the Weather Channel, Willow, VH1, and NFL RedZone without cable, as well as free movies on YouTube. If you're on the move, here's how to watch Fox Sports Go and live stream NBC Sports.