Dave Letterman is planning to retire from The Late Show in 2015 after 22 years as host, but people are already clamoring to find out who will replace the irascible list-maker.
There are plenty of inspired suggestions flying around on Twitter:
I wonder if there's any chance we could talk @GarryShandling and @jeffreytambor into #LettermanReplacements. Larry Sanders 2.0!

— Les Chappell (@Lesismore9o9) April 3, 2014
Coming in 2015: The Late Show with Conan O'Brien

— Jonathan A. Wieser (@JonathanWieser) April 3, 2014
The Late Show with Jiminy Glick.

— Nathan Mc (@NathanMc) April 3, 2014
While there are plenty of funny white men in the world, Seth Meyers and Jimmy Fallon just got major job upgrades, and we'd like to see a few non-white dudes get a shot at The Late Show throne.
In the tradition of Letterman's top 10 lists, here are our top 10 picks:
 
10. Retta
Retta, to my knowledge, has never hosted a show, so she's low on this list. But Retta, to my knowledge, should host all shows because she is a perfect diamond human.
9. Aziz Ansari
Retta's partner in treating oneself on Parks and Recreation has several things going to make him a strong contender for The Late Show seat. He's a seasoned stand-up, he's friends with Kanye West, and he's deeply interested in the Internet and how digital life affects relationships, so he'd make for a plugged-in host.

8. Amy Schumer
Amy Schumer's sketch show on Comedy Central, Inside Amy Schumer, is doing well, so it's not like she needs a job—but there's a closing interview segment on her show where she has candid talks with people she finds interesting, and she's a skilled, highly entertaining interviewer.

7. Ellen Degeneres
Ellen probably doesn't want to leave her talk show but she's basically the closest thing we have to Johnny Carson anyways. She's not the most exciting choice, but who could be mad about Ellen? I mean, she dances.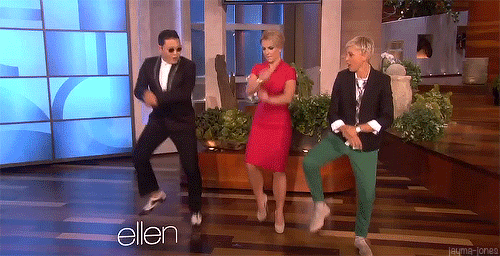 6. Sara Schaefer/ Nikki Glaser
Sarah Schaefer and Nikki Glaser are both talented standups, and they proved they have show-hosting chops on their solid but short-lived MTV show, Nikki and Sara Live. Schaefer and Glaser are also terrific podcast hosts (check out You Had To Be There) and Schaefer won an Emmy for her work as Head Blogger for Late Night with Jimmy Fallon, so they're a strong choice for a more digitally-savvy program.
5. Hannibal Buress
I don't want him to leave Broad City, but imagine how great he'd be at The Late Show. Buress is a hilarious stand-up and writer whose low-key vibe would put guests at ease. He's already played a sidekick on Adult Swim's The Eric Andre Show, and proven that he can handle a live crowd with his regular hosting gig at The Knitting Factory. He could handle a bigger stage.

4. Eric Andre
Well, if his sidekick gets on our list, so does Eric Andre. Eric Andre is already comfortable interviewing fake guests on his show, so I'm sure he'd be fine with real guests. Pretty sure he'd look like this as he went to sit behind The Late Show desk for the first time: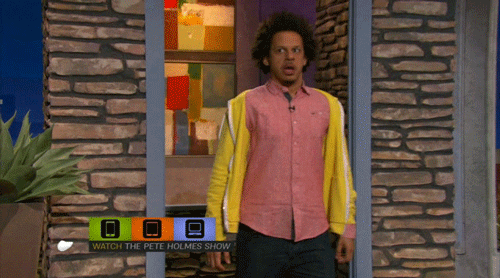 3. Aisha Tyler
She's already pulling double-duty as a show host (albeit on one ahow that is not worthy of her, The Talk, and one show that almost is, Whose Line Is It Anyways.) Tyler has plenty of industry experience as a host: She worked her way up from Talk Soup in 2001, and even filled in for Roger Ebert on At The Movies With Ebert and Roeper. She's a seasoned vet, she's funny, she has a gorgeous voice… the only downside would be considering what would happen to her Archer character.
 
2. W. Kamau Bell
W. Kamau Bell's FXX show, Totally Biased with W. Kamau Bell, should've never been canceled. Bell is as smart as he is funny, and if he sat behind the desk at The Late Show, we'd get an intelligent host who wouldn't shy away from topical humor and political discussions.
Here's Bell interviewing Aisha Tyler. As you can see, they are both excellent conversationalists: 

1. Tina Fey and Amy Poehler
Ideally, these two would host everything and we would all be married to them. Peace and comedy would reign, and no one would wear crop tops.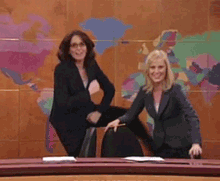 Photo via Flickr/Eli Duke (CC BY-SA 2.0)