Update: Reddit has now concluded that a third party, not Warner Bros., was behind the spamming. The site released this retraction: 
After further investigation, we have found that neither Warner Bros. nor any of their employees was involved in this activity.  To be perfectly clear, the posts that we detected came from a third party who had no affiliation with Warner Bros.  This third party was not part of the marketing efforts of Warner Bros for the film.  

We regret confusion about the source of these posts, and appreciate the cooperation and understanding of Warner Bros who has taken this as seriously as we do and has very strict policies on these matters.  
Reddit moderators traced "suspicious" posts and comments about new movie Getaway back to Warner Bros. after volunteer r/movies moderator mi-16evil flagged the content on Monday.
"What started off my investigation was a series of three reports on posts pertaining to The Getaway," mi-16evil wrote. "Usually this happens when the Reddit-wide spam filter has been set off, usually when a single person posts multiple items from a single site."
But it wasn't just the quantity; the content of the posts was suspect. "The key thing that gave them away was just the weird unbridaled enthusiasm," he wrote:
If there's a golden rule of the internet, somebody is going to not like your post. It always happens, so to see people talking about … Getaway … with such gleeful joy immediately made me suspicious.

From there is was like a rope knot that just kept untangling. These people were so obvious. All their accounts ever talked about was … Getaway and they would comment on each other's posts.
"The posts and comments were essentially ineffective and were actually all heavily downvoted," general manager Erik Martin wrote in an r/movies post Wednesday evening. "All accounts involved have been banned and we have spoken with Warner Brothers and let them know this is unacceptable."
Reddit, as Martin points out, takes any manipulation of the site seriously. Good content is supposed to naturally bubble to the top in Reddit's meritocracy.
The company has blocked a string of publications (at least temporarily)—from the Atlantic and Bloomberg Businessweek to meme-generating site Quickmeme—over vote manipulation geared to drive traffic to their websites. Reddit can alert users who try to share links to banned sites why blocks are in place. 
In this case, spammers attempted to get people out to see the Ethan Hawke movie, which opens this weekend. Reddit doesn't have an "automatic way of alerting users" when movie studios and non-Internet-based companies try to game the site, Martin noted, hence his r/movies post.
"All accounts involved have been banned and we have spoken with Warner Brothers and let them know this is unacceptable. This appears to be just a few employees and not some company wide or systematic thing," said Martin. "We checked other posts about this movie and there are plenty of posts that are 100% organic and have no signs of manipulation."
Martin closed out his post by urging redditors to report any suspicious activity on the site. "It's important to prevent this type of activity, but it is also important that we not become overly cynical and assume everyone is a shill," he added. "99.9999% of posts and comments and votes here are because people sincerely love movies or hate movies or hate the movies that other people love, etc."
The post landed on Reddit's front page, with users rushing to thank mi-16evil, the moderator who spotted the studio's attempts to illicitly promote the movie.
"Honestly it was a really sad discovery. It was just robots talking to other robots," mi-16evil wrote in the thread. "I don't think I saw a comment from a real person on any of the posts."
He elaborated in an email to the Daily Dot:
I think this event shows that 99.9% of the time, spammers are terrible at their jobs. I did probably 20 minutes of research to discovered this whole affair and anyone else could have found it too if they knew where to start. Honestly, I believe that Reddit has one of the most impressive anti-spam systems in internet history and it shows. We've survived many spammers and even a 4chan raid because of the work Erik and the other admins do.
Redditors shared links to alleged spam in Martin's thread: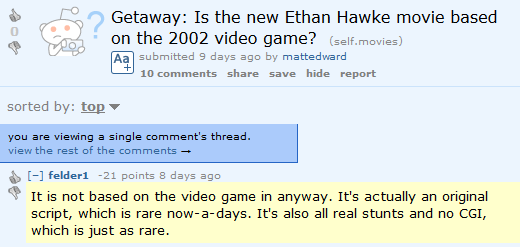 Someone with the same name as a user who posted one of the Reddit threads—Sara Howard—started a deleted Rotten Tomatoes thread about the movie back in February. 
Incidentally, a Dana Lois, who shares a name with one of the other complicit redditors, commented on Howard's thread.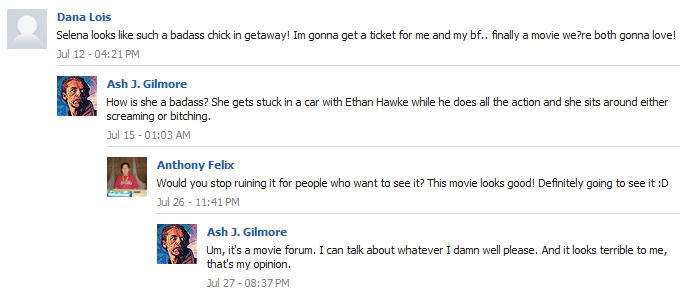 Another user in that Rotten Tomatoes thread, a Saul Dingler, talked about a "sick" Warner Bros. app allowing people to create their very own getaway car. Meanwhile, eight of Twitter user @SaulDingler's 11 tweets are about the movie. A redditor by the name of dinglersaul posted about the car app as well.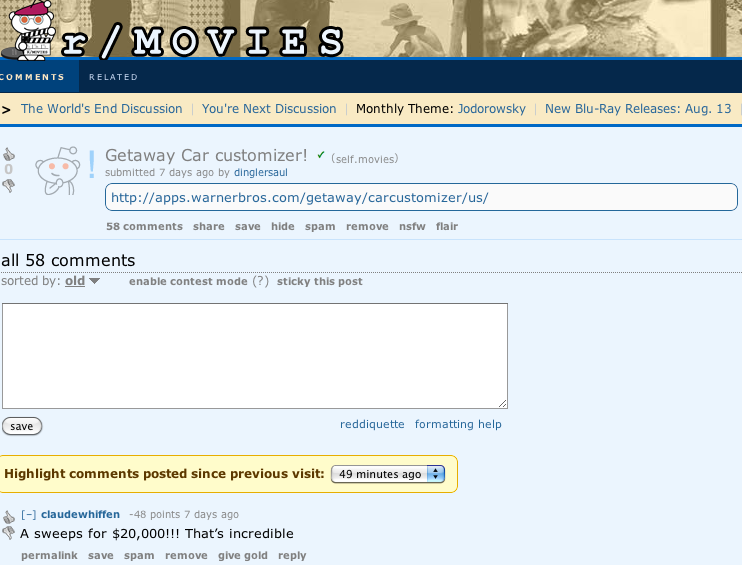 Screenshot via mi-16evil
Getaway, for the record, has exactly zero positive reviews on Rotten Tomatoes from 17 critics at the time of this writing. We've reached out to Warner Bros. for comment and will update if we receive a response.
The studio has kept a keen eye on Reddit for years. In 2011, it snapped up the movie rights to Rome Sweet Rome, a story crafted by redditor James Erwin. In January, the studio replaced Erwin as screenwriter on his story pitting modern U.S. Marines against Roman legions. Last year, Warner Bros. filed a copyright takedown request against Reddit after users of its most repulsive forum, r/spacedicks, used an image of The Fresh Prince of Bel Air star Alfonso Ribeiro in the header.
If history is any indication, redditors won't soon forget this.
Warner Bros tried to game reddit to promote Getaway. Guess what I won't be watching ever.

— Nahum Gardener (@NahumGardener) August 29, 2013
They turned Rampart into a running joke after star Woody Harrelson refused to answer any questions unrelated to the movie in his February 2012 Ask Me Anything (AMA) live interview session. 
Getaway director Courtney Solomon plans to hold an AMA Thursday afternoon. Get your popcorn ready.
UPDATE: "We absolutely do not do business that way as part of our film marketing," a Warner Bros. spokesperson told the Daily Dot. "We are looking into this allegation as we take it very seriously."
Fernando Alfonso III contributed to this report.
An earlier version of this article appeared with the headline "Warner Bros. got caught spamming Reddit with 'Getaway' Promo."
H/T Matt Ford | Screenshot via WarnerBrosPictures/YouTube