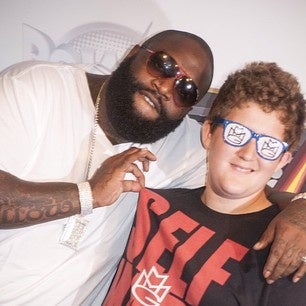 Above is a photo of Rick Ross with a 12-year-old boy.
As a single artifact, this is beautiful for the distinct pairing: this goofy-grinned young kid with Maybach Music Group gear head to toe, with Rick Ross. The weird thing is the 12-year-old doesn't look uncomfortable or really even starstruck. That's because this is the day-to-day in the life of Nathan Schwartz, a.k.a. @natedoggschwartz, current middle-schooler, aspiring rap mogul, and Rap Instagram Game Zelig.
Anyways, here are two pictures of him with Lil Wayne:
And here's one of him with Kendrick Lamar.
And oh, why not? Here's one with Kanye.
Nathan is the Secret King of Rap Instagram. He's managed to get shitty Instagram photos of himself with everyone from Meek Mill to Snoop Lion to Nicki Minaj to DJ Khaled. The list goes on and on, like his own personal Top 40, and it is fascinating. This future human meme is the Internet's number-one rap superfan, building his own Instagram autograph book empire, one backstage photo-op at a time.
Read the full story on Noisey. 
By Dale Eisinger