Opinion
Netflix received criticism in June when it canceled acclaimed original series Sense8. Thanks to an enormous fan campaign, Netflix eventually greenlit a two-hour movie to conclude things. Other recently canned shows, such as The Get Down and Girlboss, weren't so lucky.
The Adventures of Puss In Boots, however, is alive and well. The animated Netflix series' fifth season (yes, five) hit the streaming giant on Friday. This time children get to choose their own adventure with an interactive feature that dictates an episode's plot. As the New York Times notes, this experiment that's two years in the making could be widely influential to the future of family TV.
Netflix plans to turn its 47 original shows for kids into 75 by the end of 2018, according to the Times. If you're wondering how a company that's $20 billion in the hole is going to turn a profit, look no further than centrist fun for all ages.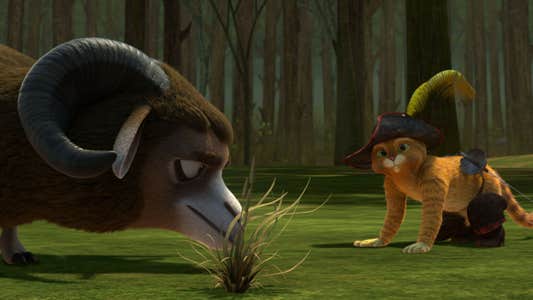 It might be a good move, considering some of Netflix's adult series are costing the streaming company big time. Sense8 was a notoriously expensive show, and the first season by all accounts was a mixed bag. Showrunners Lana and and Lilly Wachowskis tried to truncate the cost of the second season by having the international cast in the same location. But that wasn't enough for a show costing $108 million per season.
Baz Lurhman's The Get Down was another similarly expensive project. It cost the streaming service an estimated $120 million per season. The program suffered many delays, which meant an increased production budget. The show was originally budgeted for $90 million. That isn't good news for high-production programming that fails to find a blockbuster-sized audience.
Consider that in its recent Q2 earnings report, Netflix shows decreasing revenues from its streaming content. Uproxx last week reported that Netflix is looking to spend over $6 billion in prestige projects this year (including original programming), and it will net $2.5 billion.
But how is a kids' show about a cat in tall shoes so prosperous? The longevity of its Netflix run is a telltale sign, but it doesn't say much about actual audience engagement. (Netflix doesn't release its ratings, after all.)
Yet Puss in Boots is likely a cheaper show to make. While I couldn't find an exact source on the budget for Puss in Boots, a 3D-animated show costs about $2 million an episode. Looking at episodes per season, that'd be $26-$30 million per season, barely pawing at the $100 million season-long budgets of the aforementioned ventures.
Puss in Boots also taps into an established demographic of kids and adults who loved the Shrek movies.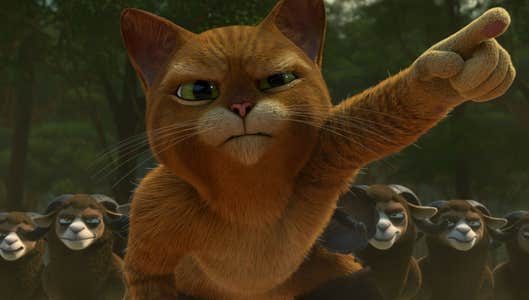 Back in April, Netflix told shareholders it will continue to develop "groundbreaking original content." It wants to eventually produce 50 percent of the content in its library. This play has pushed Netflix above its competitors creatively, even though Amazon and Netflix both have a similar operating budget.
The question is how can Netflix get closer to a sustainable model: David Trainer of Forbes has been very critical of Netflix's original programming strategy, arguing that content costs continue to outpace revenue growth. In the last seven years, content obligations have increased 42 percent annually while revenue has grown only 24 percent annually, Trainer writes.
Netflix Chief Content Officer Ted Sarandos even admitted the difficulty of sustaining original, live-action content for long periods of time, explaining that "a big expensive show for a tiny audience is hard, even in our model, to make that work very long."
It's why we can expect to see less expensive, more familiar entertainment in our future queues. (As for our swashbuckling feline friend, Netflix has yet to announce a season 6.)
That's not all bad. Even if Puss in Boots isn't your ball of string, it has been catnip for critics. Neil Genzlinger of the New York Times gave the series a glowing review back in 2015, praising the show's animation style and "sophisticated" humor. It has an average audience score of 75 percent on Rotten Tomatoes, and the show's longevity suggests significant audience interest. Light and entertaining detours that only last 22 minutes aren't a bad way to get a TV diet, after all.
With Netflix still unsheathing weekly programming through 2017, the content well won't be drying up anytime soon. But the boom of taking a check from Netflix to make an indie pet project may be coming to a crawl. With movie theaters struggling to get butts in seats, and moving to the middle with noisy reboots and kid-friendly animation, don't be surprised to see Netflix slowly follow suit.