Is Justin about to be a dad? Twitter finds thousands of ways to say, "You're having my baby." 
Mariah Yeater's name is trending on Twitter worldwide after she accused Justin Bieber of fathering her child.
Not surprisingly, Bieber's fans, called Beliebers, don't believe her.
Yeater, a 20-year-old California woman, swore under threat of perjury that the then-underage pop sensation had sex with her backstage at his L.A. Staples Center concert. In her affadavit, Yeater said the "approximately 30 second" event resulted in her 3-month-old son.
To see what Twitter users really think of the scandal, the Daily Dot put together a wordcloud based on the trending topic. Some seemingly unrelated words and phrases stand out in the cloud. Here's how they tie in:
Selena: For those who don't regularly read Teen Beat, Selena Gomez is Bieber's 19-year-old girlfriend.
Unicorn: probably the result of this parody tweet that implies Yeater's relationship with the pop star is as likely as Michael Jackson being alive and well on a unicorn farm. Also the reason for Barack Obama's name popping up on our cloud.
WEBELIEVEJUSTIN: A related trending topic showing solidarity for Bieber. It's a little kinder than other words in the cloud supporting Bieber and berating Yeater, like WTF and bitch.
Mentirosa: A Spanish word that translates to "lying or untruthful." Another one is "embarazada," Spanish for "pregnant." Bieber's Spanish-speaking fan base is much larger than we thought.
Seriously: What Daily Dot writers rhetorically ask themselves when they end up writing a story about Justin Bieber.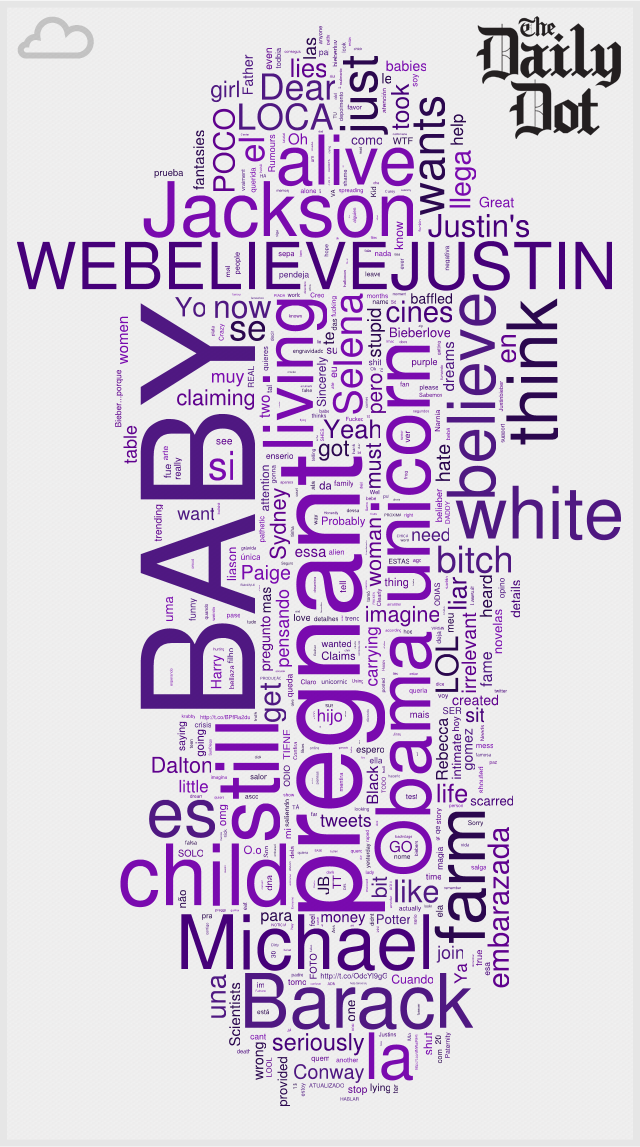 Pure, uncut internet. Straight to your inbox.