With the federal government reportedly not making much progress in helping Puerto Rico recover from Hurricane Maria's devastation, celebrities and athletes continue to be the ones to assist.
On Wednesday, it was reported that Pitbull is sending a private plane to Puerto Rico to pick up cancer patients and bring them back to the mainland so they can continue their chemotherapy.
As Today notes, Pitbull's generosity was first called out by Puerto Rico Congresswoman Jenniffer Gonzalez on Tuesday.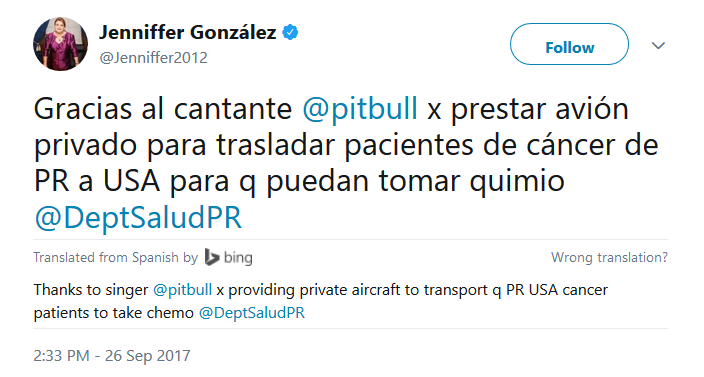 Said Pitbull in a statement to the New York Daily News: "Thank God we're blessed to help. Just doing my part."
Pitbull's kindness comes on the heels of Houston Astros outfielder Carlos Beltran raising, as of this writing, more than $1.2 million for Puerto Rico assistance and Dallas Mavericks point guard J.J. Barea borrowing Mark Cuban's plane to ferry supplies to the Caribbean island.
On Wednesday, Jennifer Lopez and Marc Anthony announced they helped created "Somos Una Voz" (We Are One Voice)" with 36 other celebrities to help bring food, shelter, medicine, and power to areas "affected by recent natural disasters." As of this writing, seven hours after they created a GoFundMe page, they had raised more than $21,000.