People use Pinterest to visually organize the Internet, but what's in it for you? In "Pinterest for your Interests," you'll find out. Our last few columns were for business owners, animal lovers and geeks. You can look forward to weekly columns on a wide variety of topics and interests. We're confident you'll find something just for you.
Ready for some celebrity spotting? The Daily Dot made a pinboard for some of the A-list early adopters of the photo-sharing community—Celebrities on Pinterest. We'll be updating it regularly as more stars join the network.
Here's our alphabetical list of star pinners on Pinterest. Since there is no community index, we found these celebs through old-fashioned sleuthing. If you think we've missed somebody, let us know in the comments.
1. Felicia Day
Pinner Profile: This actress, geek, and gamer pins gadgets, oddities, and a lot of unicorn fan art from her YouTube series.
Notable Pin: Day cracked up over this fan-made Skyrim-themed Valentine.
2. Paula Deen
Pinner Profile: The chef pins comfort foods, sweets, and recipes—organized by dish and event.
Notable Pin: Deen's been on a seafood kick lately, pinning recipes like this one for fried catfish.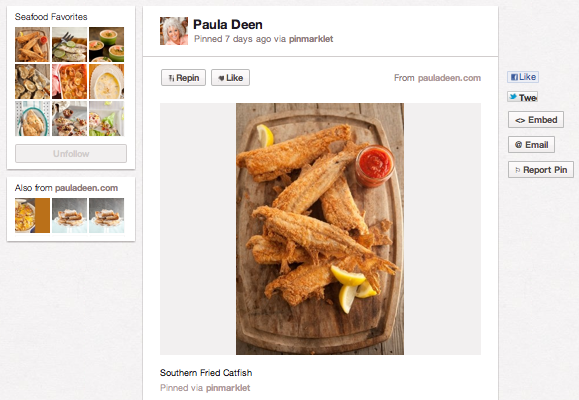 3. Nina Garcia
Pinner Profile: The designer is a trendsetter on Pinterest, building boards based around the styles she expects to be hot this spring.
Notable Pin: The stylist digs a shimmery look on her Project Runway costar Heidi Klum.
4. Michael Kors
Pinner Profile: Like fellow Project Runway judge Garcia, Kors' boards are mainly about fashion. His favorite things to pin are pictures of celebrity women wearing his looks.
Notable Pin: You wouldn't think Kors would have a board dedicated to healthy food choices, but he does.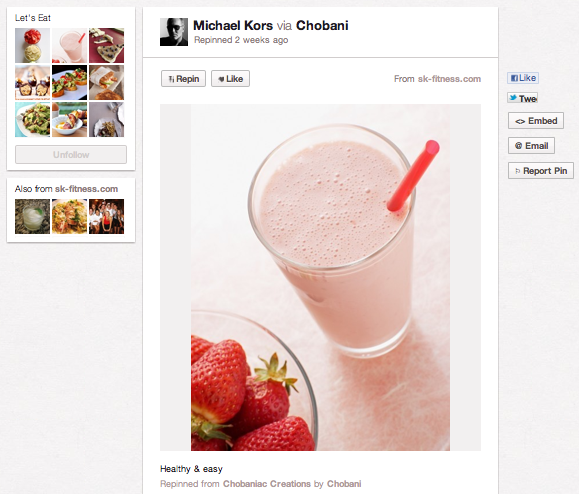 5. Demi Moore
Pinner Profile: Since Ashton Kutcher has Twitter, perhaps Moore wanted a social network where she could be alone. (Aside from Path.)
Notable Pin: Try again later. Moore only has three pins, and each is a year old.
Pinner Profile: Pinterest isn't for self promotion, but that's just what the singer/songwriter uses it for. Nearly every picture comes from her site.
Notable Pin: Morissette said this book made her cry "ceaselessly."
Pinner Profile: This account is up front about being a group effort between Seacrest and "the trend hunters on his team."
Notable Pin: Seacrest has a soft spot for this watermelon shark.
Pinner Profile: The lifestyle maven was born to use Pinterest. However, her team pins most of her recipes onto collaborative boards. Stewart herself has only pinned twice.
Notable Pin: A cloth designer book made for her granddaughter.
Pinner Profile: Not surprisingly, the host of Bizarre Foods pins strange—and sometimes delicious-looking—recipes.
Notable Pin: Zimmern shares the pasta he made the night he first met his wife.
One More Tip
Wondering if that's really a celebrity's Pinterest account? Hard to say. Just like in the early days of Twitter, there's no verification system in this community. For example, this pinner may call herself Yoko Ono, but she's definitely not the one you're thinking of.
While there's always a slight chance that a celebrity pinner might be an imposter, look for hints outside of Pinterest to confirm. For example, we realized Morissette's account was after she linked it on her personal blog.