Pinterest isn't just for regular mortals. Celebrities do it too—even Ellen DeGeneres. 
Celebrities truly are just like the rest of us. They're also crazy for Pinterest.
Last time we wrote about celebrities on Pinterest, there were so few already using the network that we couldn't even put together a "top ten" list.
Now, an increasing number of celebrities are joining the 13 million users that are making Pinterest the sensation it is today.
Here are nine new stars to follow and friend:
1. Yoko Ono
Pinner Profile: In our last article, we warned you not to confuse another pinner who calls herself Yoko Ono with the real Yoko Ono. Now that Ono herself is on Pinterest, it'll be harder to make that mistake. With hundreds of pins about modern art and anti-war efforts, you don't need much verification to recognize that it's really her.
Notable Pinboard: Yoko Ono's 13 Day Do-It-Yourself Dance Festival. The celebrity's hand drawn instructions include surrealist dance moves like "breathe" and "watch."like "breathe" and "watch."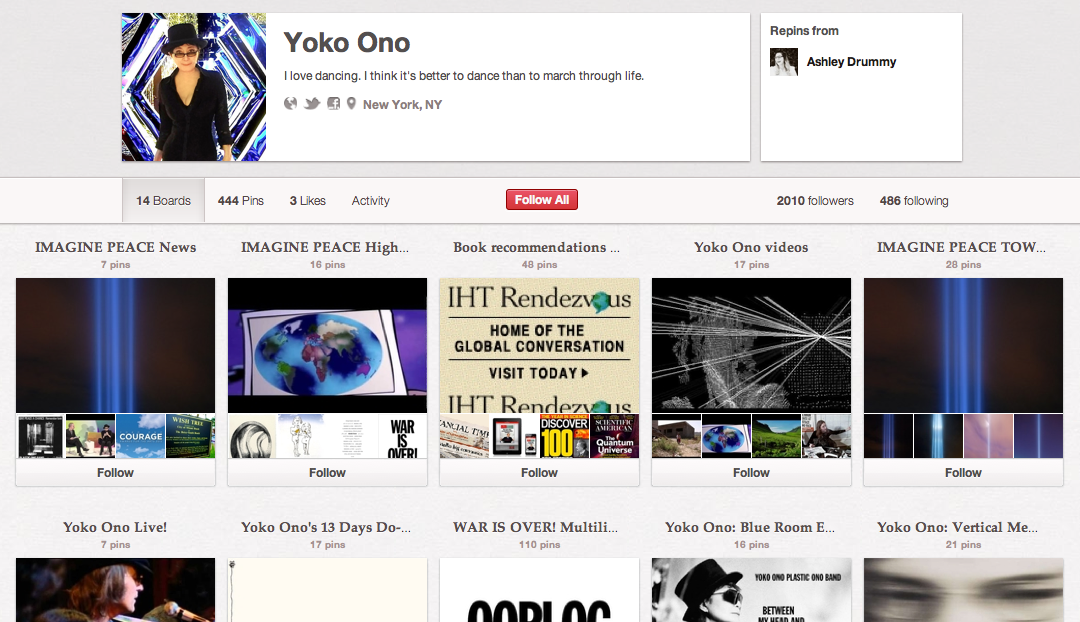 2. Katie Couric
Pinner Profile: Couric has made waves in her journalism career, but on Pinterest she's happy to go with the flow. Expect plenty of pins of shoes, recipes, and decorating ideas for her new office.
Notable Pinboard: My Style. Nearly everyone on Pinterest has a board just like this one. The difference with Couric's, however, is that we might see these talkshow-ready frocks on Couric's upcoming "Katie" show this fall.
Pinner Profile: If you're looking for a glimpse into Zuckerberg's life, try Facebook instead. The mogul is a bit of a disappointment on Pinterest, where he's only pinned three images. While it may look like he's gotten more active, that's just opportunists adding him to their own pinboards for publicity.
Notable Pinboard: There isn't one. We'd recommend checking out his sister, Arielle Zuckerberg's, board instead.
Pinner Profile: This celebrity is all about health food on his daytime talk show, and his Pinterest profile is no different. Look for tips on food, fitness and beauty from this health nut.
Notable Pinboard: Oz-Approved Desserts. It's obvious to us why this is Dr. Oz's most popular pinboard—he's finally letting up a little! Now we can eat pumpkin muffins guilt-free.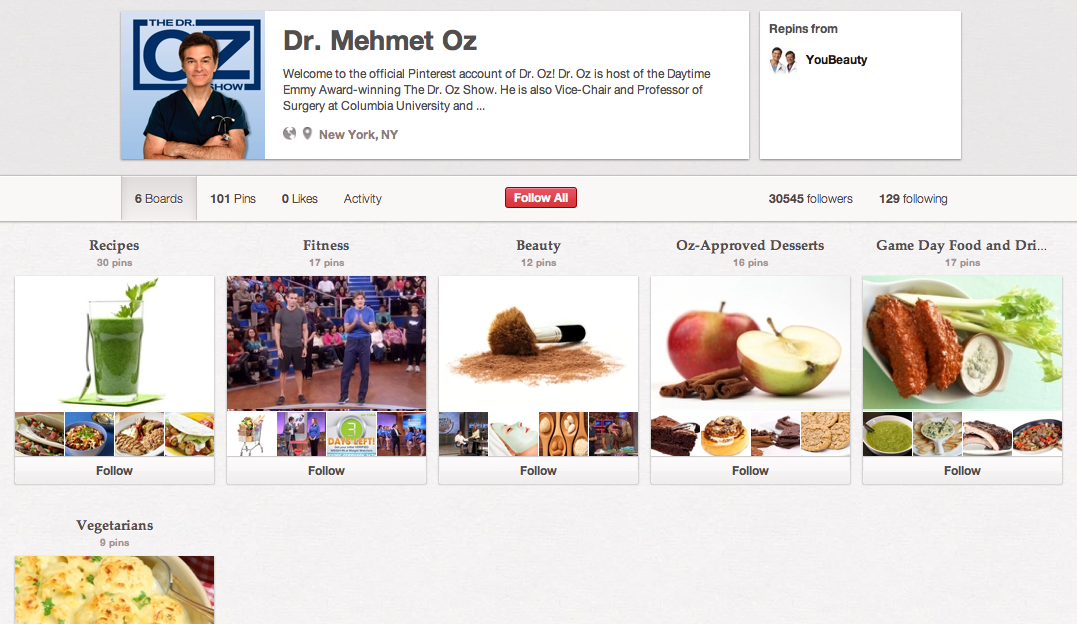 Pinner Profile: This talk show host's sense of humor comes out on her Pinterest profile. From babies with bad manners to funny texts to bad tattoos, her boards are nothing if not entertaining.
Notable Pinboard: What's Wrong with These Photos?! made us alternately crack up and cringe.
6. Oprah
Pinner Profile: Either Oprah has started speaking in the royal "we," or her staff helps out quite a bit—with 600 pins, she's one of the most prolific pinners on this list. These boards from Oprah and the "editors and producers at Oprah.com" stick to clothes, food, and inspiration.
Notable Pinboard: The O List gives us a preview of which products to run out and buy at the store before everyone else does.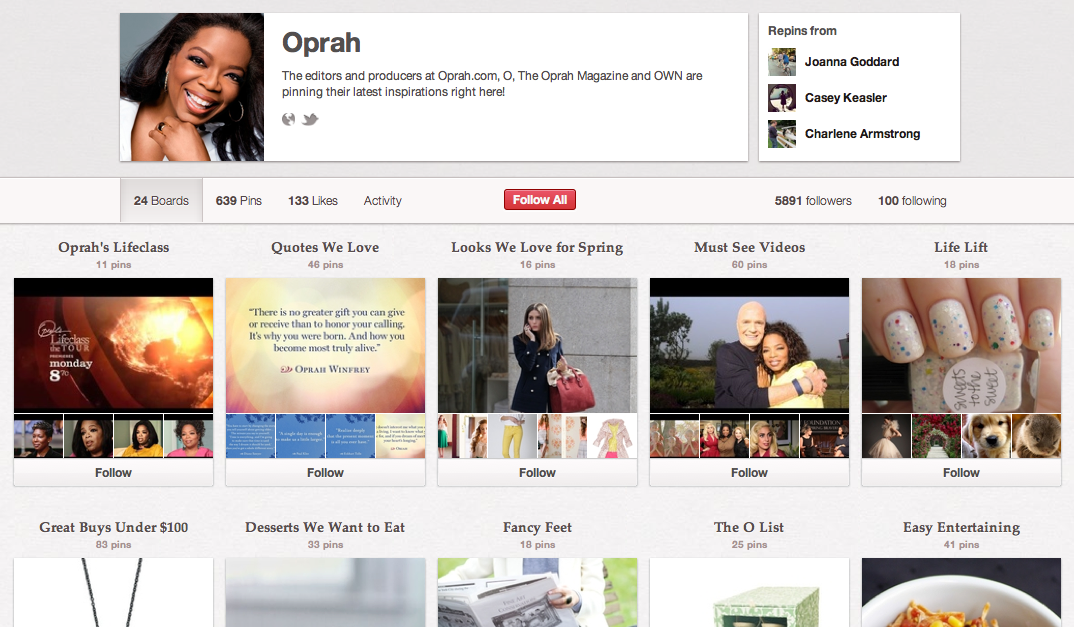 Pinner Profile: This celebrity profile page is less about advertising Milano herself and more about her women's sporty product line, Touch.
Notable Pinboard: Gameday Style. The Dodgers fan pins alternatives to oversized jerseys plus styling options.
Pinner Profile: Pinterest is a perfect fit for this celebrity-turned-beauty-blogger. Her boards span the gamut from cosmetics to DIY. The one thing that puzzles us is that the tech-savvy celeb wasn't enough of an early adopter to nab her own name; she's laurenconrad1 instead.
Notable Pinboard: Grow. This inspiration pinboard is Conrad's photo diary. It's celebrity lifestyle coveting in real time.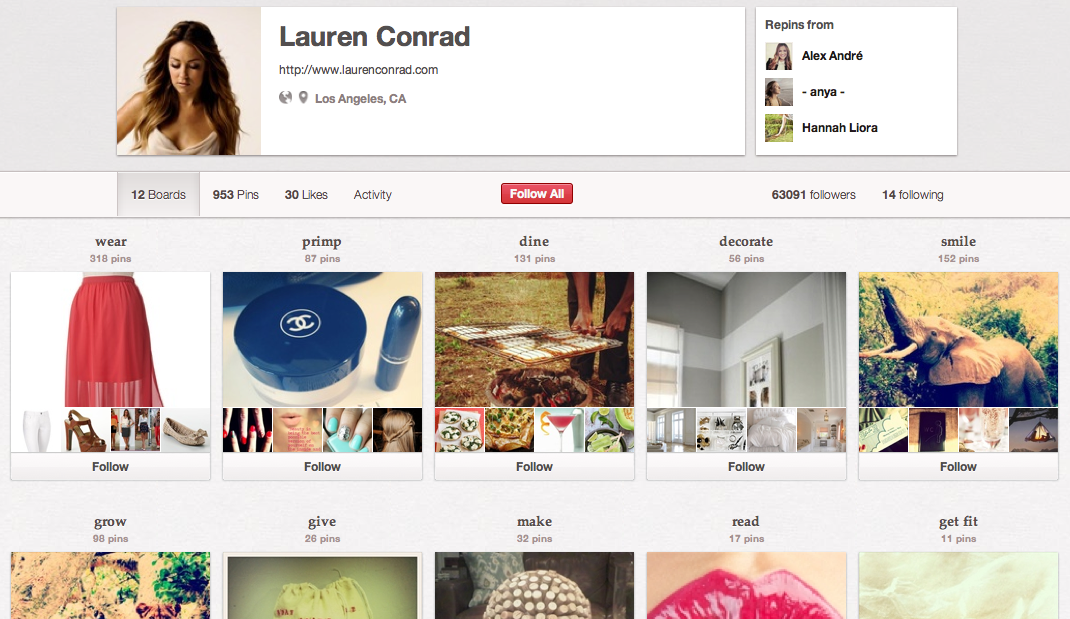 9. Barack Obama
Pinner Profile: Of course no celebrity list would be complete without our Commander in Chief. We broke the news that he joined last month, but the President still has yet to post his first pin.
Notable Pinboard: No boards yet. Obama is still a Pinterest enigma. However, if you start following him now, you'll be one of the first to know when he breaks his silence.
Still hoping to check out more lifestyles of the rich and famous on Pinterest? It's worth giving another glance to our last celebrity list. Some of those stars have really come into their own. In January we reported that Martha Stewart had pinned just twice. Now, she's inching up on 100.
Keep in mind that Pinterest still does not verify celebrity or brand name account profiles—that's why Microsoft still doesn't own the MSN or Bing profiles—so there's no 100 percent guarantee that these accounts are real. However, each of the accounts we listed are connected to verified Twitter or Facebook accounts.
Finally, don't forget to follow the Daily Dot's Celebrities on Pinterest board to stay up to date.
Photo by Earl McGeHee
Pure, uncut internet. Straight to your inbox.