Update 12:11pm CT, Sept. 12: A day after PewDiePie enraged much of his fan base by announcing that he would donate $50,000 to the Anti-Defamation League, he changed his mind.
In a video posted to YouTube on Thursday, PewDiePie said he "didn't know a lot of things" that "surfaced" about the organization before announcing his pledge. He also said the announcement was "rushed" because he had also been in the process of planning his wedding and honeymoon when he decided on it.
"I made the mistake of picking a charity that I was advised [to] instead of picking a charity that I'm personally passionate about," PewDiePie said in the video. "Usually when I pick my charity, I take my time. I find a charity I'm really excited about and passionate to donate to."
PewDiePie said it was "interesting" to watch people's reactions to his original announcement. He also said he would pick another charity after he takes his time to find the right organization.
The original story follows below:
PewDiePie has been racist and anti-Semitic on his YouTube channel that now boasts more than 100 million subscribers. But on Wednesday, he said he donated $50,000 to the Anti-Defamation League because he feels a "responsibility to make changes."
It's perhaps his most significant step toward trying to make positive changes after years of controversy. But his charitable action isn't sitting well with some of his alt-right, a loosely tethered strain of white nationalist users who troll online, audience. In fact, some viewers believe the ADL somehow has blackmailed the YouTube star into giving away his money.
In a Twitter message on Wednesday, PewDiePie wrote that the Christchurch mosque shooting in New Zealand, during which the gunman who killed 51 people shouted out the "Subscribe to PewDiePie" meme, greatly affected him. The incident made his alt-right ties impossible to ignore, but it also led PewDiePie, whose real name is Felix Kjellberg, down a path of realization.
In part, he blamed the media after "years" of "misrepresenting headlines."
"Previously, it hasn't bothered me much, I know who I am," PewDiePie wrote. "But after the Christchurch travesty a few months ago, my own clash with [mainstream media] was manipulated as a tool for destruction. I'm not OK with this situation any longer and I've felt responsibility to make changes.
"Making a donation to ADL doesn't make sense to everyone, especially since they've outright spoken against me. I wanted to show publicly that I can move past it and move on. I think that it's important, this just isn't my fight anymore."
https://twitter.com/pewdiepie/status/1171761588879142913
But some of his fans aren't in agreement—especially since the ADL pressured Disney to cut ties with him in 2017 after anti-Semitic imagery was found in one of his videos.
"It doesn't make sense to support the anti defamation league when their MO is defamation. The only organizations more hypocritical are PETA and the SPLC," wrote one Twitter user, referring to the Southern Poverty Law Center and People For the Ethical Treatment of Animals.
Wrote another, "You can donate them every penny in the world and it wouldn't be enough to them. They are using a tragedy to manipulate your emotions, you're playing straight into their game."
Some even have posited the notion that the ADL is blackmailing PewDiePie.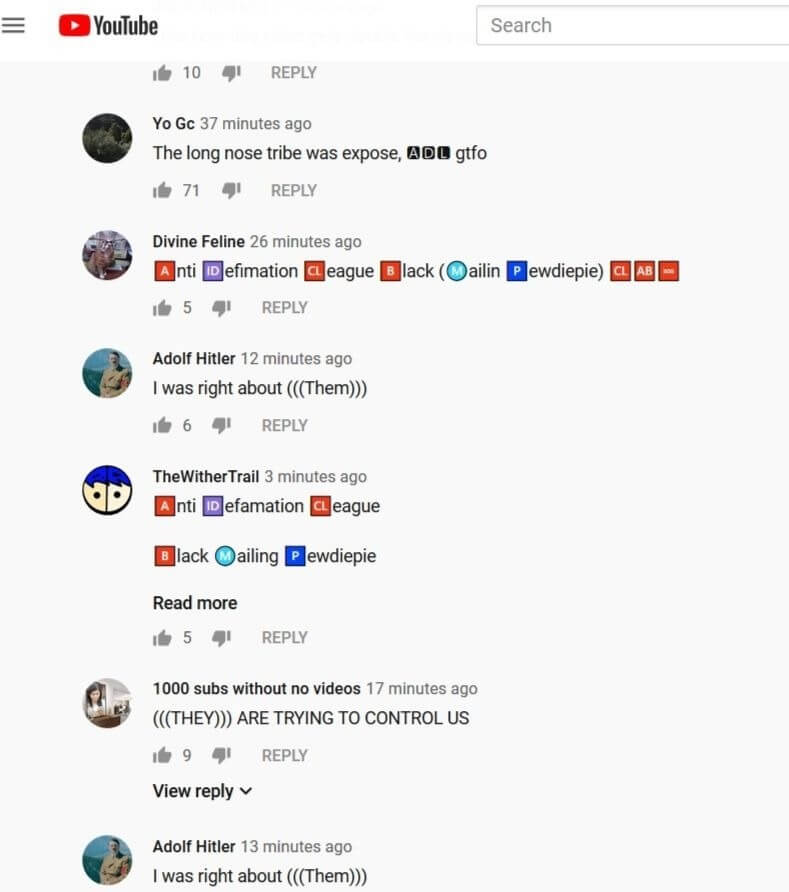 Others on Twitter also wondered aloud about why PewDiePie was donating.
https://twitter.com/EMichaelJones1/status/1171528050250399745
https://twitter.com/SynchronSitti/status/1171541705104883712
But apparently the idea of blackmail started on 4chan, and PewDiePie's editor laughed at the notion that PewDiePie was being controlled.
Seriously, stop lol. pic.twitter.com/v8izgwjNRo

— Sive 1 (@sivemorten) September 11, 2019
Despite his virulent past—and his continued bashing of the media—PewDiePie seems to be trying to move forward and to leave behind his racist and anti-Semitic controversies. He married his longtime girlfriend, and recently, he's made fewer videos blasting other YouTubers and more videos about Minecraft.
Maybe PewDiePie doesn't want to be known as a YouTuber who splashes around in alt-right waters. Maybe his donation simply implies that he wants to move on with his YouTube career in a more wholesome (and a less racist) way.
READ MORE: