The Olympic Village's notorious "brand police" have cracked down on a team of rogue condom smugglers—and they've got a wayward tweet to thank.
Australian BMX rider Caroline Buchanan was so excited to find a bucket full of condoms in the Olympic Village that she snapped a photo and tweeted it out to her 4,000 devoted followers.
"Hahah the rumors are true!" She wrote in a post that got retweeted 188 times. "Olympic village."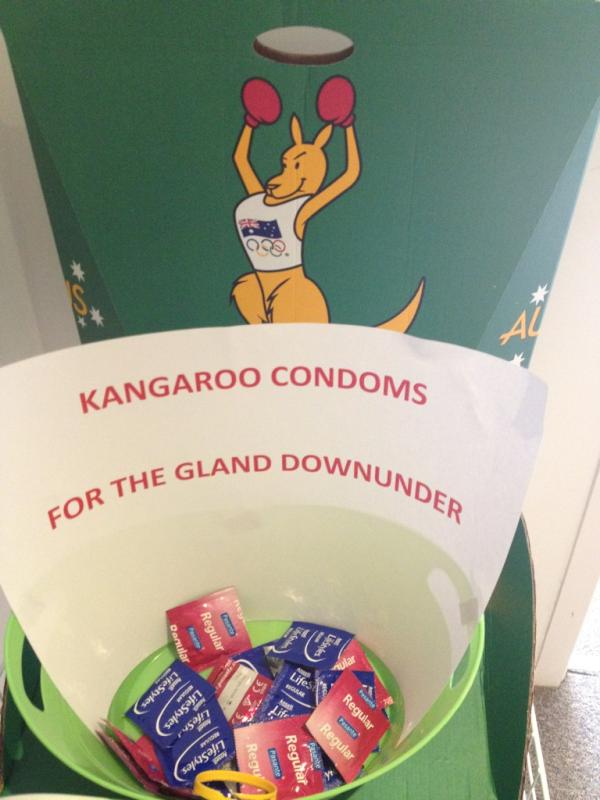 But there was one little problem with the tweet: Buchanan had brought attention to something that wasn't allowed to be in London.
Olympic officials go to great strides to prevent rogue, guerilla-style marketing at each Olympic games, and the presence of Pasante and Ansell condoms in a place where Durex had already supplied 150,000 to Olympians was nothing short of taboo.
Now, the London organizers, the LOCOG, have opened up a probe to try to figure out who imported the Kangaroo condoms into the village.
"We will look into this and ask that they are not handed out to other athletes because Durex are our supplier," a LOCOG spokeswoman told Britain's The Guardian.
Representatives from both Pasante and Ansell said that their companies had nothing to do with the bucket and that it was likely a group of Australian athletes who had contributed to the prank.
"We have no association with the Olympics but we did launch a gold condom this year for champions," Pasante Managing Director Lawrence Boon told The Guardian.
Buchanan hasn't faced any backlash for tweeting the picture and shouldn't expect to. Since posting the condom photo, she has made sure to properly document her trip to London, posting pictures of run-ins with security detail, village barbecues, and her stacks upon stacks of fan mail.
Photo via Caroline Buchanan/Twitter