A science YouTuber who recently made sodium metal on his channel said he's received another strike by the site and thinks his channel could be terminated by YouTube.
NurdRage, who conducts scientific experiments on YouTube and says it's a "channel run by science nerds for science nerds," posted a video this week in which he creates sodium metal by combining magnesium, sodium hydroxide, hypoallergenic baby oil, and tertiary alcohol.
But in the video, he also said not to be surprised if his channel isn't in existence for much longer.
After showing a brief version of how he created the solid sodium that was made without fire or electrolysis, NurdRage said, "YouTube has gotten around to putting my channel under the microscope again and has already put down another strike for a guideline violation … I'll appeal and fight it tooth and nail, but if I should disappear one day, you'll know what happened. Don't be angry at YouTube. I'm not. This is just the sort of games we play. Let's be brutally honest. I do not get the views like Logan Paul that would warrant YouTube looking the other way on my content."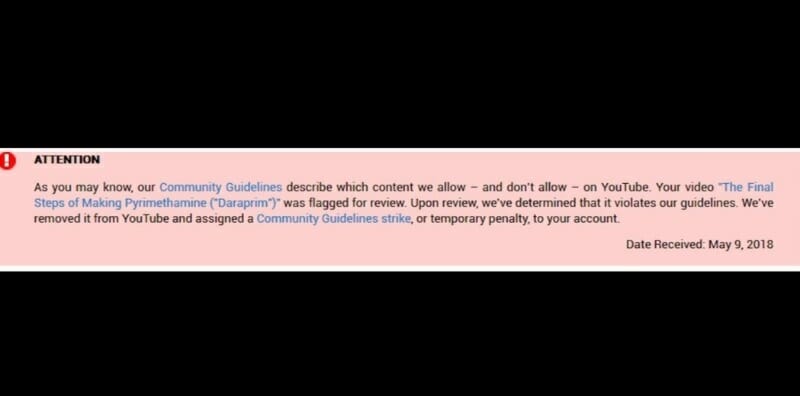 YouTube did not immediately respond to a Daily Dot request for comment about why NurdRage—which touts more than 700,000 subscribers—was given a strike or if his channel was close to being deleted.
It doesn't seem, however, that NurdRage is that concerned about losing his channel.
If i should go down in flames, sure.

To be honest i'm not too worried, youtube throws shit my way on occasion. I'm still here. It's just the sort of games we play.

— NurdRage (@NurdRage) May 10, 2018
Still, he's already taken precautions. He said he still has all the original files for his videos, and if his channel is taken down, he'd likely assemble them into a torrent for his fans.
The video that YouTube flagged and deleted was called "The Final Steps of Making Pyrimethamine ('Daraprim')." Pyrimethamine is a medication that can be used to treat malaria and other ailments, but as NurdRage explained on Twitter, "I recently got a strike for teaching science in this video … While the chemicals sound scary and illegal, actually every part of it is perfectly legal and performed with safe procedures."
NurdRage also said YouTube took away his livestreaming capabilities, but considering his videos are heavily edited to make them entertaining, that probably isn't much of a concern to him.
Livestreaming has never really worked for me. What i do is long stretches of boredom punctuated by short stretches of tedium. Only when it's edited together does it look amazing.

— NurdRage (@NurdRage) May 10, 2018
His fans, though, seem outraged, pushing it to the front page of Reddit this week. Though NurdRage said he appreciates the support—and probably the influx of new page views and subscribers—he also downplayed the significance of his beef with the site. As he wrote on YouTube, "Just want to reel in the outrage: I'm not that important, this is just some minor YouTube drama. Yeah it hurts and I like the popularity, but objectively, I'm a drop in the bucket and internet outrage is more productively directed at more noble causes. I'm anything but noble. Go back to your daily lives, the world is wonderful!"
It just might not be wonderful on YouTube at the moment for NurdRage.