Maybe Olympic swimmers Nick D'Arcy and Kenrick Monk should stick to what they're good at.
On Thursday, Australia's swimming authority forced the athletes to take down a photo of the pair holding pistols in a Los Angeles-area gun shop. While the photo wouldn't cause Americans to bat an eyelash, Australians have a far lower tolerance for gun violence since firearm possession in Australia is very strictly regulated.
The picture quickly spread through Facebook and Twitter, forcing Swimming Australia to release a statement calling the picture "inappropriate."
"Swimming Australia in no way condones these photos, and does not condone the posting of inappropriate content on Facebook, Twitter or any social media platform," the organization said in a news release.
D'Arcy posted a status on his Facebook page to apologize. He said the picture was not intended to cause controversy.
"It was all just meant to be a bit of fun!" wrote D'Arcy, who will be competing in the upcoming games in London. "If anyone's been offended I deeply apologise."
Fans posted to both of the swimmer's Facebook walls with messages of support.
"You had some legal fun, that you can't have at home. no crime. The Olympics Committee should get off your back," wrote Jason Tan on Monk's Facebook page.
The only guns they should be focusing on are their arms for the games next month.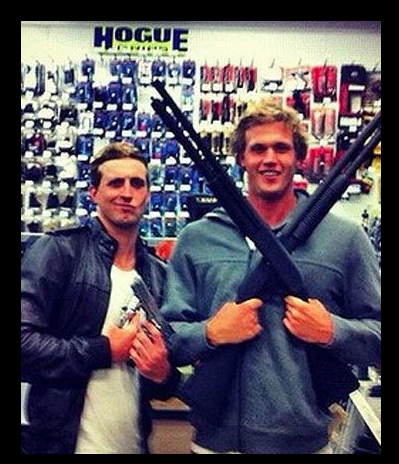 Photo via Facebook