In Netflix TV series Wanderlust, lovers learn that reigniting a suffering sex life isn't quite as easy as riding a bike again after an accident.

The series, which first aired on the BBC and debuted on Netflix today, follows psychoanalytic therapist Joy (Toni Collette) and her husband, Alan (Steven Mackintosh), as they try to overcome a rut in their sex life. Joy is still recovering from a serious bike accident and says she hasn't been in the mood, but Alan believes she's just tired of sex with him. After they both cheat on one another, they mutually decide to try an open marriage. If they both want it, what could possibly go wrong?
Spoiler: a lot.
Joy and Alan embark on their awkward—although at times triumphant—adventure of dating other people, to the horror of their children, coworkers, and clients. While some couples in an open relationship keep their dating lives private from their partners, Joy and Alan tell each other every excruciating detail about their extramarital sex. Odder still, they go on double dates with other people. Despite all the weirdness, these changes do seem to make them want each other more. Even Joy's therapist, Naomi (Sophie Okonedo), approves.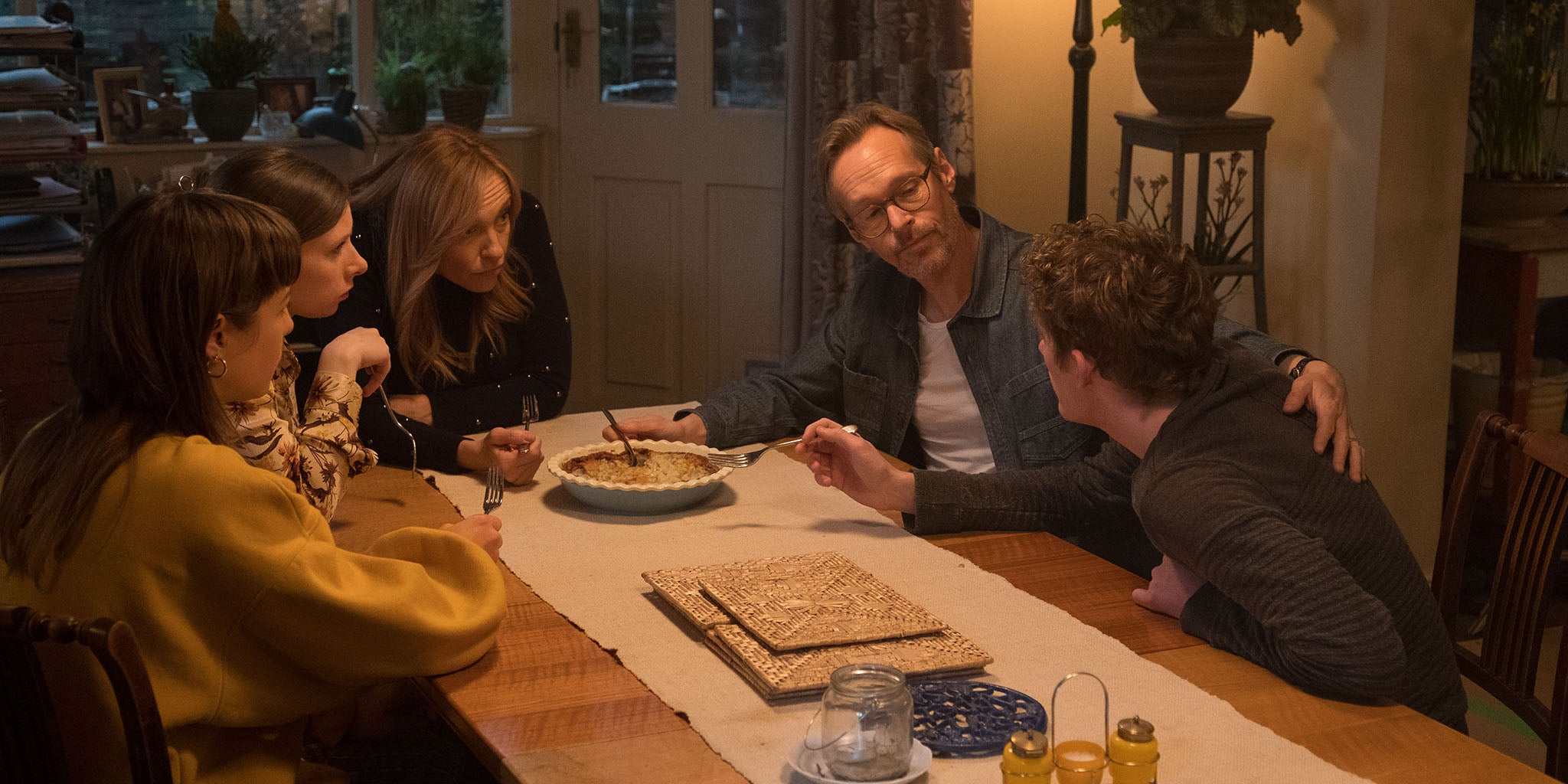 All couples tend to make rules that work well within the confines of their relationship. But those rules have consequences outside of that bubble, as Joy and Alan quickly learn. They seem to forget that the men and women they sleep with are more than just sex objects—they're living, breathing people with emotions. Upon hearing about the couple's arrangement, Joy's first extramarital partner yells at her that she's greedy—and, honestly, there's no better way to describe their motives.
Negative public perception also plagues the couple's new relationship setup. Alan's boss reacts with disgust and shock after learning that he's not only having an affair with a colleague, but that Joy knows and is having her own. Alan and Joy attempt to "normalize" their behavior by attending a school fundraiser with dates, but walk away looking even crazier. They learn a hard lesson that many "unconventional" couples discover: public disapproval—whether warranted or unwarranted—can weigh heavily on a relationship.
Joy drives the plot of Wanderlust, and Collette makes every detail of her character seem fascinating, from carefully dressing herself before a date to dejectedly eating four muffins in one sitting (which Nick Payne masterfully stretches for three captivating minutes). Collette switches between jubilation and anguish with ease, and she proves her strength as a standalone character in the series' bottle episode, in which she reckons with her psychological issues during an appointment with Naomi. These conversations are littered with stutters and half-sentences, lending them an authenticity that other dramas lack.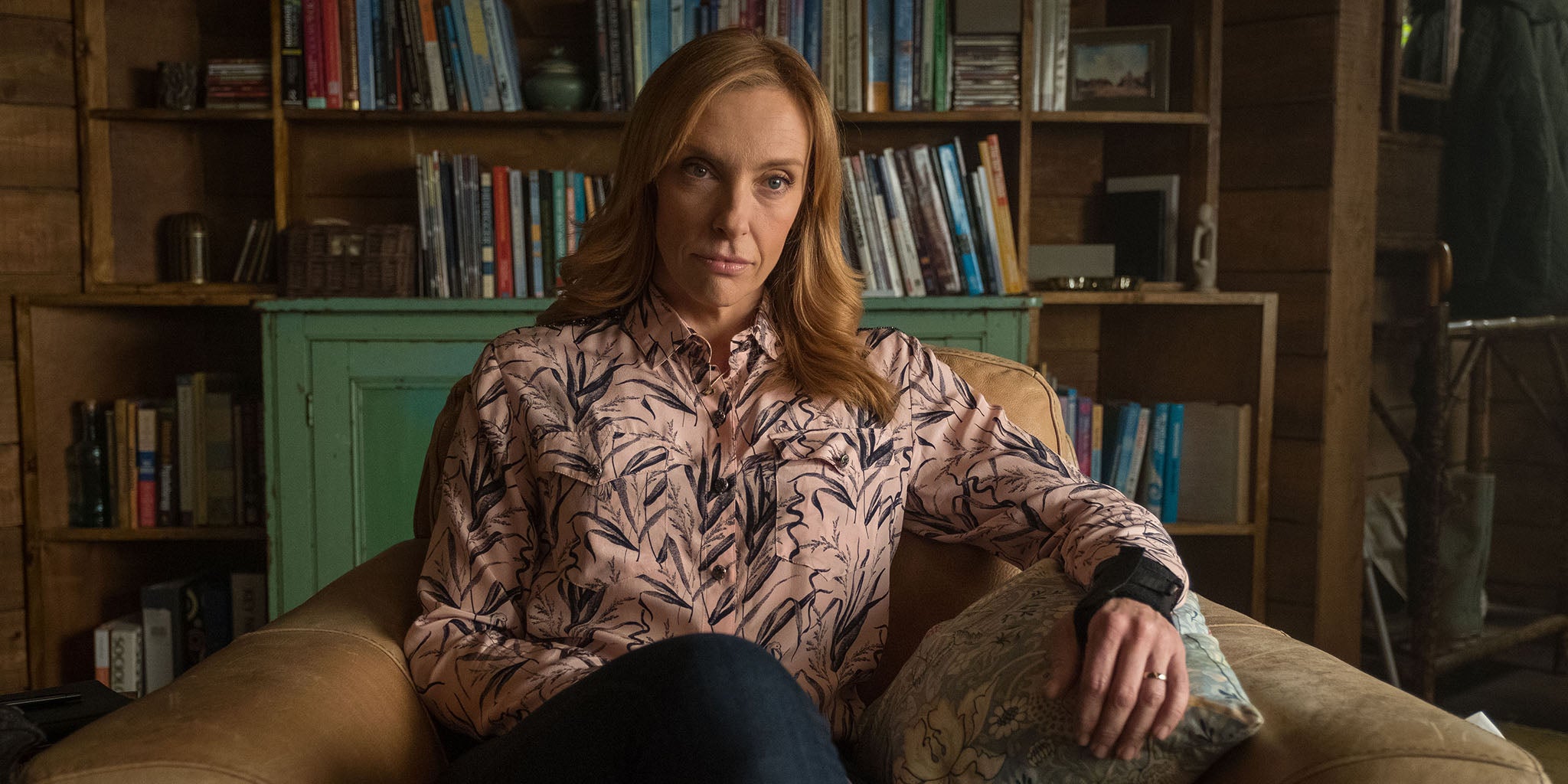 Wanderlust boasts a strong supporting cast mostly consisting of Joy's family and neighbors, but a few storylines fall flat because of a lack of nuance or backstory. Joy's neighbor Rita (Anastasia Hille), for example, leaves her husband after discovering her attraction to women while watching porn. But the show fails to explore that revelation, instead focusing on her constant baking and allowing her one shared kiss with Joy's daughter. These underwritten characters, along with occasional slow pacing, hinder an otherwise compelling show. 
Seeing as Wanderlust revolves around a psychoanalytic therapist at her wit's end, it's a given that the series is about more than just sex. Joy makes viewers second-guess all of the show's finer details when she asks a client why they define "little things" as little and "big things" as big. Why does the show dedicate three uninterrupted minutes to Joy's muffin binge? What's the meaning behind Alan's lost cufflink, which he later finds when he returns to their bedroom?
Wanderlust explores the multitude of reasons people have sex and the things they get out of it: power, control, happiness, or a means to cope with grief. The series also grapples with monogamy—whether it's desirable or even practical anymore—and a new definition of fidelity. Ultimately, it asks viewers if you can ever really return home after you've wandered into someone else's bedroom.
Still not sure what to watch tonight? Here are our guides for the absolute best movies on Netflix, must-see Netflix original series, documentaries, docuseries, and movies.
Need more ideas? Here are our Netflix guides for the best war movies, documentaries, anime, indie flicks, true crime, food shows, LGBT movies, gangster movies, Westerns, film noir, and movies based on true stories streaming right now. There are also sad movies guaranteed to make you cry, weird movies to melt your brain, old movies when you need something classic, and standup specials when you really need to laugh. Or check out Flixable, a search engine for Netflix.