Viewing Spanish sci-fi thriller The Platform during any other time period would be unsettling, but during a global pandemic that has reiterated how those in power feel about the poor and vulnerable, its message is tangible, unsubtle, chewing in your ear.
The Platform

RELEASE DATE:
March 20, 2020
DIRECTOR:
Galder Gaztelu-Urrutia
STREAMING:
Netflix
An ambitious sci-fi parable that takes class warfare to extremes.
Spanish director Galder Gaztelu-Urrutia's debut feature film begins with a lavish meal being prepared: tiered cakes, smoked meats, fruit, wine. A man in a white suit inspects the food. That impeccable display is then lowered into the "hole," a vertical prison that has more than 300 levels, with two people randomly assigned to each level. Those at the top get to eat as much as they can before it's lowered down; those at the very bottom get nothing.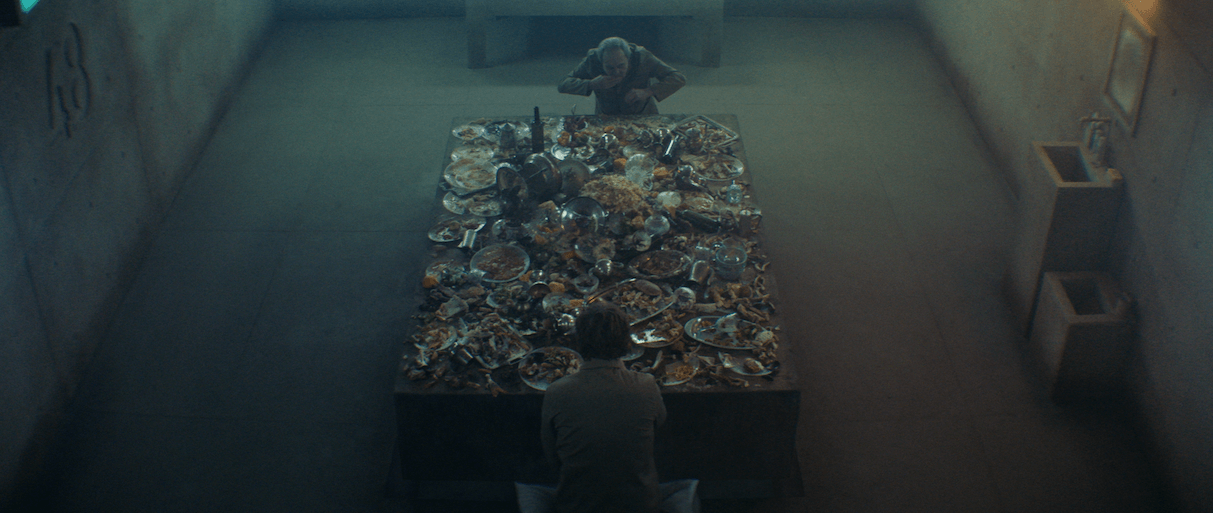 Goreng (Iván Massagué) awakens on level 48 with cellmate Trimagasi (Zorion Eguileor), an older man with menace in his eye. Trimagasi explains the rules of the game, and has insight from being on the top floors and the lowest ones. Goreng brought a copy of Don Quixote with him; Trimagasi brought a knife. That comes into play later, when Goreng learns how those on lower levels survive without food.

People (like Trimagasi) are there because they've committed crimes, but it's also a "vertical self-management center," and others, like Goreng, are there voluntarily, in an effort to improve their lives and earn degrees. That clash of ideologies and experience is ripe for exploration, and The Platform could have benefitted from more points of view. But the film stays with Goreng, the moral compass, as he experiences the brutality of this claustrophobic space, the "screams of people waking to discover what level they're on." The Platform is kind of like Brawl in Cell Block 99 but more allegorical.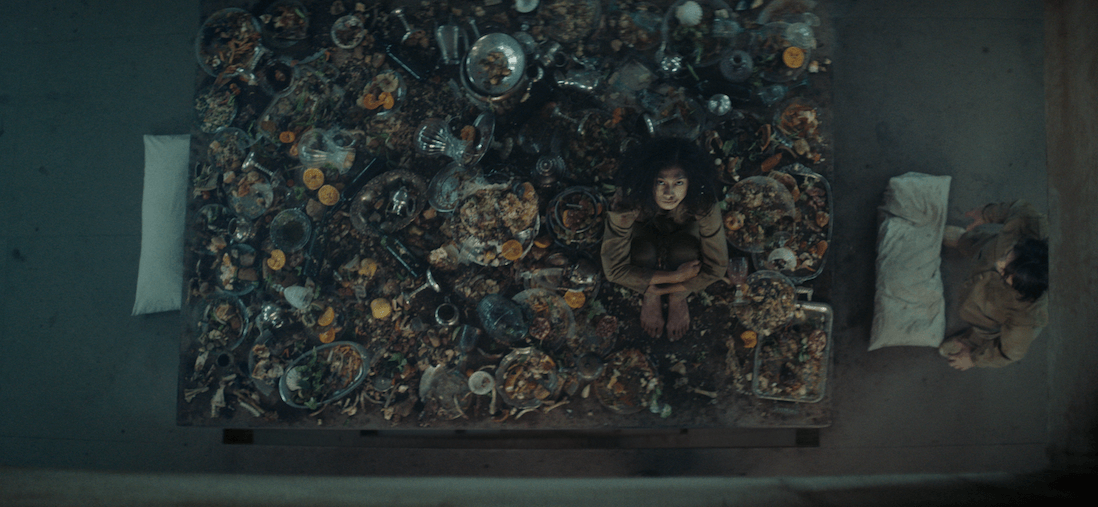 It will make you feel claustrophobic, too. The Platform does a lot with the desperate mouth sounds of hungry prisoners and repetitive "thunk" of the alarm as food moves from level to level. A young woman (Alexandra Masangkay) looking for her son is one of the hole's rogue figures, though it's also suggested the stories that circulate there are more coping mechanisms than truth. The true nature of the facility, and the "administration" that's spoken of, is never revealed, but it doesn't really need to be. As one cellmate (Antonia San Juan) tells Goreng, perhaps an act of "spontaneous solidarity" will send a message to those in charge. But, in this bleak house designed to pit people against each other, entitlement still exists.

The ending is a little vague, a little fleeting, especially given all the table-setting that's come before it. But The Platform tries to go beyond the obvious anti-capitalist message. Faced with scarcity, uncertainty, cruelty, and lack of leadership, tweeting about bringing back guillotines for the rich isn't enough. We have to rewrite the rules of the game. Or, maybe, we have to level it all and start over.

Looking for something more specific? Here are our Netflix guides for the best war movies, documentaries, anime, indie flicks, true crime, food shows, rom-coms, LGBT movies, alien movies, gangster movies, Westerns, film noir, and movies based on true stories streaming right now. There are also sad movies guaranteed to make you cry, weird movies to melt your brain, old movies when you need something classic, and standup specials when you really need to laugh. Or check out Flixable, a search engine for Netflix.

---
12 Best Netflix Original Movies:
---