A couple of months back, She-Ra and the Princesses of Power showrunner Noelle Stevenson revealed that the series would end with its upcoming fifth season. In an interview with Entertainment Weekly, she noted that she and the writers always knew how many episodes they would have to tell their story, so they were always able to plan it out over what would ultimately be 52 episodes. Granted, Netflix and DreamWorks' She-Ra revival has been consistently compelling. But as all-encompassing the war that Adora (and by extension, She-Ra) is, it's always been a war that—up until the very end of season 4—was essentially restricted to Etheria itself.
She-Ra and the Princesses of Power Season 3

RELEASE DATE:
May 15, 2020
CREATOR:
Noelle Stevenson
STREAMING:
Netflix
With the fate of Etheria—and everyone on it—at stake, Adora, Bow, Glimmer, the Princesses of Power, and the Rebellion face their biggest threat yet: Horde Prime.
In its final season, She-Ra opens its doors wide open, revealing a much more intricate universe than anyone on Etheria could've imagined, one that comes with its own set of complications and conflicts. And She-Ra still knows how to center its story around what's important even as it starts to reveal its endgame. (I've seen 10 of the final 13 episodes.)
No matter how often we've seen She-Ra pull off incredible feats in the past, or witnessed the grand spectacle of what we now know to be Horde Prime and his army of clones (of which Hordak was one), She-Ra has always been grounded in its characters. We care about the fate of Etheria because we've gotten to know these characters since the show premiered in 2018—and the fate of Etheria matters to those characters.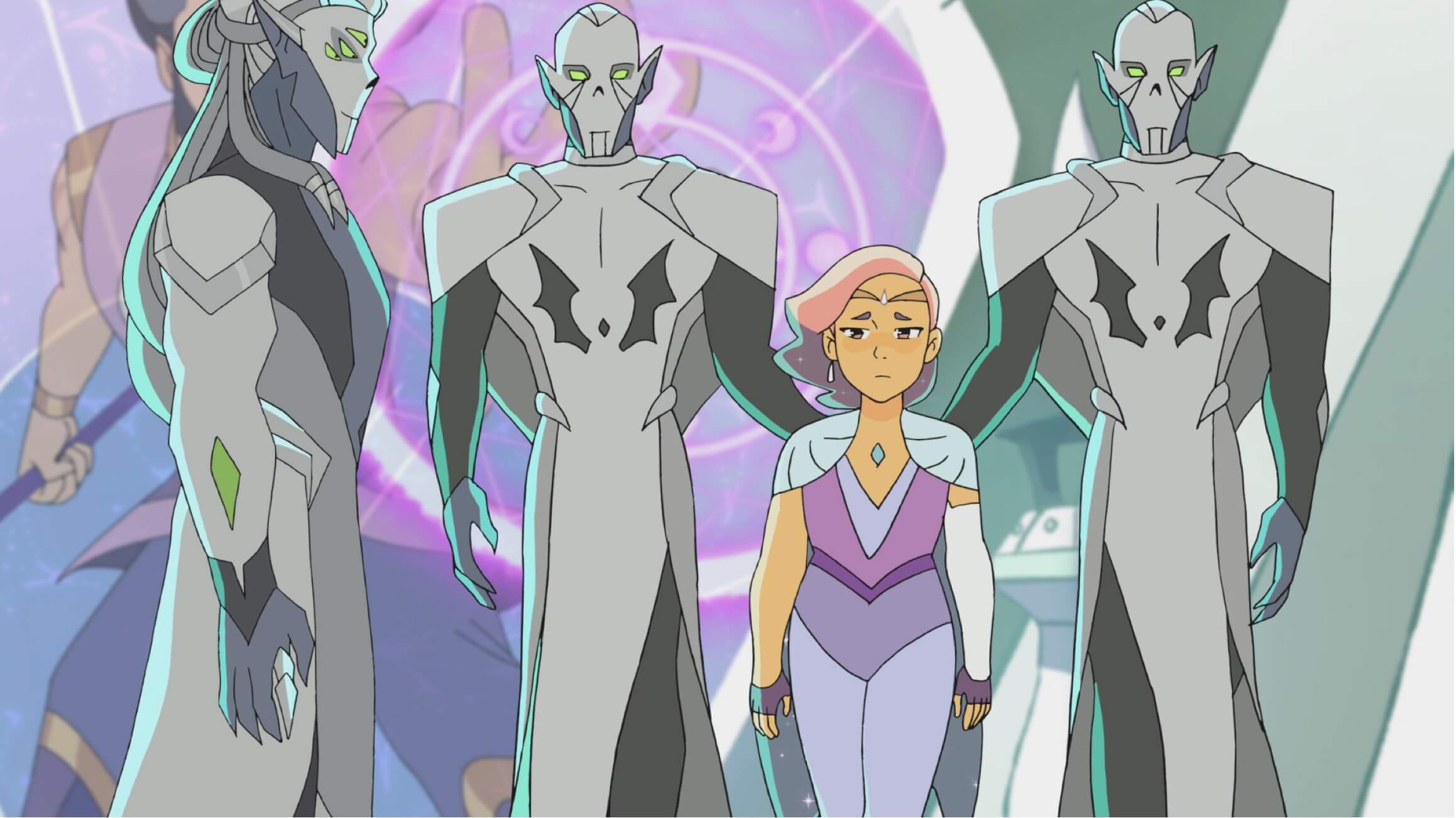 In season 5, She-Ra is paying off that investment with rich and organic storytelling even as what feels like the end of the world is approaching that still throws some shocks and twists along the way.
And at the start of season 5, those characters are very much out of sort as they face the fallout from Glimmer's attempt to activate the Heart of Etheria (a kind of superweapon hidden in the planet) that brought them into another dimension. After shattering the Sword of Protection last season, Adora can no longer turn into She-Ra, though the shadow of her own destiny looms large. She's haunted by She-Ra, the destiny she stepped away from; the displayed shards are reminiscent of the famed sword Narsil.
Glimmer is consumed by her own guilt about how she inadvertently put Etheria in harm's way, which is now the least of her problems as a "guest" of Horde Prime, who's hellbent on accessing the Heart of Etheria for himself. Catra has once again talked her way into a more powerful being's good graces, but her favor with Horde Prime can change at the drop of a hat.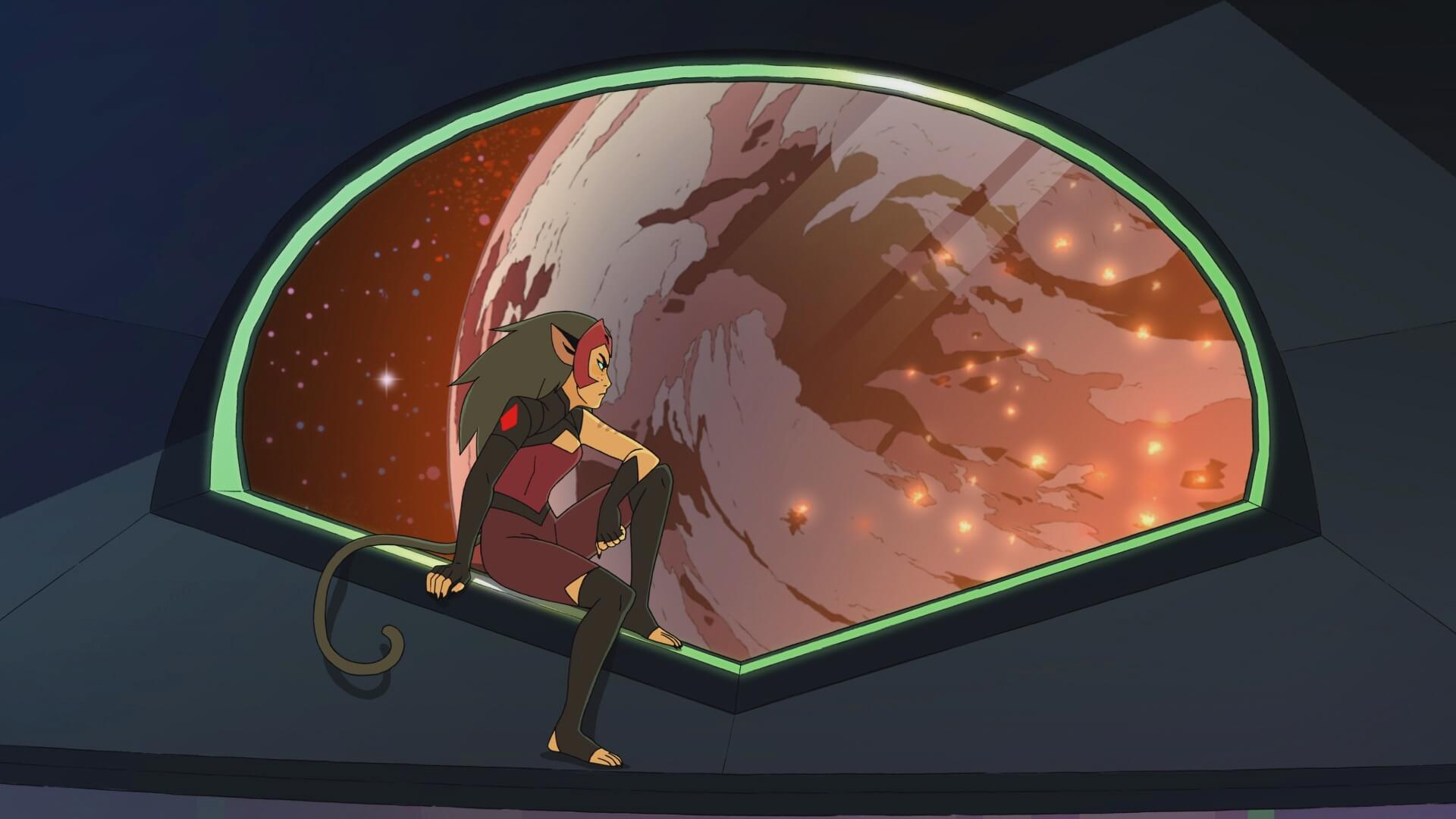 And on Etheria, an exhausted Rebellion is still fighting, but their victories are fleeting when they face off against Horde Prime's endless clone army. They're pushing themselves to the limit—Adora, who has to get used to fighting like a regular human all the time again, more than anyone—but the bots and clones continue hammering down.
After getting used to Hordak's chaos for four seasons, there's an almost eeriness to the uniformity of Horde Prime, who is surrounded by soldiers in his image and are his eyes and ears; he sees all and knows all, he tells Glimmer and Catra time and again. It's an even bigger contrast to the individualism that Etheria and the Rebellion offer from the character designs all the way to how even though they have the same goal in mind, they have varying opinions on how to achieve it. And when Adora and Bow push forward with a new mission, some minor characters get their chance in the spotlight while others have to adjust to new roles in the Rebellion, although trouble still lurks from all directions.
If you've only seen the first season of She-Ra, it might be hard to imagine the directions of some of the arcs we see play out in season 5; they're leaps and bounds and with plenty of nuances to boot. We're allowed to see the complications that come with having a whole barrage of feelings or judgments (or ample guilt) toward people you might've known for years or for only a short while; it's never been black and white on She-Ra. While each character gets to shine at some point, Adora and Catra, who have always been at the center of She-Ra's emotional conflict, carry the entire season on their shoulders.
Those conflicts and confrontations can be messy—even when it happens at an inconvenient time—but it's often far more enriching and rewarding to watch. Especially if it pulls at those heartstrings.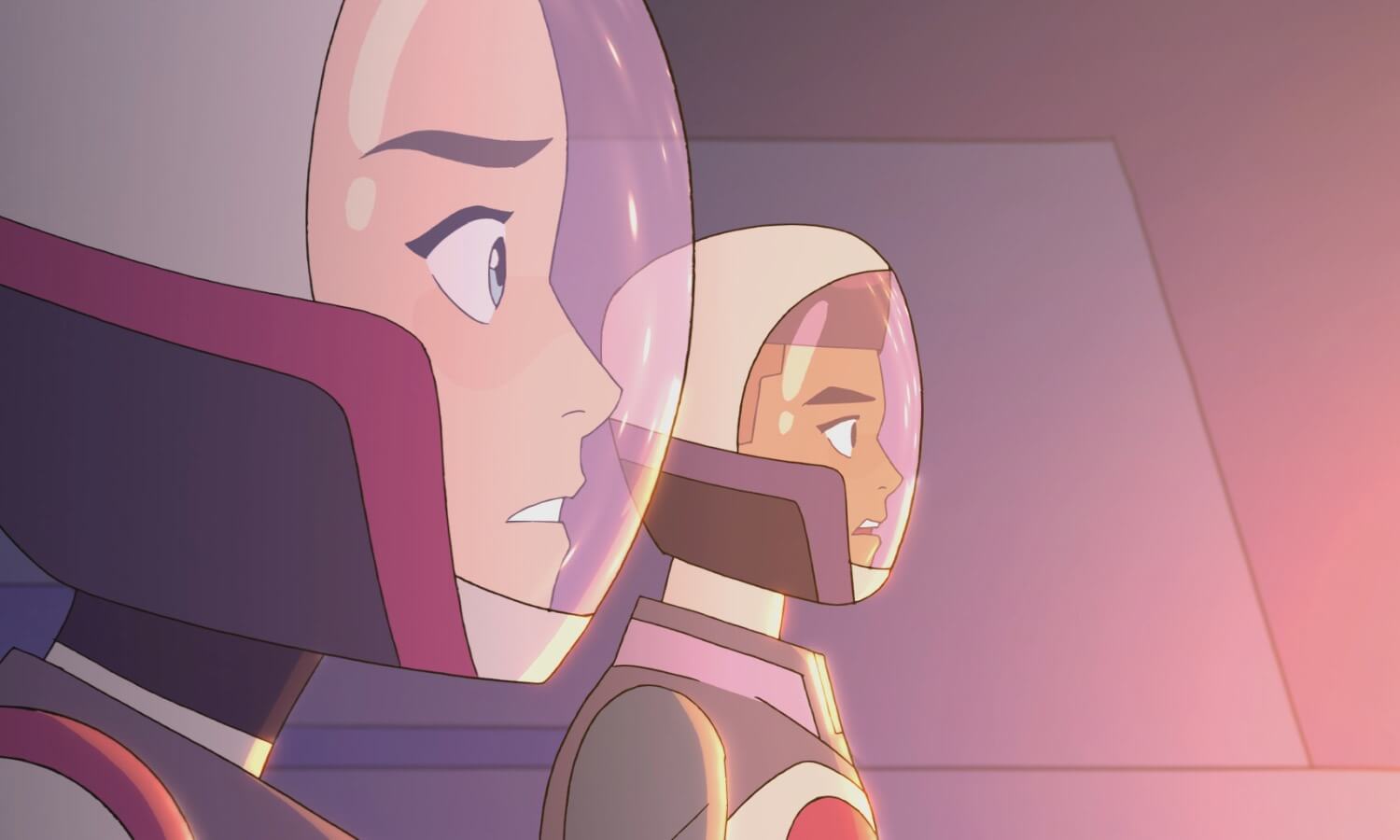 There is certainly merit in the TV shows that tend to only look a season or two ahead over planning it all out at once, but She-Ra thrived on being able to plan ahead. We've had plenty of set-ups over the course of its run, but in this final season, She-Ra finally put all of the pieces together. And it's an absolute marvel to watch it all play out.
Still not sure what to watch tonight? Here are our guides for the absolute best movies on Netflix, must-see Netflix original series, documentaries, docuseries, and movies.
Looking for something more specific? Here are our Netflix guides for the best war movies, documentaries, anime, indie flicks, true crime, food shows, rom-coms, LGBT movies, alien movies, gangster movies, Westerns, film noir, and movies based on true stories streaming right now. There are also sad movies guaranteed to make you cry, weird movies to melt your brain, old movies when you need something classic, and standup specials when you really need to laugh. Or check out Flixable, a search engine for Netflix.