After temporarily walking back its proposed password-sharing policy earlier this year, Netflix is now starting to roll out the changes in the U.S.
In a blog post on Tuesday, the company says it will start emailing "members who are sharing Netflix outside their household in the United States." The post includes a sample of the email subscribers will apparently get, advising that accounts are for one household only; if someone outside your household wants to watch, they must "transfer a profile" and pay for a new membership, or the subscriber can purchase an "extra member" for $7.99, on top of what they already pay for Netflix.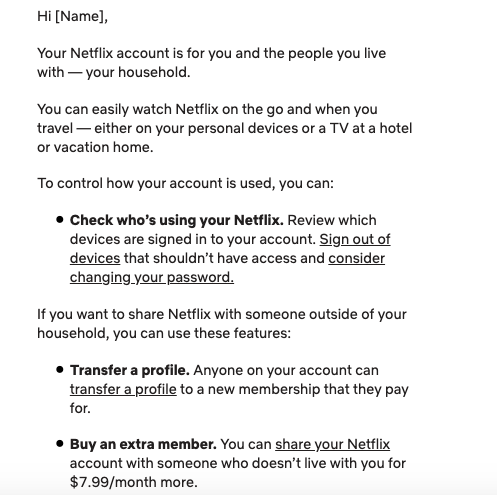 In February, the "paid sharing" plan, as Netflix calls it, rolled out in Canada (as well as Spain, Portugal, and New Zealand), and many Canadian subscribers took to social media to cancel Netflix.
It's not clear if the move lost Netflix substantial subscribers in Canada; in its Q1 earnings call, execs claimed the subscriber base grew as the result of the paid sharing. Netflix reportedly lost more than 1 million subscribers in Spain this year as a result of the new plan.