Netflix's new rom-com, Falling Inn Love, is a cotton candy movie. It's light, fluffy, and comes and goes easily enough. Falling Inn Love isn't the kind of movie you watch if you want to see something good. You watch it because you want to relax with a low-stakes, conflict-free movie that you can half-watch and not miss anything important. If nothing else, Falling Inn Love offers 100 minutes of respite from the rest of the world. It's hard to put a value on that. As someone who spends too much time looking at the news and is in the middle of Mindhunter, I appreciate Falling Inn Love.
Falling Inn Love

RELEASE DATE:
8/29/2019
DIRECTOR:
Roger Kumble
STREAMING:
Netflix
After her picturesque life falls apart, Gabriela takes over a New Zealand inn, rediscovers herself, and finds a new romance.
There isn't much value in knocking Falling Inn Love for being the toothless, clichéd rom-com that it is. The pun in the title gives the game away right from the beginning. Falling Inn Love promises a particular kind of diversion and mostly succeeds. The movie kicks off with a deluge of coincidences meant to knock our protagonist, Gabriela (Christina Milian), from her comfortable perch. She has a great job, an impossibly nice San Francisco apartment, and a picture-perfect boyfriend in Dean. Unfortunately, that's not enough for Gabriela anymore. In quick order, she is unemployed and giving her boyfriend the ultimatum. Obviously, that goes as poorly as relationship ultimatums usually do. (Is that something people do in real life?)
During a wine-soaked night of sadness, Gabriela enters an essay contest to win an inn. Following the movie's who-needs-dramatic-tension ethos, she goes to bed drunk and sad and wakes up the owner of the inn. The script, credited to Hilary Galanoy and Elizabeth Hackett, zooms through its setup so quickly that it's fair to wonder if Gabriela wanted this outcome all along. The first act is basically rom-com Madlibs. Unfortunately, Gabriela's bad luck carries over to the inn in New Zealand. Did I mention that she has to go abroad? You know enough about this kind of movie to know Gabriela needs to get away from everything to find herself.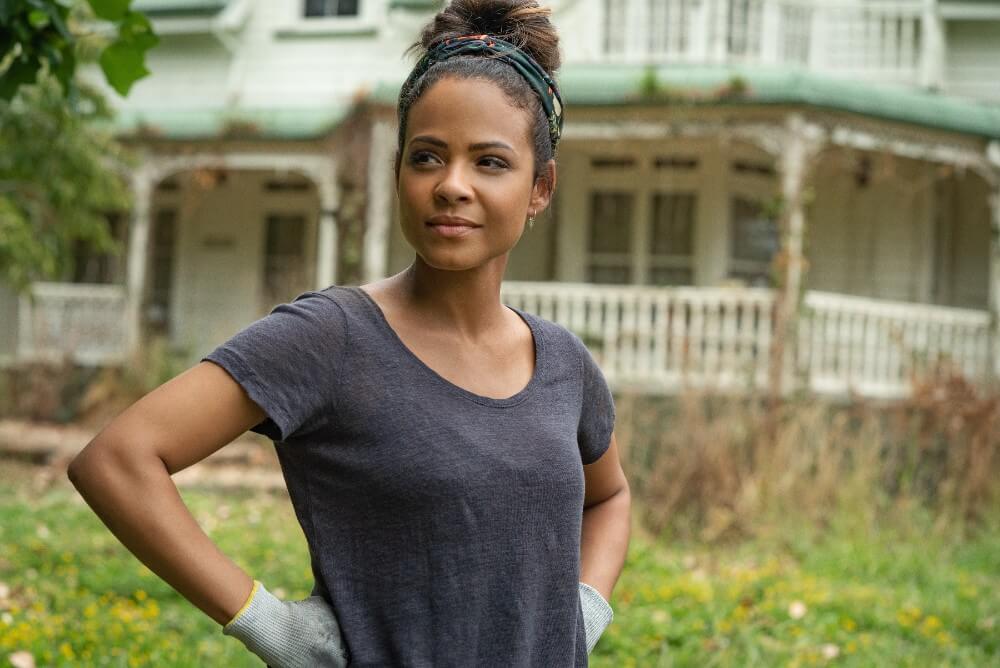 What she also finds is the dilapidated Bellbird Valley Farm, an ornery goat named Gilbert, and Jake (Adam Demos), the most handsome man in New Zealand, running into her everywhere she goes. Nothing that happens will surprise viewers, and that's kind of the point. Falling Inn Love isn't here to surprise you or stress you out. It's here to give you exactly what you want. You want Gabriela to recognize her worth, ditch the parts of her life that don't bring her joy, and then find love with Jake. That's what director Roger Kumble (Cruel Intentions) delivers. 
The movie gets enough things right to make the ride as smooth as possible. Milian and Demos make for an attractive, pleasant couple. Their performances are playful and their chemistry is solid. That's the most important thing for the movie's prospects. They can't quite sell some of the cornball jokes they're fed, but they get the nonverbal moments right, like when they stumble and land on each other, or give each other loving looks, or their moment of epiphany before they almost kiss. (Dammit, Gilbert!) Falling Inn Love serves up a lot of cheese, and Milian and Demos make it palatable. 
Falling Inn Love feels like standing in ankle-deep water on the beach. The water gently laps at your feet, inviting you in but not threatening you with anything more tumultuous. If you want something deeper here, you'll just be frustrated. In that case, fire up season 4 of Gilmore Girls (also on Netflix) and watch Lorelei restore the Dragonfly Inn and finally get with Luke. But if you go into Falling Inn Love with those expectations, that's on you. If you want a modest movie and a pleasant time, the Bellbird Valley Farm has a room waiting for you.
Still not sure what to watch tonight? Here are our guides for the absolute best movies on Netflix, must-see Netflix original series, documentaries, docuseries, and movies.
Looking for something more specific? Here are our Netflix guides for the best war movies, documentaries, anime, indie flicks, true crime, food shows, rom-coms, LGBT movies, alien movies, gangster movies, Westerns, film noir, and movies based on true stories streaming right now. There are also sad movies guaranteed to make you cry, weird movies to melt your brain, old movies when you need something classic, and standup specials when you really need to laugh. Or check out Flixable, a search engine for Netflix.