Every once in a while as a reviewer, you encounter a piece of entertainment that leaves you struggling to even describe it. Netflix's surreal new cooking/crafting/puppet show The Curious Creations of Christine McConnell falls into that category. But while "I don't even know where to begin" normally signals a staggeringly bad project, this show offers all good surprises.
Christine McConnell is a strange, wraithlike woman with an immense talent for baking and a style best described as "the good parts of Tim Burton." She lives in a sprawling, beautiful house that sports "upscale Halloween chic" decor year-round. She's not overtly charismatic or charming, but she has a hypnotic, calming quality that makes her step-by-step tours through the process of making, say, a tray of edible monster bones incredibly captivating.
McConnell herself is Instagram famous, having gone viral a few years ago after giving her parents' Los Angeles home a monstrous makeover. Since then, she's filled her feed with her colorful, macabre creations. She's like the offspring of Bob Ross, Martha Stewart, Morticia Adams, and the dreamlike Martian Girl from Mars Attacks! Between preparing beautiful, intricate confectionary creations, she deals with nosy neighbors and the antics of her three housemates—a large werewolf, a cranky reanimated Egyptian cat-mummy, and a creature she stitched together out of several different roadkills.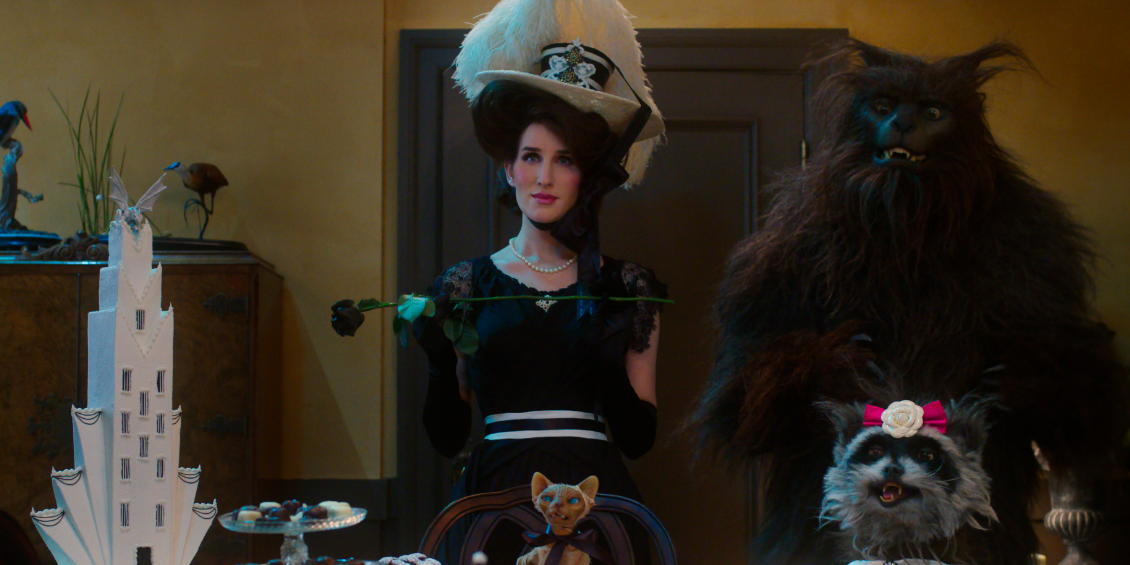 You didn't forget about the "puppet" part, did you?
Curious Creations isn't just your standard goth cooking show—it's a Jim Henson Company-produced goth cooking show, and that makes all the difference. The Henson creatures have all the amiable oddness that is typical of the company's contributions. Combined with McConnell's own talents and style, it all makes for a delightful, wholly unique treat that's perfect for the Halloween season.
McConnell walks viewers through spooky projects that range from simple to insanely complex, while her monstrous houseguests provide distractions and snarky commentary. The latter element gives the show a Mystery Science Theater 3000 vibe, a feeling strengthened by the show's storylines, some of which are self-contained and some of which stretch over the entire six-episode run. Christine has a dinner date with a man who may or may not be a serial killer. A meddlesome cousin swings by in search of a missing inheritance. Her housemates kidnap and prepare to torture a bothersome neighbor. It's all silly, sly, and utterly charming.
The Curious Creations of Christine McConnell is the best kind of surprise, both in concept and in execution. Those who consider Halloween the best time of year will find plenty to love on the show. Here's hoping McConnell's weird little world becomes a Netflix seasonal staple.
Still not sure what to watch tonight? Here are our guides for the absolute best movies on Netflix, must-see Netflix original series, documentaries, docuseries, and movies.
Need more ideas? Here are our Netflix guides for the best war movies, documentaries, anime, indie flicks, true crime, food shows, gangster movies, Westerns, and movies based on true stories streaming right now. There are also sad movies guaranteed to make you cry, weird movies to melt your brain, and standup specials when you really need to laugh. Or check out Flixable, a search engine for Netflix.