Growing, the title of Amy Schumer's new standup special, can be parsed a few ways. The most immediate one is Schumer's pregnancy, which has been beset by medical issues. Filmed in Chicago, Growing is Schumer's take on standup while expecting, and she finds a bit of gallows humor in the fact that, even though she's been hospitalized during her pregnancy for hyperemesis gravidarum, she can't miss the shows she's booked or else she'll be sued—something a male comic has never had to address onstage. 
Amy Schumer: Growing

RELEASE DATE:
3/19/2019
DIRECTOR:
Amy Schumer
STREAMING:
Netflix
Amy Schumer wrestles with a new chapter of adulthood.
Growing also signals a shift from the more bawdy, single-gal humor of Schumer's earlier specials to her wrestling with the institutions of marriage and motherhood. In the two years since Schumer's uneven Leather Special, we've turned a more critical eye on comedians for past jokes and behavior. She holds that thread in a bit about the shame placed on women once they start menstruating. Adolescent boys, she posits, only have to worry about sudden erections: "But then they grow up and show them to everyone!" Elsewhere, she says she hopes she's having a girl because it's "such a scary time for men."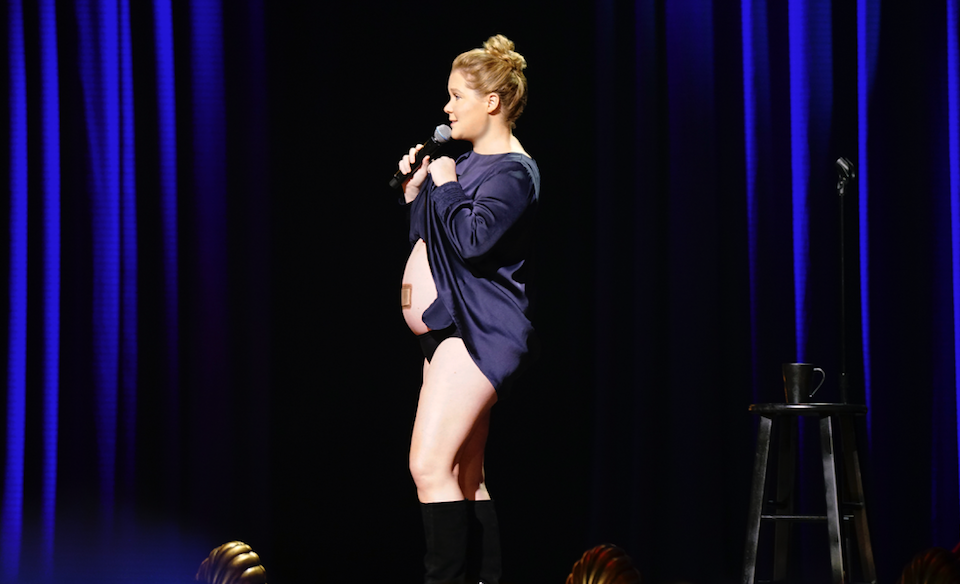 These aren't necessarily earth-shattering observations, and Schumer has had to account for her own missteps over the years, but Growing feels removed from the studio-packaged humor of movies like Snatched and I Feel Pretty. She hasn't entirely left the old Schumer behind: She mocks people who ask pregnant women what they're "craving" by exasperatedly screaming, "Cock!"  
Schumer delves further into personal material when discussing husband Chris Fischer, whom she reveals is on the autism spectrum. You can sense the genuine affection they have for each other as she recounts some of the more amusing moments of their courtship, but it's still jarring because Schumer has never really approached this kind of material. Some of the jokes feel warmed over, like when she addresses the indignity of being a bridesmaid in your late 30s, or how "we all have a friend married to a gay guy."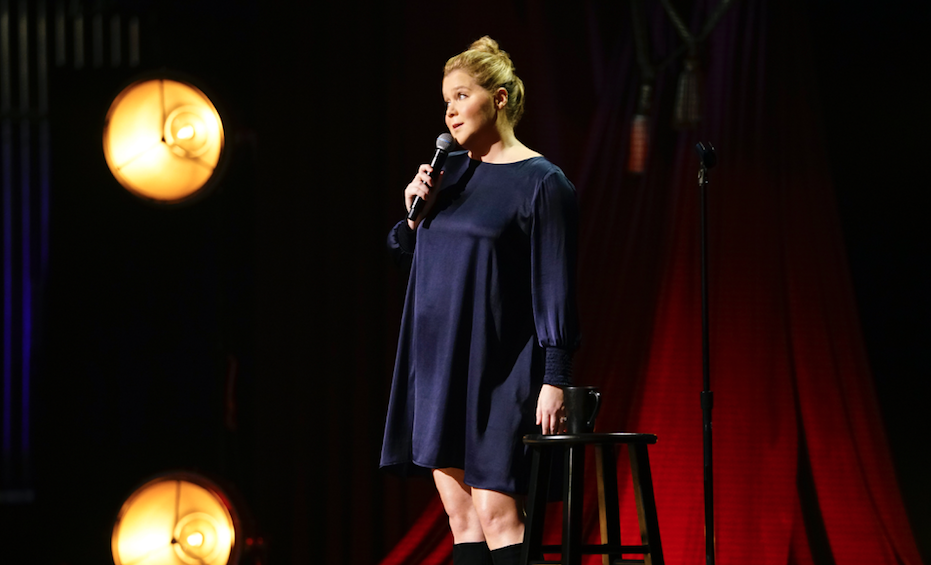 Schumer fares better when she talks about her arrest last year at a protest of Brett Kavanaugh, which she says she attended because she wanted to be able to tell her child "I did everything I could." A few beats later she says, "But baby. Guys, what the fuck am I doing?"
These vulnerable moments made me want to hear more about Schumer's uncertainty in the face of motherhood—an uncertainty tied, for her at least, to a business model that makes women work twice as hard as men with three times as much on their plate. But this is not Schumer dissecting Hollywood. Her eye toward the future gives Growing some clarity and shape, even if she stumbles a few times trying to figure out this new chapter of adulthood.
Still not sure what to watch tonight? Here are our guides for the absolute best movies on Netflix, must-see Netflix original series, documentaries, docuseries, and movies.
Need more ideas? Here are our Netflix guides for the best war movies, documentaries, anime, indie flicks, true crime, food shows, gangster movies, Westerns, and movies based on true stories streaming right now. There are also sad movies guaranteed to make you cry, weird movies to melt your brain, and standup specials when you really need to laugh. Or check out Flixable, a search engine for Netflix.