Small Axe, Steve McQueen's new anthology centered around London's West Indian communities between the late-60s and the mid-80s, is, on paper, ambitious storytelling. McQueen originally envisioned Small Axe (which gets its name from a West Indian proverb popularized by the Bob Marley song) as a TV series, but it eventually evolved into a five-film anthology. And while each film stands on its own, you can see the loosely connected tissue linking them together.
Small Axe

RELEASE DATE:
Nov. 20
DIRECTOR:
Steve McQueen
STREAMING:
Amazon Prime Video
Set between the late-60s and the mid-80s, Steve McQueen's five-film anthology explores how London's West Indian community thrived as corrupt cops and a racist and xenophobic system sought to work against them and drive them out.
Mangrove, Lovers Rock, and Red, White and Blue—the three films that the New York Festival featured as part of its virtual and drive-in line up (and were screened for critics)—couldn't feel more different from one another, although they all have the same cinematographer in Shabier Kirchner. Mangrove (co-written by McQueen and Alistair Siddons, who also teamed up for Education and Alex Wheatle) is a tense, rousing courtroom drama that leans on the strength of its community and avoids bringing in a white savior. Lovers Rock (co-written by Courttia Newland and McQueen) is the ultimate house party movie, a mesmerizing 68-minute fantastical, musical affair. Red, White and Blue (co-written by McQueen and Newland) brings a wealth of complications to the story of a Black man who joined the police force to try to enact change from within. Together, Small Axe is a complex and vibrant portrait of the many ways that London's West Indian community thrived when outside forces tried to push them out, which are grounded by great performances and have just as much resonance now as they did back then.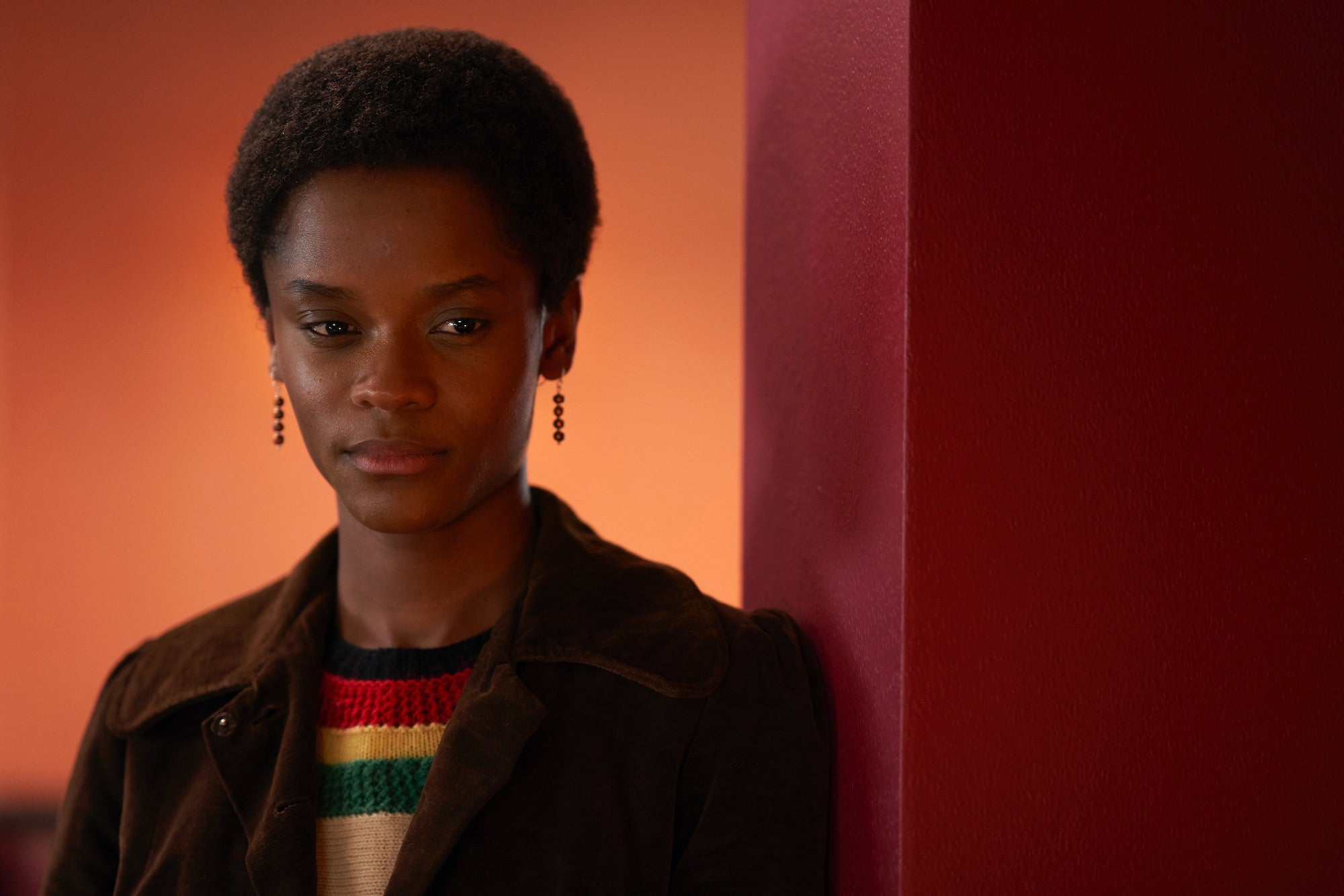 For some Americans, our main references for British history are royals and aristocratic society while some British viewers might be unaware of this part of their own recent history, so the very nature of the stories themselves makes them feel fresh. But fiction or not—Mangrove and Red, White and Blue are based on true stories while Lovers Rock is fictional—they visualize a world that, first and foremost, feels lived in. You get a clear sense of the neighborhoods and communities forged through the music, food, and camaraderie that form an oasis from the racist and xenophobic world that they live in.
Mangrove shows those threats up-close with Frank Crichlow (Shaun Parkes). Crichlow opened up the Mangrove restaurant in 1968, and the Mangrove Nine, the group put on trial for inciting a riot after their protest over how racist police officers kept harassing Crichlow and his restaurant resulted in violence instigated by police. The Mangrove, by its very existence, ended up becoming a sanctuary in Notting Hill for immigrants and activists alike; somewhere they could gather to eat and dance. But for the police who patrolled the area—who thought intimidating Black people was such a sport that it was part of a new recruit's initiation—the very existence of a place like the Mangrove was a threat. The police found the flimiest of excuses to raid the restaurant over and over again, their break-ins feeling like a terror-filled record scratch; as each new raid plays on-screen, the music becomes even more tense.
"It's a restaurant, not a battleground," Crichlow notes, voicing his reluctance at being the face of this kind of resistance; even when it looks like the Mangrove Nine might be vindicated, Crichlow hesitates. But by the time the protest over the Mangrove takes place, the police have been harassing Crichlow and the Mangrove for several years and customers are starting to stay away. After the arrest, the protesters, which includes British Black Panther Movement leader Altheia Jones-LeCointe (Letitia Wright), are put on trial in a building designated for murderers and terrorists. It's a clear indication that the Mangrove Nine are all being made examples of, and instead of solely relying on lawyers to make their case, two of the defendants, including Jones-LeCointe and Darcus Howe (Malachi Kirby) decide to represent themselves in court. Mangrove is the plottiest of the three, but it's the most engrossing, starting off as a slow burn before turning into a gripping courtroom drama that avoids many of the clichés of the genre.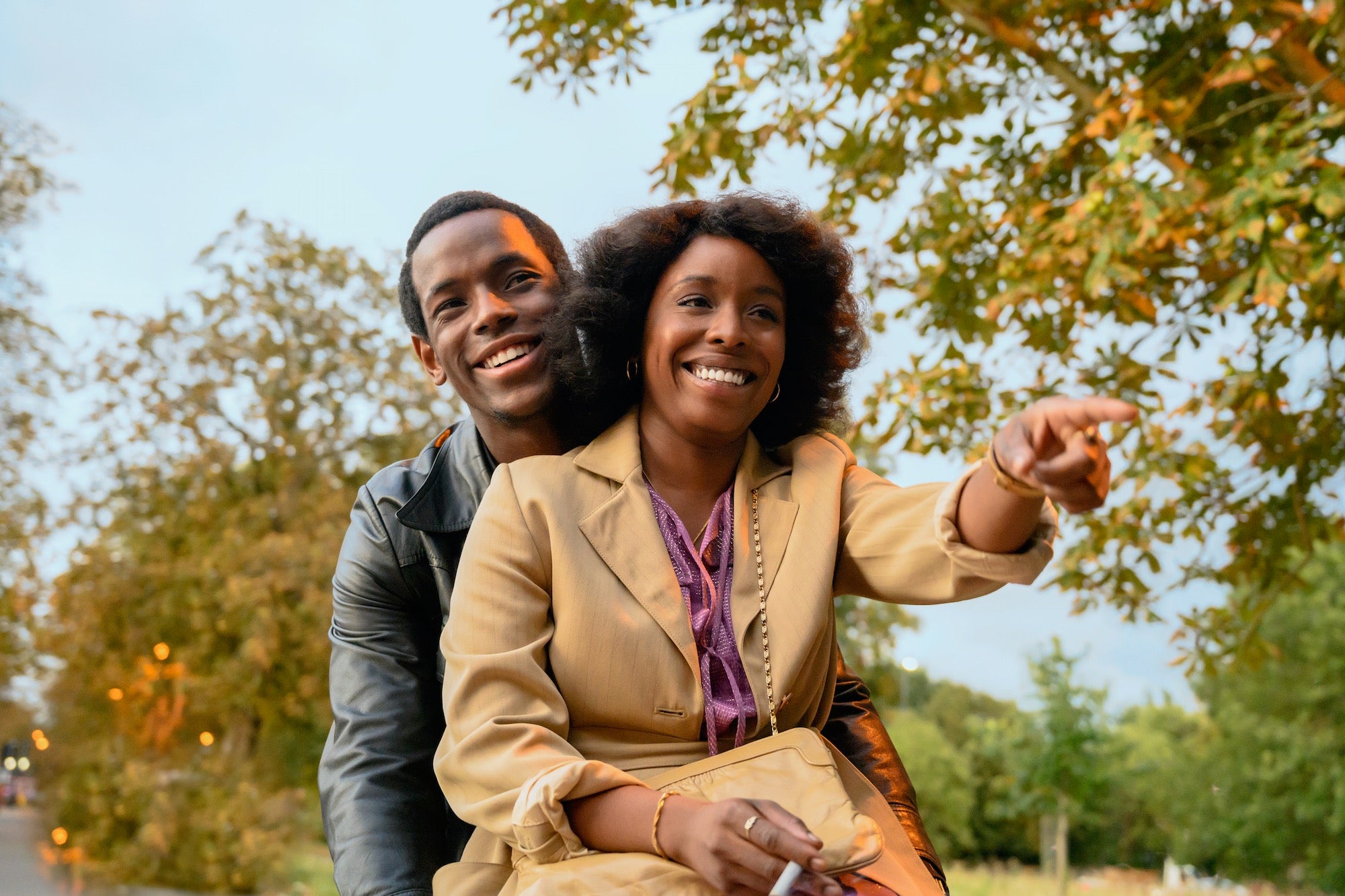 In comparison, Lovers Rock (which is a reference to a genre of romantic reggae music) is almost plotless. It takes place over a single night at a house party in London, an oasis for West Indian teens and young adults who wanted to dance the night away but weren't welcome at white nightclubs. While we follow multiple attendees throughout the party, we mainly stay with Martha (Amarah-Jae St. Aubyn), who snuck out of her house to attend, and Franklin (Micheal Ward), a mysterious stranger at the party, as the first sparks of a connection form on the dance floor.
That dance floor is sacred. Lovers Rock doesn't ignore the grim realities that face the party attendees just outside the house, but within those walls—at least for one night—they're in a safe space. They can dance and get lost in the sensuality of music and fall in love with someone else within the span of a single night; when the music stops, the dancers continue singing "Silly Games" for several minutes. With the camera in the thick of the action, you feel like you're in the middle of witnessing something big.
Red, White and Blue, which operates something like a straight biopic, is the most conventional of the three—and perhaps the most bittersweet. We follow Leroy Logan (John Boyega, who's never been better), a forensic scientist who jumps into the lion's den and joins the Metropolitan Police after his father Ken (Steve Toussaint) is brutally attacked by police; his plan, naïve as it is, is to spark change to the racist institutions of law enforcement from within. As he sees firsthand, it's not as simple as passing exams and getting on the police force. ("Big change: That is a slow-turning wheel," Ken tells his son at one point.)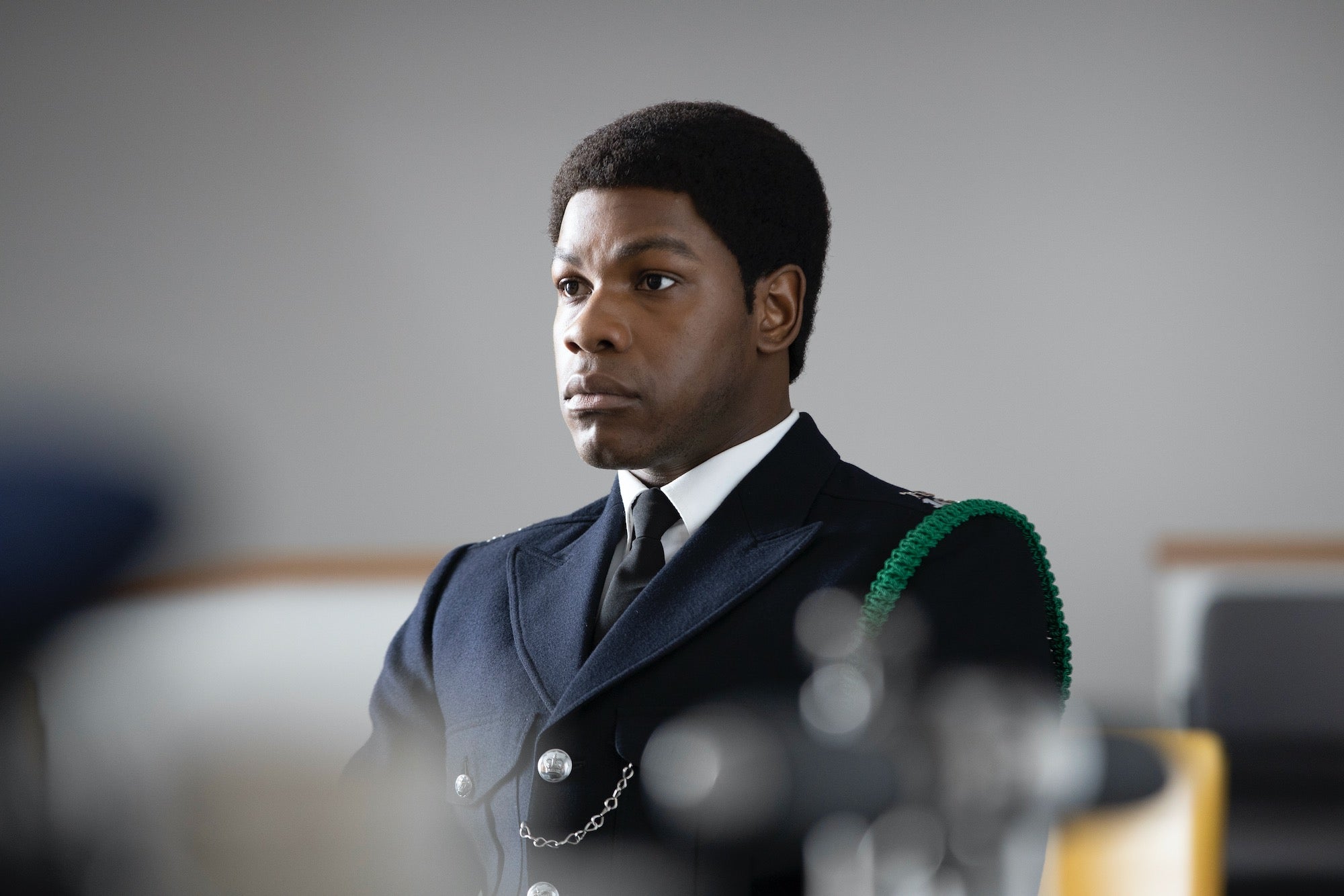 Just because Logan is a police officer doesn't make him immune from microaggressions, outright instances of racism, and being overlooked by a police force who wants to tout him as a diversity hire but otherwise keep Logan down. His friends, family, and local community see Logan as a traitor because how could he become a cop after cops spent decades terrorizing their neighborhoods; Ken is outraged and kicks his son out of the house. Logan commiserates with a Pakistani police officer, the only other nonwhite cop on the force, about their white colleagues ignoring what they could bring to the table to their own detriment. More often than not, Logan is caught in the Catch-22 of being part of the problem and put into a box before he can be part of the solution; at times, it teeters toward feeling clichéd.
Small Axe is rich with detail and has hints of familiarity even if we're only learning about people like the Mangrove Nine or Leroy Logan for the first time. We witness what happens when tight-knit communities take on the systems to varying results: Sometimes they win, sometimes it's a constant struggle, and sometimes they're able to get a brief reprieve. But the important thing is that they try.
The Small Axe anthology will debut films weekly starting Nov. 20 with Mangrove. Lovers Rock will premiere on Nov. 27, and Red, White and Blue will premiere on Dec. 4.