Mulan, which draws from the original "Ballad of Hua Mulan," Chinese wuxia films, war epics, and especially 1998's Mulan, immediately stands out from its predecessors in Disney's growing catalog of reimagined animated classics. Its grand and epic scale, stunning and vibrant visuals, choreography, and a few key performances all help instantly place it as one of Disney's best of its lavish remakes. But it also shines in part for what it isn't: It's not a total copy-and-paste of the animated classic—and that's a very good thing.
Mulan

RELEASE DATE:
Sept. 4, 2020
DIRECTOR:
Niki Caro
STREAMING:
Disney+
Disney's live-action remake of Mulan is a grand and visually stunning war epic that sidesteps the usual "shot-for-shot" route that many of its predecessors took. While it doesn't always emotionally connect, the differences in the details make up for a lot of it.
One of the biggest issues with Disney's mostly live-action remakes over the past decade has been their complete and total reverence for its own source material. As a result, the finished products, such as Beauty and the Beast, Aladdin, and The Lion King, don't stand on their own and tend to pale to varying degrees in comparison; they often come off as cash grabs. By sidestepping that rigid faithful approach with new characters, elaborate sequences, and using the big screen it was originally designed for (but only a fraction of the audience will be able to safely view it on) to its advantage, Mulan already stands out.
Two of the most iconic elements of the original—the musical numbers and the dragon sidekick Mushu—are gone, but not forgotten. Mulan features several of the songs in subtler ways in Harry Gregson-Williams' instantly immersive score or in the form of drops of wisdom from one character to another. (A new recording of "Reflection" from Christina Aguilera, which is as famous in its own right as Lea Salonga's, makes an appearance during the credits.)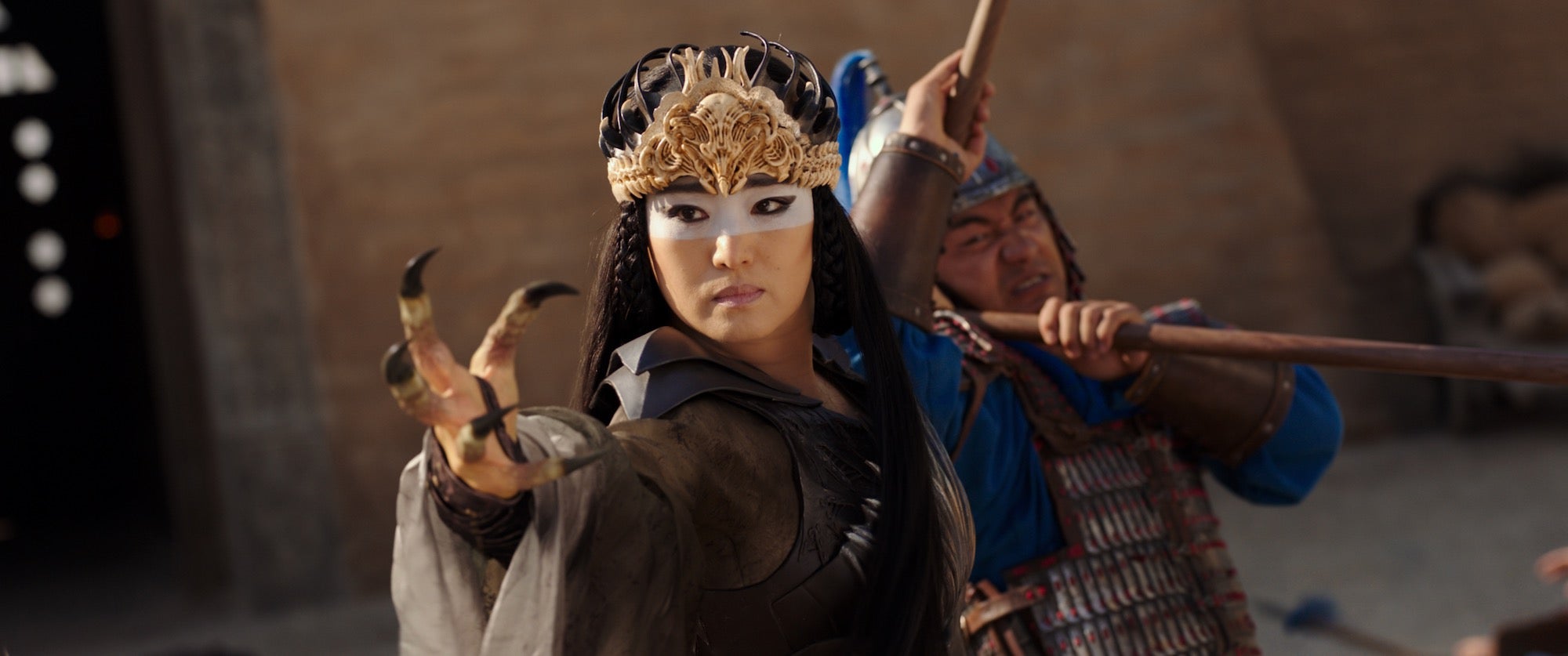 While the lack of songs has long been a concern for fans, it's ultimately a good thing. They wouldn't fit with the version of Mulan crafted by director Niki Caro (Whale Rider) and screenwriters Rick Jaffa, Amanda Silver, Lauren Hynek, and Elizabeth Martin, which takes on a full-blown war epic with a handful of lighter moments than the animated version's more comedy-friendly tone. It also lets the dramatics play out in other ways.
However, Mulan does hit a number of familiar beats with some of the story's highlights firmly intact. Hua Mulan (Yifei Liu), the eldest daughter of Zhou (Tzi Ma), an ailing war veteran, is supposed to bring honor to her family through marriage. But she disguises herself as a man, rides off on a horse with her father's sword and armor, and takes her father's place after the Emperor of China (Jet Li) orders every family to send one man to join the Imperial Army to stop Northern invaders. The enemy comes in the form of Böri Khan (Jason Scott Lee), whose invasion is marked by revenge, and Xianniang (Gong Li), a sorceress who wields magic with ease and commands every scene she's in.
Mulan is a skilled warrior from the start, her power explained away as the qi within her, which her father (who trains her) describes as "the boundless energy of life itself"; she's made to close herself off from it because only men are allowed to access their qi. In a sense, it's comparable to the Force, something that is all around you but only some have the ability or skill to access; as Commander Tung (Donnie Yen) later puts it, while everyone is born with qi, "only the most true will connect deeply" with their qi to become a great warrior.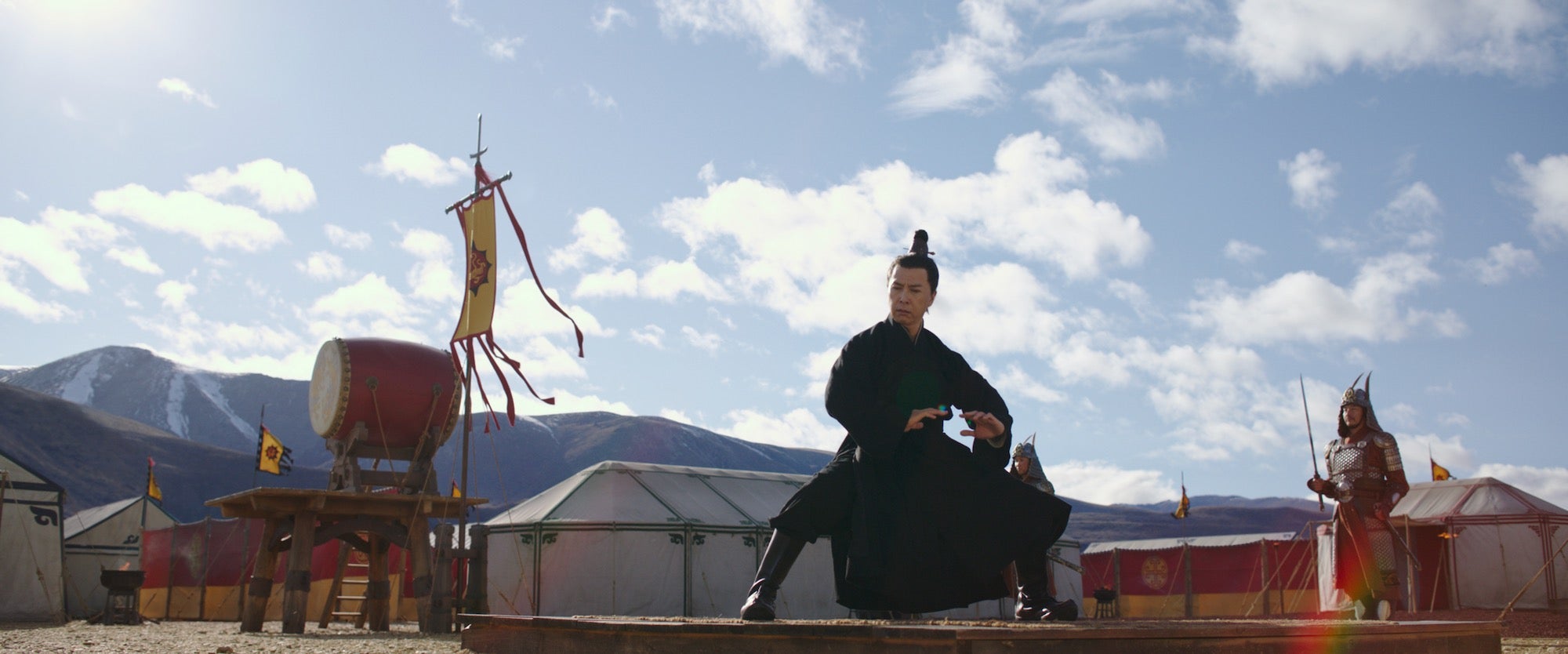 With Xianniang, Mulan finds common ground because, despite the extent of her magic, Xianniang knows a thing or two about a society not accepting a woman who dares to spread her wings. She's a far more fascinating and mesmerizing antagonist as a result, far outshining Böri Khan, whose characterization is thin at best. And the push and pull of her connection with Chen Honghui (Yoson An) offers a point of vulnerability that's understated.
In the hands of Liu, Mulan is often empathetic, her eyes convey most of her emotions, whether she's putting aside her own wants for the betterment of her family, disguised as Hua Jun, or when she can finally be herself, but Mulan doesn't always have a sense of who she is outside of her familiar story. And while the cast, which ranges from on-screen legends, relative unknowns, and actors that American audiences might not yet know, exudes talent with every turn, it often doesn't know what to do with some of its other characters on the outskirts.
The world of Mulan, however, often fares much better. The devil is in the details, and you can tell that Caro and the crew put a lot of thought and detail into every scene; a location we spend a few minutes in can feel just as alive as locations we see for much of the movie. The magic makes Mulan much more vibrant, and the colors breathe life into it; the fabrics, which are just as much of a weapon as a sword or spear, give it an extra flourish. And while it's not as bloody as you'd expect a war epic to be—Mulan might be rated PG-13, but it is still a Disney movie—it doesn't completely shy away from that aspect of war, either.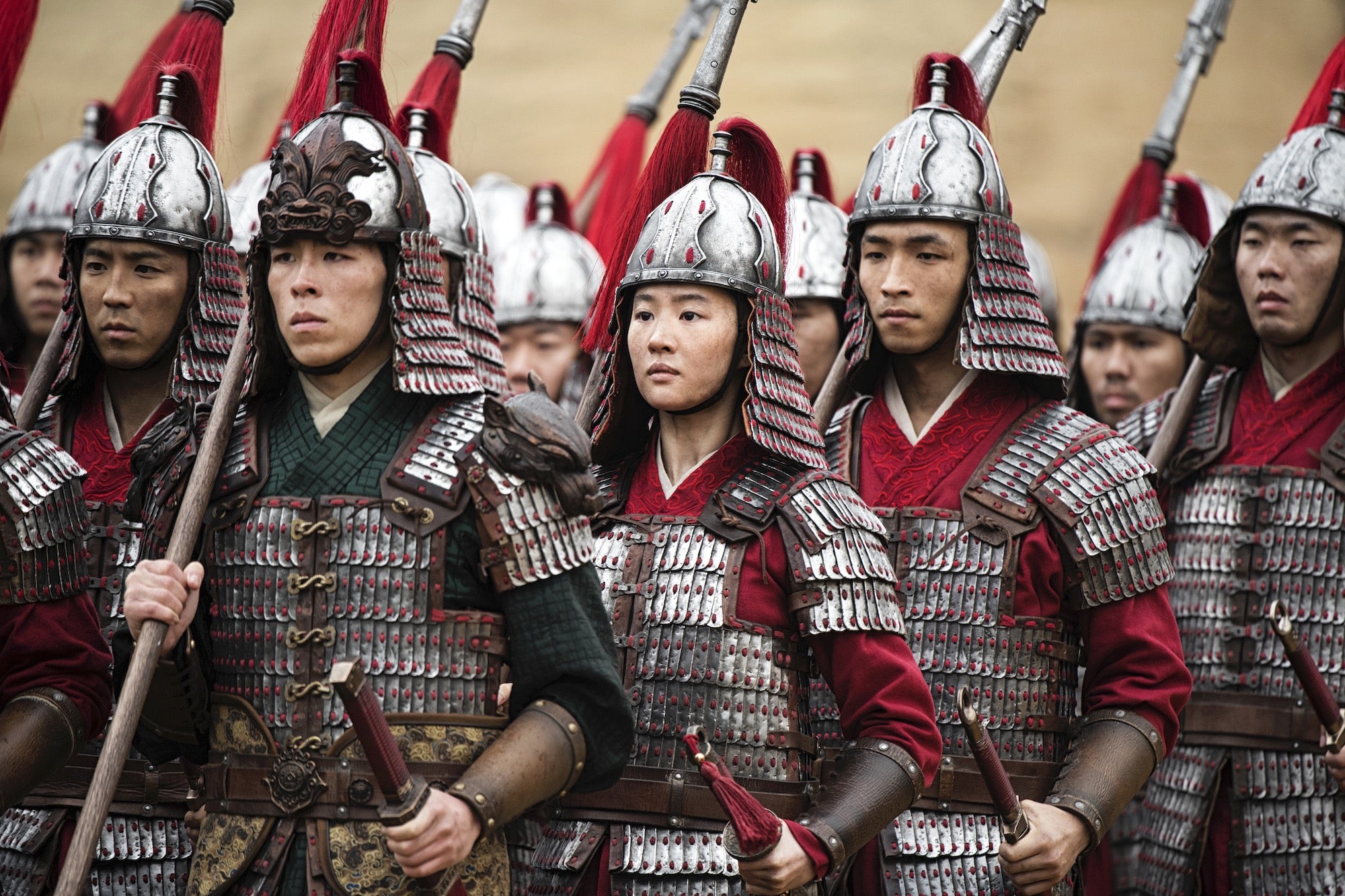 Disney's remake of Mulan has a lot riding on it—and it's long been the source of controversy. People initially worried about Disney whitewashing the main characters, the erasure of Li Shang (Mulan's love interest in the animated film who was split into two characters for the 2020 version: Commander Tung and Honghui), and the lack of songs. People objected to Disney hiring Caro, a white woman from New Zealand, instead of a Chinese director; Caro's comments from earlier this year didn't help. Some called for a boycott of Mulan after Liu made posts on Weibo supporting the police in Hong Kong during protests where several videos depicting police brutality went viral. And Mulan is now debuting nearly six months later than it was supposed to thanks to the pandemic—and on a streaming platform through a premium tier and a rental cost that some see as too steep.
Mulan is spell-bounding and a visual delight, and for the most part, it still works as the story we know but with more depth and detail. Despite its flaws, it's potentially a sign to the other Disney remakes in the works that veering away from the sanctity of the original text isn't the worst thing that can happen to a film. In fact, it might make it film soar.
Mulan will be available to rent through Disney Plus' Premier Access from Sept. 4 to Nov. 2 for $29.99 and will become available to stream for all Disney+ subscribers starting Dec. 4.
Daily Dot Disney Plus Guides
---
Disney Plus Genre Guides
---
---