When not playing dapper villains in horror classics, Vincent Price also enjoyed riding rollercoasters, apparently. 
Here at the Daily Dot, we swap GIF images with each other every morning. Now we're looping you in. In the Morning GIF, we feature a popular—or just plain cool—GIF we found on Reddit, Canvas, or elsewhere on the Internet.
Late horror legend Vincent Price was many things: an actor, an artist, a connoisseur, a Yalie, a gourmet cook, and a bon vivant. He was also a rollercoaster aficionado.
Specializing in arch, dapper villains, Price became one of the best-loved multi-murderers of the silver screen. His triplet of Edgar Allan Poe adaptations for director Roger Corman are camp classics, and his unspeakable Dr. Phibes is an icon of horror cinema.
Price's sense of humor was legendary One of his favorite roles was Egghead on the television series Batman and Robin, where he incited an unscripted egg fight. When asked to stop egging his costars, he replied, "With a full artillery? Not a chance!"
According to a friend, he was once in full makeup as (the hideously scarred) Dr. Phibes between takes, enjoying a stroll by the Thames, when a boatload of tourists came around the bend and began gawking at him as if he were a creature in a zoo. His response was to stare back, take a sandwich out of his pocket, and slowly crumble it and jam it into Phibes' neck-feeding tube, mewling pitifully all the while. The boat went silent.
This GIF comes to us from the well-named Vincent Fucking Price Tumblr, where it is one of a set of four different images of Price enjoying rollercoaster rides. What does it take to terrify the professionally terrifying? Now we know.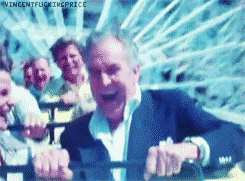 Pure, uncut internet. Straight to your inbox.