Zombie man Rick Genest comes to life at New York Fashion Week, thanks to Mr. GIF.
Here at the Daily Dot, we swap GIF images with each other every morning. Now we're looping you in. In the Morning GIF, we feature a popular—or just plain cool—GIF we found on Reddit, Canvas, or elsewhere on the Internet.
The zombie apocalypse is upon us, and it is fabulous!
French-Canadian work of art Rick Genest is the world's most famous living zombie (not quite an oxymoron). And Mr. GIF is the world's most famous living GIF collective.
When you put the two together, you know you're going to get something distinctly fabulous. Convenient, then, that Mr. GIF was at New York Fashion Week working their magic, and Genest was in town for the Blonds and Betsey Johnson shows.
He may be menacing you with two enormous daggers, but they are crystal-studded daggers, and he did remember to extend his pinkies like a properly brought-up boy, even if one of them is incorporated into devil horns. Surely, with that twinkle in his eye and curl of his lip, he's the most self-aware zombie the universe has ever held. This is the undead, GIF version of voguing.
If all zombies looked like this, it would be a lot harder to choose sides in the final confrontation.
The line for recruiting forms on the left; 1,875 Tumblr notes give you an idea of the size of his army so far.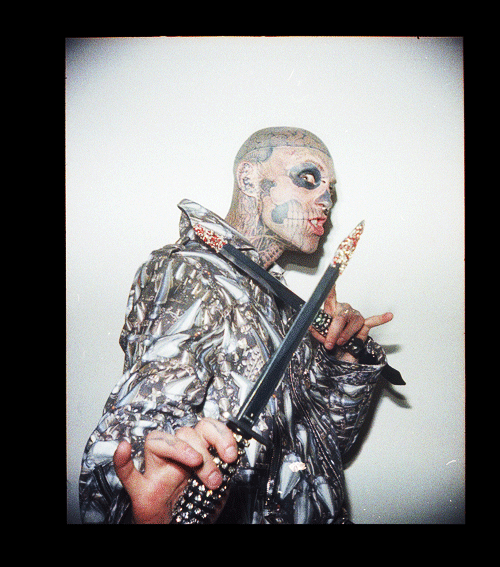 Pure, uncut internet. Straight to your inbox.