The acclaimed sci-fi author took readers to new worlds; this GIF returns the favor.
Here at the Daily Dot, we swap GIF images with each other every morning. Now we're looping you in. In the Morning GIF, we feature a popular—or just plain cool—GIF we found on Reddit, Canvas, or elsewhere on the Internet.
On Wednesday, the world said goodbye to Ray Bradbury, one of the canonical science-fiction writers of the 20th century. If "something wicked this way comes" is part of your arsenal of expressions, you owe it as much to Bradbury as to Shakespeare, and it's doubtful a single American graduated high school without reading (and rereading, for no extra credit!) Fahrenheit 451. Practical: As Tumblr user Brian Van points out, now you know how hot the oven can be before you really have to take the pizza out of the cardboard box.
Bradbury was a man preoccupied with achieving immortality through his work, and we think he can rest easy.
"Everyone must leave something behind when he dies, my grandfather said. A child or a book or a painting or a house or a wall built or a pair of shoes made. Or a garden planted. Something your hand touched some way so your soul has somewhere to go when you die, and when people look at that tree or that flower you planted, you're there."
—Ray Bradbury, Fahrenheit 451
Bradbury was not only an inspirational and practical imaginer of new worlds, however brave. He was also politically active, although his alignment with the Tea Party might startle some of his often soft-left fandom. Nonetheless, he was a supporter of George W. Bush, and vice versa. President Bush presented Bradbury with the National Medal of Arts in 2004, a moment which is immortalized in our Morning GIF.
Alan Butler at the Not Safe for Mork Tumblr (whom we've covered before) has taken Bradbury and the First Couple out of their mundane (if posh) surroundings and put them in space, where they float eternally, trailing rainbows across the universe. The Bushes look pleased as can be, and as for Bradbury, he's completely OG, sitting in that wheelchair like a throne and flashing his rings.
We'll leave you with this quote from The Halloween Tree, one of Bradbury's lesser-known works.
"When you reach the stars, boy, yes, and live there forever, all the fears will go, and Death himself will die."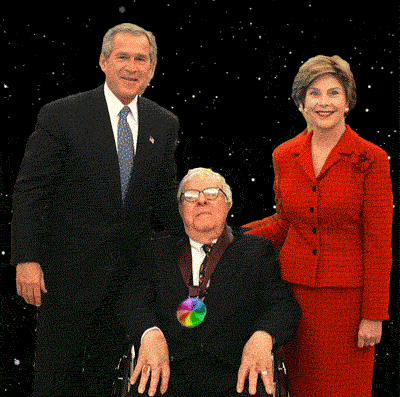 Mission accomplished.
Pure, uncut internet. Straight to your inbox.