Here at the Daily Dot, we swap GIF images with each other every morning. Now we're looping you in. In the Morning GIF, we feature a popular—or just plain cool—GIF we found on Reddit, Canvas, or elsewhere on the Internet.
What is it with gingers? Despite their glorious titian locks, they seem doomed to be the black sheep of royalty.
First there was Fergie, Duchess of Pork, ex-wife of Prince Andrew, woman of the people, recipient of the Royal Toe Sucking (by a man she claimed was her investment adviser—a balding Texan accountant? Really, Fergie?).
Now there is Harry, Prince of Vegas.
In fairness, they are both enormously helpful at getting the Royal Family into the headlines. It's just a matter of the headlines themselves that's the problem. "Strip Billiards in Vegas Romp," illustrated with graphic photos, is not exactly what the press office had in mind when they dispatched His Royal Highness to the former colony. Fortunately, virtually every UK newspaper refused to run the images: all but one, that is.
Rupert Murdoch's Sun. While Murdoch himself pleaded for the press to leave Harry alone, his own paper restaged the photos with a willing full-time employee named Harry and (controversially) an intern who was not in a position to say no.
The next day, they ran the photos themselves.
Managing Editor David Dinsmore stressed they'd thought "long and hard" about publishing the photos, and it would have been "perverse" not to publish.
Wait, what?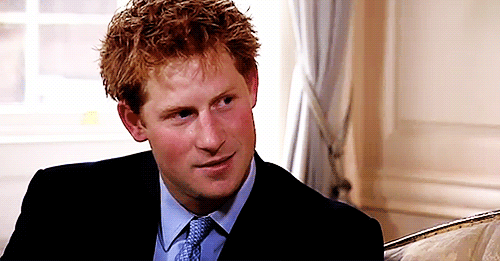 This GIF is from the Daughter of the Southern Sun Tumblr and has a mere 19 notes.