Here at the Daily Dot, we swap GIF images with each other every morning. Now we're looping you in. In the Morning GIF, we feature a popular—or just plain cool—GIF we found on Reddit, Canvas, or elsewhere on the Internet.
What's that I hear? It's the sound of the sincerest form of flattery, gentle readers: It is the sound of a ripoff.
Excuse me. An "homage."
Movie Simpsons is a Tumblr in the finest tradition of the Internet, the tradition of the obsessive seeker after hidden truths. The tradition of the fan who can recite all of Star Wars. The fan who can translate Wikipedia into Klingon and correct its errors. The fan who knows every continuity error in Doctor Who and has developed an elaborate theory which explains them as hidden messages to the devout.
Well, maybe not that last one; let's leave me out of it.
Movie Simpsons finds those fleeting moments in The Simpsons which have been inspired by classic movie scenes and pairs them as GIFs with their originals. It's James Cagney smashing a grapefruit into Mae Clark's face in The Public Enemy, and it is also Bart smushing it into Homer's blank mug. A quick peruse of the Tumblr brings a new appreciation for just how layered and referential The Simpsons is. Birthed in the Golden Age (or at least the Gold Plated Age) of Postmodernism, it became perfectly of its time by referencing the presumably greater past. The resonance isn't simply in the gestures, but in the characters as well. Bart is the James Cagney thug in embryonic form.
Mr. Burns, the malevolent one percenter and Homer's heartless boss at the nuclear power plant, is rumored to have been based on Rupert Murdoch, but this GIF explains his roots even better. If his heart grew three sizes, maybe he'd even notice Waylon Smithers' unrequited adoration (Smithers is unquestionably the Max in this rewrite). Pairing "Last Exit to Springfield" with "How the Grinch Stole Christmas"—the Boris Karloff animated version, not the nightmare fuel Jim Carrey live version—it's clear that Burns and the Grinch are two of a kind. Er, unkind.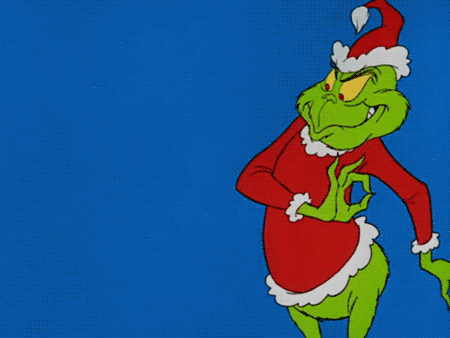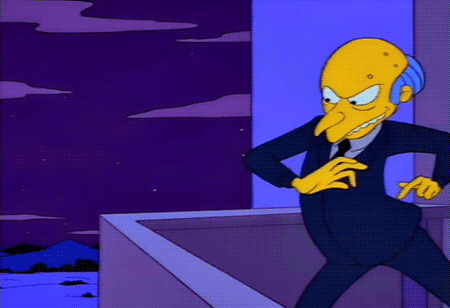 For more seasonal GIFs, be sure to check out our exclusive GIFcards Tumblr, featuring the work of some of the best artists on the Internet.