Here at the Daily Dot, we swap GIF images with each other every morning. Now we're looping you in. In the Morning GIF, we feature a popular—or just plain cool—GIF we found on Reddit, Canvas, or elsewhere on the Internet.
The changing of the seasons is a surprisingly global phenomenon. Sure, they may not get snow at the equator, but if you ask someone in, say, Indonesia if they have seasons, they'll tell you they have four: mango, coconut, banana, and rain.
This GIF is a little more varied, a little more familiar. It shows the changes of a stand of mixed temperate Norwegian forest throughout a calendar year. Deciduous trees yellow, drop their leaves, then burst into chlorophyll-enriched life as the nearby pine stands stoically by.
And hey! You can buy a T-shirt with all the frames! Definitely a Morning GIF first.
It comes to us via the b0wties are cool Tumblr, originating in a now-dead time-lapse video from Scandinavian technologist Eirik Solheim on Revver. (A moment of silence for Revver, original home of the Great Mentos and Diet Coke experiment, among other timeless videos.) On Tumblr, it's gotten 125 notes, and on Revver, who knows how many ephemeral views.
That's the Internet for you. Sic transit gloria HTML.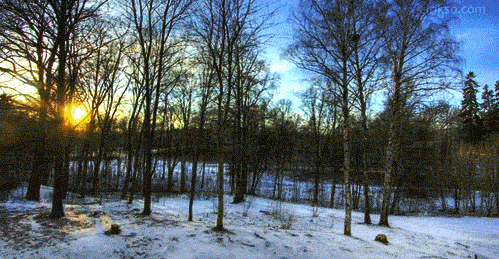 Image via Eirik Solheim/Wordpress