Arjen Robben ditched his shirt, but at least one fan is unimpressed.
Here at the Daily Dot, we swap GIF images with each other every morning. Now we're looping you in. In the Morning GIF, we feature a popular—or just plain cool—GIF we found on Reddit, Canvas, or elsewhere on the Internet.
Hello, sports fans! We know what you want: your team, your favorite stars, behaving exactly the way you expect. What you don't want: not-quite-superstars ostentatiously pretending to be something they're not, and civilians calling them out on it.
This GIF has got it all.
When you're called off the field to be replaced, the understanding in professional sports is that your replacement has another jersey and you have a huge dose of humility. Apparently not in European soccer leagues, or at least if you're to take direction from Arjen Robben here. Brandi Chastain got widespread attention for stripping off her shirt after cinching the 1999 Women's Cup victory, but Robben is obviously failing to win the popular vote.
As you can clearly see from this GIF. Skeptical sports fan is skeptical!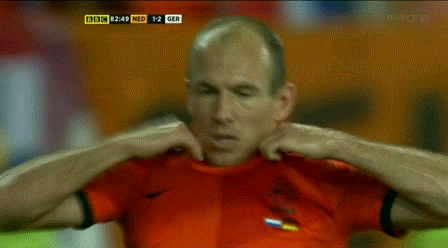 Pure, uncut internet. Straight to your inbox.