Here at the Daily Dot, we swap GIF images with each other every morning. Now we're looping you in. In the Morning GIF, we feature a popular—or just plain cool—GIF we found on Reddit, Canvas, or elsewhere on the Internet.
Clear your calendars, beribbon your oak trees, set your furry tootsies free, and haul out your best jerkin: Tomorrow, Saturday, Sept. 22, is International Talk Like a Hobbit Day. For you Elvish readers, that's Cormarë.
Food, friends, firkins of beer, and many, many presents are mandatory for the celebration of the birthday of both Bilbo and Frodo Baggins. In the Tolkienian calendar, this is the most important festival of the year, followed by The Professor's birthday on Jan. 3. Naturally, for so solemn an occasion there are instructions online.
There are precious few resources for those who would learn to speak the language of the Hobbits, but a general tendency toward the quaint and the gluttonous should suffice. Go ahead; you have one whole day to practice.
Here is a small roundup of authentic Hobbitease in GIF form. Start small.
Immediately after ingesting breakfast, pat your belly and utter the following, from Multitude of GIFs: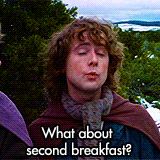 If someone questions your sartorial choice of jerkin and cloak accented with a short sword, just give him this message, courtesy the Aro Rusco Tumblr: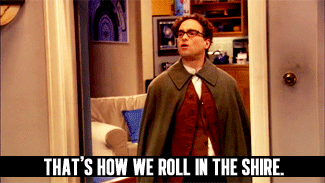 And when some mundane asks you who you think you are, just puff out your chest proudly and tell him: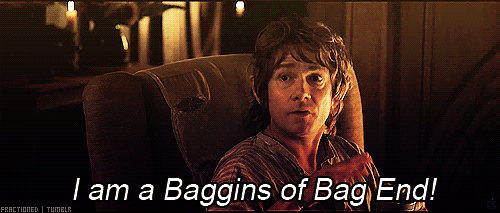 He'll feel like this: