Summer heat got you down? Try this calorie-free treat.
Here at the Daily Dot, we swap GIF images with each other every morning. Now we're looping you in. In the Morning GIF, we feature a popular—or just plain cool—GIF we found on Reddit, Canvas, or elsewhere on the Internet.
Hungry? Thirsty? The best part of a good smoothie is that whether you need solid food or a quenching drink, it's got you covered. It's a meal in a cup, and right from the ancient days of Carnation Instant Breakfast, back when spiral perms were new, it's been one of the most popular ways to start the day.
This particular smoothie is extremely popular. It's nothing more than strawberries and ice cubes in a blender, all rendered in colored marker and primitive, 2-D stop-motion animation. Supersized and served up on the You Found This Imagine That Tumblr, it's poured out 86,969 likes and reblogs. The best part of this calorie-free delight (at least for those of us who spend too much time at Starbucks in Frappuccino season)? It spins up your smoothie in absolute, total, blissful silence.
Cheers!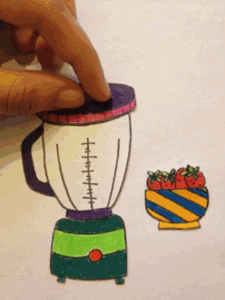 Pure, uncut internet. Straight to your inbox.