Despicable Me 3 is set to hit theaters on June 30 with the return of Steve Carell as Gru (and his twin brother Dru), Kristen Wiig as Lucy Wilde, and with Trey Parker coming on to play villain Balthazar Bratt.
But there's another new addition to the cast who might be even more important. His name is Mel. He's the new leader of the Minions, and under his leadership, for the first time ever, the Minions are forming a union.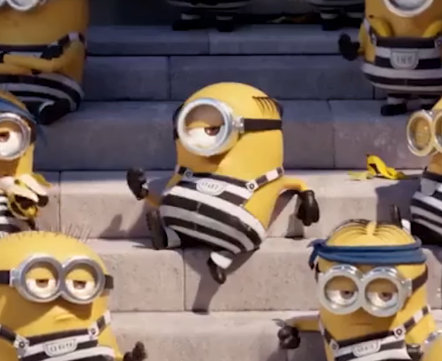 No word on why exactly the Minions are in prison for part of the film, but it's a good guess that it has something to do with their grievances with Gru. As we saw in 2015's Minions, the little yellow guys exist only to serve evil masters, and they've become fed up with Gru's more legitimate lifestyle.
"The Minions have been patiently waiting for Gru to get over this phase of being good, but when that doesn't come to fruition, Mel is the one who can't take anymore and is speaking out, and so all the other Minions get behind him to be like, 'Preach it!'" co-director Kyle Balda told Entertainment Weekly this week. "He's a character who personifies the voice of objection against Gru's life choices. I think of him as sort of the head of the union. Collectively, the Minions are a character themselves, and it feels stronger when we can pull out an individual personality to rise up."
Balda says that this doesn't signify that the Minions and Gru are now enemies: "The main core of the relationship between Gru and the Minions has been that they love each other and need each other, but in any long-term relationship, there are quirks and frustrations."
But given the contentious history of management and labor unions, those quirks might not be so easy to work out. Let's just hope this doesn't lead to any of the Minions mysteriously "disappearing." Even for a franchise that's about evil villains, that might get too dark.
You can check out the full trailer below.
H/T Polygon