"Time heals all wounds." That's how the saying goes. But what if one of your best friends had been found floating in the Hudson River, her death surrounded by suspicious circumstances, and 25 years later the case still wasn't solved to your satisfaction? That's the situation facing transgender activist Victoria Cruz in the new Netflix documentary The Death and Life of Marsha P. Johnson. The film follows her efforts to goad, coax, and shame the authorities into reopening the investigation into the death of her friend, "the Rosa Parks of the LGBT movement," whose 1992 death was ruled a suicide. Cruz, however, is convinced she was murdered.
The Death and Life of Marsha P. Johnson could just play out like a boilerplate true-crime drama. Johnson herself was a larger-than-life figure of historic importance to the LGBTQ community, and there are unanswered questions surrounding her death. Instead, however, director David France uses the film to explore the larger scope of Johnson's life and impact on both the landscape of LGBTQ rights and those closest to her. This decision brings both good and bad with it. On the one hand, it gives more context and texture to the story of a gay rights pioneer many viewers may not be familiar with, but at times the film struggles to maintain a focus and seems like it may be trying to do too much in its slightly less than two-hour runtime.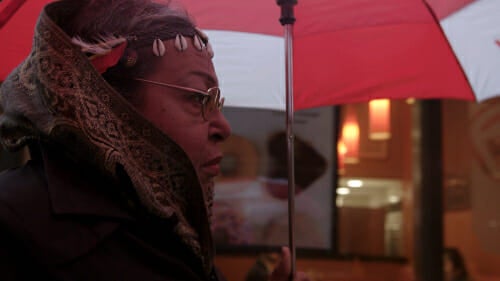 Even without the questions surrounding her tragic death, Johnson would provide more than enough material to fuel a full-length documentary. One of the most charismatic and visible activists of her age, Johnson was involved in the Stonewall uprising in the late '60s. She modeled for Andy Warhol, worked as an AIDS activist as the disease ravaged the gay community in the 1980s, and co-founded both the Gay Liberation Front and the trans activism organization Street Transvestite Action Revolutionaries. She was out, proud, and loud during a time when it was often very dangerous to live your authentic self when that self didn't fit in the neat boxes society insisted upon. In exploring both Johnson and her friends and fellow activists like Cruz, Randy Wicker, and Sylvia Rivera, director France presents a broad but effective look at some of the boldest personalities fighting for gay and trans rights in the second half of the 20th century.
That's a sad truth that carries over through to the bittersweet end of the film. We won't spoil things by revealing the disposition of Johnson's case as the credits roll, but the film makes it clear that, even if justice is done by Marsha, there is a long line of transgender victims crying out for their own. In addition to Cruz's investigation into Johnson's death, the film also touches on a modern case where a trans woman was beaten to death by a straight man—a sad reminder of how far we have yet to go as a society to protect, accept, and destigmatize transgender people.
The Death and Life of Marsha P. Johnson might suffer from trying to tackle too many things at once, but if it fails in some aspects, it is at least a noble failure. Even with its flaws, the film is a worthy tribute and a reminder that the fight continues and the march goes on, built on the backs and sacrifices of people like Marsha P. Johnson.
Still not sure what to watch on Netflix? Here are our guides for the absolute best movies on Netflix, must-see Netflix original series and movies, and the comedy specials guaranteed to make you laugh.