Tech

Tech

The gadgets, platforms, and software that make your digital life possible. If it bleeps, clicks or blinks, you'll find it here.

Internet Culture

Internet Culture

There's a community for everyone online.

Streaming

Streaming

News, reviews, and guides for the world of online entertainment.
Mario painting leaves story untold
Whatever happened to Mario? One artist set about his own answer
Have you ever wondered what happened after Mario saved Princess Peach from the terrible turtle Bowser?
Did he raise a litter of suspender-wearing, pasta-eating babies?
Did Yoshi retire the saddle and settle for a life of leisure?
As far as 22-year-old graphic artist Seisaku Katayanagi is concerned, the sky's the limit for the world's most famous plumber. But this one is certain, a life of scarfing down starches has taken its toll.
In Katayanagi's "Way of All Flesh / Super Mario" the Italian American plumber is legless and grayed. He's being pushed in a wheelchair by his brother Luigi, who has traded in his suspenders for a faded green sweater. The wall nearby bears photos of his youth while a portrait of a young Peach sits on the desk.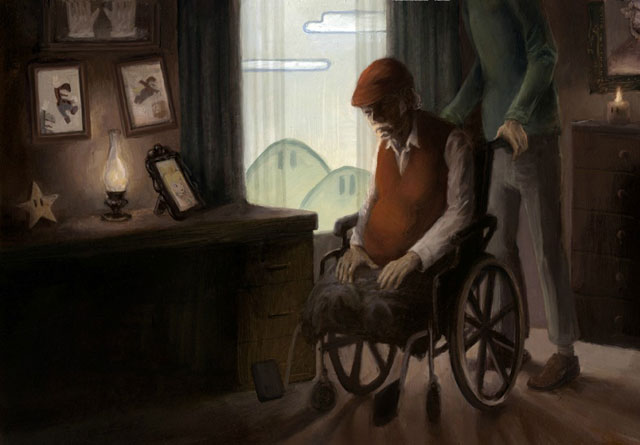 "Mario fell prey to diabetes because of his questionable diet," Katayanagi said in an exclusive interview with The Daily Dot. "At the very least, Mario is a fat man with a high-risk lifestyle. Depressing questions may also be raised regarding his relationships with friends and family."
Having grown up playing games, Mario has always been more than just a video game character, Katayanagi said.
"Like any good American child, I was fat and had a Nintendo, so Mario's been in my life for as long as I can remember," said Katayanagi, who grew up in Chicago. "We all see things differently as we grow older, and the loosely defined narratives of the Mario games are no exception."
So during some down time at the School of Visual Arts in New York, Katayanagi turned a quick Mario sketch into an oil painting which he then scanned into computer and touched up digitally.
The result was a piece of art that shot to the front page of Reddit on Friday where people praised it for its realistic, yet somber, portrayal.
"Bodies degrade, loved ones die, and sometimes your resentful little brother is the only one left to push your wheelchair," Katayanagi said. "The props are meant to suggest a story the viewers fill in themselves."
And filling in the story is exactly what Redditors did.
Some people speculated about Mario's missing legs, while others worried about Yoshi.
"Yoshi is probably buried out back," aperson wrote.
"Once Mario lost his legs, Bowser became more powerful than ever," wrote RestoreFear. "Yoshi never had a chance."
Fernando Alfonso III served as an early Reddit and 4chan reporter and the Daily Dot's first art director until 2016. He's gone on to report at Lexington's Herald-Leader and at the Houston Chronicle.
© The Daily Dot, all rights reserved.
Represented by Complex Media, Inc. for advertising sales.